Death toll rises in blast that killed dozens of Armenian refugees
The explosion Monday tore through a gas station in Nagorno-Karabakh amid exodus.
LONDON -- At least 68 people were killed and 105 are still missing from an explosion that tore through a makeshift gas station being used by ethnic Armenians on Monday night as thousands sought to flee the disputed enclave of Nagorno-Karabakh, according to local authorities.
The newly revised death toll followed a statement earlier from Armenia's health minister, Anahit Avanesyan, saying 125 bodies from people killed in the blast had been brought to Armenia.
But Avanesyan later said those bodies were casualties from fighting. The Stepanakert Forensic Medical Examination Bureau in the enclave's regional capital said Tuesday the number of confirmed dead from the gas station blast remained at 68, with nearly 300 injured.
Many of the injured have been evacuated to Armenia, carried by Armenian and Russian military helicopters, local officials said. Avanesyan said most of the patients had extremely severe to severe injuries.
The explosion and fire ripped through the fuel store on Monday night as hundreds of refugees were lining up for gas for their vehicles to leave Nagorno-Karabakh, according to local officials.
Thousands of ethnic Armenians have been leaving the enclave following a successful military offensive last week by Azerbaijan that defeated the local Armenian authorities and restored Azerbaijan's rule over the region.
More than 28,000 people have crossed from Nagorno-Karabakh into Armenia since Sunday, according to a statement from Armenia's government. It's feared the enclave's entire population -- estimated at 120,000 -- may seek to flee in the coming days.
Armenia's prime minister on Monday said what was happening was the "ethnic cleansing" of Nagorno-Karabakh's Armenian population.
Long traffic jams of people seeking to leave were visible snaking miles along the only road out of Nagorno-Karabakh to a checkpoint in the "Lachin Corridor" that links the enclave to Armenia.
Nagorno-Karabakh has been at the center of a decadeslong conflict between Armenia and Azerbaijan. Internationally recognized as Azerbaijan's territory, the two countries fought a bloody war over the enclave amid the collapse of the Soviet Union, in which Armenia backed local ethnic Armenian separatists, who succeeded in establishing control over most of the region. Hundreds of thousands of Azerbaijani civilians were driven from the region during that war.
Azerbaijan reopened the conflict in 2020, launching a full-scale war that decisively defeated Armenia and forced it to largely abandon its claims to Nagorno-Karabakh. Russia helped broker a truce and dispatched a peacekeeping force there that remains deployed. Last week, Azerbaijan launched a new offensive that swiftly forced the Nagorno-Karabakh Armenian's leadership to surrender.
Since then thousands of ethnic Armenians have been preparing to leave the enclave, which has been under Azerbaijani blockade for nine months, unwilling to live under Azerbaijan's rule and fearing they will face persecution.
Western countries, including the United States, France and Germany, have expressed concern for Nagorno-Karabakh's Armenian population and warned Azerbaijan it bears responsibility for their rights and security.
The Biden administration has dispatched Samantha Power, currently administrator of USAID and senior another State Department official to Armenia to express U.S. support for the country amid the crisis.
Power on Tuesday visited the checkpoint at Armenia's border with Nagorno-Karabakh where refugees have been arriving, and called for international monitors and aid groups to be given access to the enclave and for Azerbaijan to facilitate the evacuation of injured civilians from there.
"It is absolutely critical that independent monitors as well as humanitarian organizations get access to the people in Nagorno-Karabakh who still have dire needs," Power told journalists at the checkpoint. "There are still tens of thousands of Ethnic Armenians there living in very vulnerable conditions," announcing the U.S. would provide $11.5 million in humanitarian assistance that would include everything from food to psychiatric support.
Power, who has been a high-profile campaigner for human rights, said she was in Armenia to also hear testimonies from people fleeing Nagorno-Karabakh and that she would be reporting back to the Biden Administration as it considers how to respond to the crisis.
Power and the Acting Assistant Secretary for Europe and Eurasian Affairs, Yuri Kim met with Armenia's prime minister Nikol Pashinyan on Monday. Power delivered a letter from President Joe Biden in which he expressed condolences for the loss of life in Nagorno-Karabakh and promised help on addressing humanitarian needs.
"I have asked Samantha Power, a key member of my cabinet, to personally convey to you the strong support of the United States and my Administration for Armenia's pursuit of a dignified and durable regional peace that maintains your sovereignty, independence, territorial integrity, and democracy," the letter read.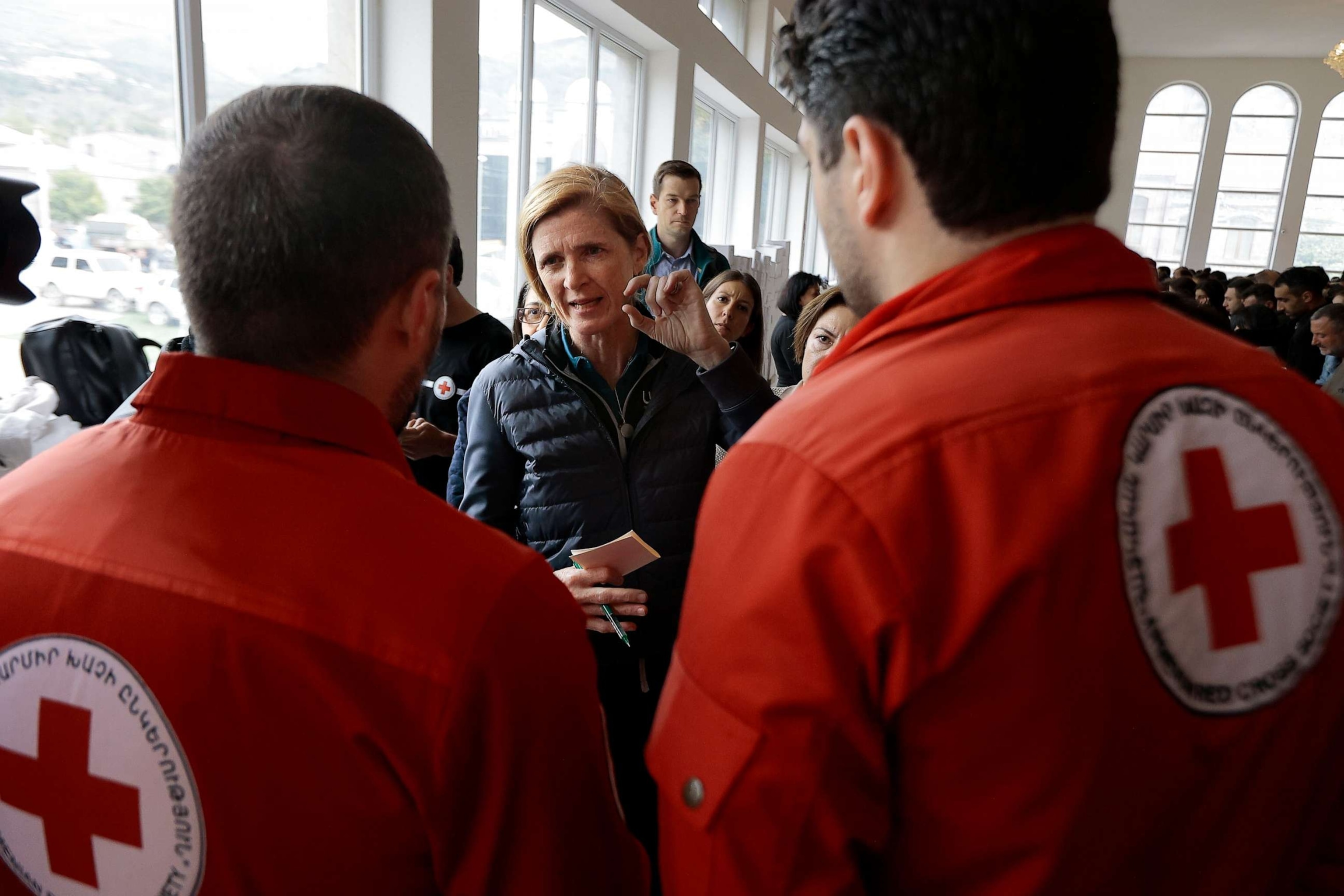 Pashinyan told Power the international community and Armenia had failed to prevent the "ethnic cleansing" of Nagorno-Karabakh's Armenians.
"Unfortunately, at the moment the process of the ethnic cleansing of Armenians in Nagorno-Karabakh is continuing, it is happening right now. It's a very tragic fact. We tried to inform the international community that this ethnic cleansing would happen, but, unfortunately, we did not manage to prevent it," Pashinyan told Power and Yuri Kim, the State Department's acting assistant secretary for Europe and Eurasian Affairs, according to the prime minister's press service.
Armenia and Azerbaijan were due to hold talks mediated by the European Union in Brussels on Tuesday, the first talks between the sides since Azerbaijan's retook Nagorno-Karabakh.
Monday's blast at the fuel station added a horrific complication to the exodus from Nagorno-Karabakh, with local authorities pleading for people to hold off leaving as the traffic-choking the roads out was preventing the evacuation of the severely injured.
Helicopters from Armenia's capital, Yerevan, were reported to have flown to Nagorno-Karabakh to help evacuate some of the worst injured. A long line of ambulances was also filmed by Russian media crossing into the enclave.
The enclave's Armenian health authorities said the hospitals in the enclave, already short of medicine and other equipment, were not equipped for the disaster.
Russia's peacekeeping contingent said it was also providing medical assistance and showed videos of its soldiers evacuating some of the injured.