PAKISTAN FLOODING Pakistan's army has deployed about 60,000 troops for rescue and relief operations out of a force of about 550,000 soldiers. Doctors say that malaria, diarrhea and gastroenteritis are growing threats. More than 1,600 people are estimated to have been killed in the disaster, and out of 14 million severely affected, as many as 6 million will require longer term assistance.
The scale of the devastation is difficult to comprehend: All 41 bridges in Upper Dir district and more than 60 bridges in Swat district have been destroyed, and seven major landslides are blocking access by road to flood-stricken areas of Pakistan-administered Kashmir. Road access to some areas in the north-west has only just been restored, while some areas of the north-east remain completely inaccessible.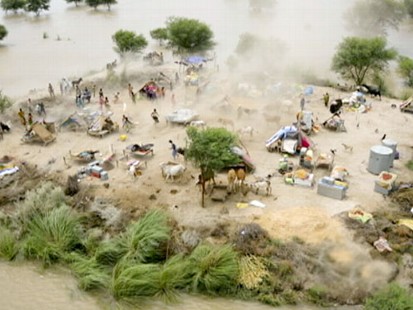 As much as 50 percent of the country has been inundated, with widespread loss of crops. In some areas 80 percent of farm livestock have been lost. Floodwaters that receded from the north have now caused widespread flooding in the more populous southern provinces.
And heavy rain continues to fall. The relief effort cannot yet keep pace with the increasing scope of the emergency. U.N. Secretary-General Ban Ki-moon is expected to visit flood-hit Pakistan over the weekend and Sen. John Kerry is expected to visit next week.
Rain is continuing to fall in some parts of the country today, with dams threatened in Sindh and the monsoons not due to end for several weeks. To date, U.S. has provided $76 million in assistance to flood-affected populations in Pakistan via UN agencies, the ICRC and NGOs.
Three children were injured in Dera Ismail Khan by an explosive device that is believed to have moved in floodwaters, and another person was seriously injured by a landmine in Pakistan-administered Kashmir. The Pashto and Urdu media are cooperating in an effort to remind weapon-contaminated communities, and those downstream of them, of the risk posed by mines and other explosive devices moving in floodwaters.
CHINA -- HEAVY RAINS KEEP FALLING ON CHINA'S REMOTE AREAS
A new landslides in flood-ravaged Gansu province, making rescue work nearly impossible. Xinhua News Agency says 14 people have been killed and another 20 are missing after the overnight flood. That comes on top of the more than 1,100 dead and 600 missing from earlier mudslides. Tents set up as emergency shelters are being flooded. Clean drinking water is a primary concern, with most local sources knocked out or polluted. Mudslides also hit parts of Sichuan province in China's southwest. Xinhua reports five people have been killed there and 500 are stranded in rural mountain areas. Flooding has killed more than 2,000 people in China so far this year.
INDIAN FLOODING AFP reports the Indian army said it had evacuated another 172 foreigners stranded for a week by flash floods that hit the remote, high-altitude trekking region of Ladakh in the Indian Himalaya.
RUSSIA -- THE RAIN IS GOOD NEWS Heavy downpours have cooled the Russian capital after weeks of unprecedented heat and dry weather, but dozens of wildfires are still raging around Moscow. The city on Friday remains largely free of clouds of suffocating smog after they were blown away by favorable winds earlier this week. Weather experts say, however, that smoke from burning forests and peatbogs may again choke the city later in the day after winds change their direction. Russia's Emergency Situations Ministry says its teams have managed to reduce the area covered by wildfires, but more than 500 are continuing to burn across the country, including 29 around Moscow. It said about 14,000 firefighters are battling blazes around the Russian capital.
WIKILEAKS LATEST The Pentagon is bracing for another dump of classified war documents. WikiLeaks spokesman Julian Assange says his organization is preparing to release the 15,000 documents still on its file. The Pentagon warned that would be more damaging to security and risk more lives than the organization's initial release of war documents. Meanwhile reporters Without Borders has criticized the Wikileaks website's "incredible irresponsibility" in publishing the names of Afghans who had helped international troops fighting insurgents.
NUCLEAR PLANT TO START Russia's nuclear agency says it will load fuel into Iran's nuclear power plant next week, a key step towards starting up the Bushehr reactor. A spokesman in Moscow says uranium fuel shipped by Russia will be loaded into the reactor in a ceremony on Aug. 21, potentially ending years of delays. But there's no firm date as to when the reactor will be fully operational, and it could take up to six months. Russia will run the plant, supply the fuel and take away the waste. The U.S. has called for Russia to delay the start-up until Iran proves that it's not developing nuclear weapons.
GOOD ECONOMIC NEWS FROM EUROPE
Official second quarter figures for European countries have been released today, and on the face of it, they're surprisingly good. Europe's largest economy, Germany, appears to be weathering the financial storm. Its economy grew by 2.2 percent in the second quarter, its best performance since reunification in 1991. Economists put some of it down to buoyant exports aided by a decline in the value of the euro. The eurozone economy as a whole grew by 1 percent during the quarter -- up from 0.2 percent in the first three months of 2010, and higher than market expectations. France's modest rise of 0.6 percent in growth is significantly better than experts had expected. The Spanish economy grew by 0.2 percent, compared with 0.1 percent in the previous three months.
NOT SO GOOD ECONOMIC NEWS FROM EUROPE Southern Eurozone countries are definitely not out of the woods yet. Spain continues to struggle to avoid a double-dip recession. The pace of growth in the Italian economy remained the same, at 0.4 percent. And Greece has confirmed its economy shrank once again in the second quarter -- with GDP falling by 1.5 percent. It recorded a 0.8 percent decline in GDP in the first three months of the year, so its economic decline is speeding up. Unemployment in the country has also hit 12 percent.
MYANMAR ELECTIONS Myanmar state TV has announced that the country's first election in two decades will be held Nov. 7. The long-awaited announcement on state TV and radio Friday marked the first time the junta has given a date for the polls, which will be the first since 1990. Critics have called the election a sham designed to cement military rule. The military has ruled Myanmar for nearly 50 years.
EX-RUSSIAN PRISONER WANTS TO RETURN Igor Sutyagin tells the New York Times that despite being freed from a Russian prison as part of the "spy-swap" deal, he wants to return home to Russia, and he continues to insist that he's not a spy. He spoke to the newspaper in London, the first time one of the released prisoners has spoken to a Western news organization. Sutyagin has also told Russia's Novaya Gazeta that he US asked for him to be released for humanitarian reasons.
INDIA -- GOOGLE/SKYPE/B'BERRY India may shut down Google and Skype Internet-based messaging services over security concerns, the Financial Times reported on Friday, as the government threatened a similar crackdown on BlackBerry services. The Financial Times quoted from the minutes of a July 12 meeting between telecommunication ministry security officials and operator associations to look at possible solutions to "intercept and monitor" encrypted communications. India has set an Aug 31. deadline for RIM.
U.S. TEENAGER TO NORTH KOREA? A 13-year-old American boy is on a quixotic mission to North Korea, bearing a letter to the communist nation's leader urging the planting of a peace forest on the tense Korean border.
"MECCA TIME" TO REPLACE GMT? The Telegraph reports Saudi Arabia is building a giant clock tower in Mecca, and some Islamic scholars hope that "Mecca time" will replace Greenwich Mean Time as the accepted start of each day. The clock will be at the top of the Royal Mecca Clock Tower, which will be the second tallest building in the world when it's completed and will include hotels, shopping malls and conference centers. The clock will begin ticking on Thursday.
BALLOON FESTIVAL BBC News reports a total of 81 balloons take part in the first mass ascent at the Bristol International Balloon Fiesta.
FIRES RAGE THROUGH RURAL BRAZIL Fires in Brazil destroyed dozens of sawmills and at least 100 houses, leaving residents to survive on the streets. The state of Mato Grosso is struggling to get the blaze under control as the flames spread fast in the exceptionally dry conditions.
AMERICAN TOPS EVEREST, COMPLETES 'GRAND SLAM' Alison Levine became the first American woman to complete the "Adventure Grand Slam," which entails reaching the highest peak on every continent and skiing to both the North and South poles. It's estimated fewer than 30 people have accomplished the feat.