LONDON -- Now that's what you call a happy meal.
Imagine walking into a McDonald's fast food restaurant to find white tablecloths, a string quartet playing, a smartly-dressed maître d' to see you to your table, and a Michelin Star chef preparing burgers in the kitchen to be served to you on silver platters.
It's McDonald's like you've never experienced before -- and may never again.
"Luxury, in a bun," the company's website declared on Wednesday.
For one day only, lucky London guests were welcomed to what was billed as "the most luxurious tasting event in history" -- in celebration of the worldwide roll-out of McDonald's Signature Collection.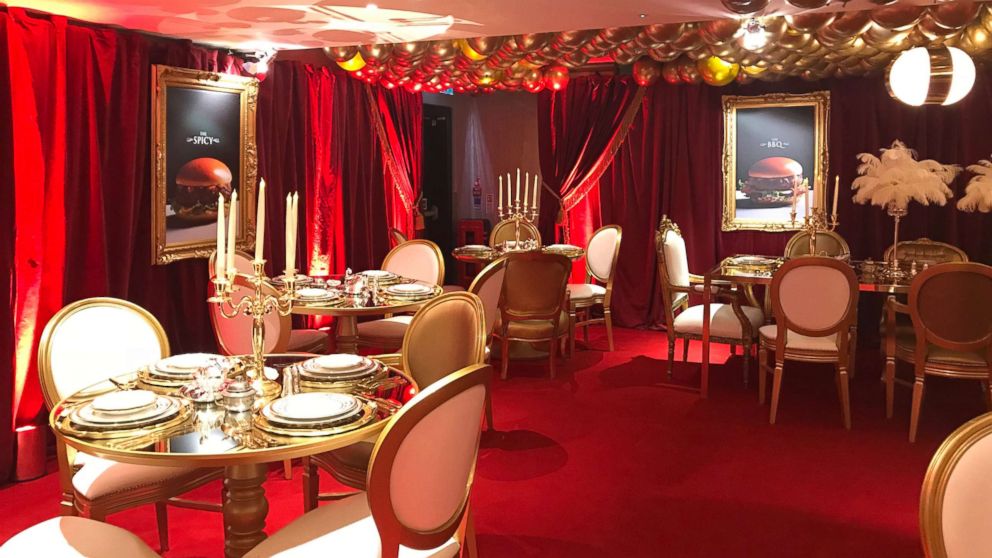 Just steps from the royal palace, the McDonald's location in London's upscale Kensington neighborhood closed to the general public Wednesday and was transformed into a fine dining restaurant, complete with red carpets, burgundy velvet curtains and candelabras.
The Signature Collection was designed for McDonald's by the Chefs Council, which is made up of chefs who have worked in Michelin Star restaurants, and have cooked for royalty and international food specialists.
The maître d described the new Spicy Signature Burger as "100% British and Irish Beef, Jalapeño slices, Pepper Jack cheese, Batavia lettuce, mayo and a spicy relish, all in a Brioche style bun."
An ABC News producer failed to wrangle a reservation for the special day, but did sneak a taste of the new Spicy Signature Burger.
It was juicier, thicker and more tender than the normal patty. The jalapeños brought the heat, the spicy relish was indeed, spicy, the Pepper Jack cheese could have been melted more but the traditional sesame seed bun wasn't missed.
It was all washed down with a diet Pepsi while sitting on a gilded, white leather Louis XVI chair under a candelabra, twinkling with fake candles.
In a word: luxurious.