African leaders react as Israel declares war on Hamas
At least 2,553 lives have been lost so far in the conflict.
LONDON -- Six days on since Hamas' unprecedented multifront attack on Israel, world leaders are reacting as Prime Minister Benjamin Netanyahu formally declared war on Hamas, setting the stage for a large-scale military operation.
The incursion -- dubbed operation "Al-Aqsa Storm" by Hamas -- was the largest and most devastating assault on Israel since the Yom Kippur War in 1973. Militants entered Gaza early Saturday through land, air and sea, leaving behind a tail of terror.
In response, Israel officially declared a state of war, launching "Operation Swords of Iron," striking suspected Hamas and Islamic Jihad targets in Gaza.
Meanwhile, Israel also announced a "complete siege" of Gaza -- the enclave home to 2.3 million people -- by cutting off fuel, electricity, food, and water.
At least 2,553 lives have been lost so far in the conflict with at least 1,200 killed in Israel with another 2,900 injured according to the Israeli Health Service. In Gaza, at least 1,354 have been killed and over 6,000 injured according to the Palestinian Health Authority.
In a televised address, Israeli Prime Minister Benjamin Netanyahu thanked the world for "standing with Israel," calling Hamas' attack a "mistake of historic proportions."
"We will exact a price that will be remembered by them and Israel's other enemies for decades to come," said Netanyahu.
In Africa, leaders have been reacting to the conflict since Saturday's surprise attack, condemning Hamas' assault. However, their responses reveal divisions among the continent on the source of the conflict and who is to blame.
At least two African nationals have been accounted for in the conflict, the Israel Foreign Ministry announcing two Tanzanians were among international civilians attacked in Hamas's surprise attack on Israel.
In a statement, Tanzania's Ministry of Foreign Affairs said Tanzania "mourns" with the families of Israelis and Palestinians who lost their lives, saying "We condemn all forms of violence … We call for restraint to stem further loss of human life."
In another statement, African Union (AU) Chairperson Moussa Faki Mahamat expressed "utmost concern" at the outbreak of violence that has had "grave consequences" for the lives of Israeli and Palestinian people.
Mahamat emphasized the failure of long-term international efforts to solve the crisis, saying "The Chairperson wishes to recall the fundamental rights of the Palestinian people, particularly that of an independent and sovereign State, is the main cause of the permanent Israeli-Palestinian tension."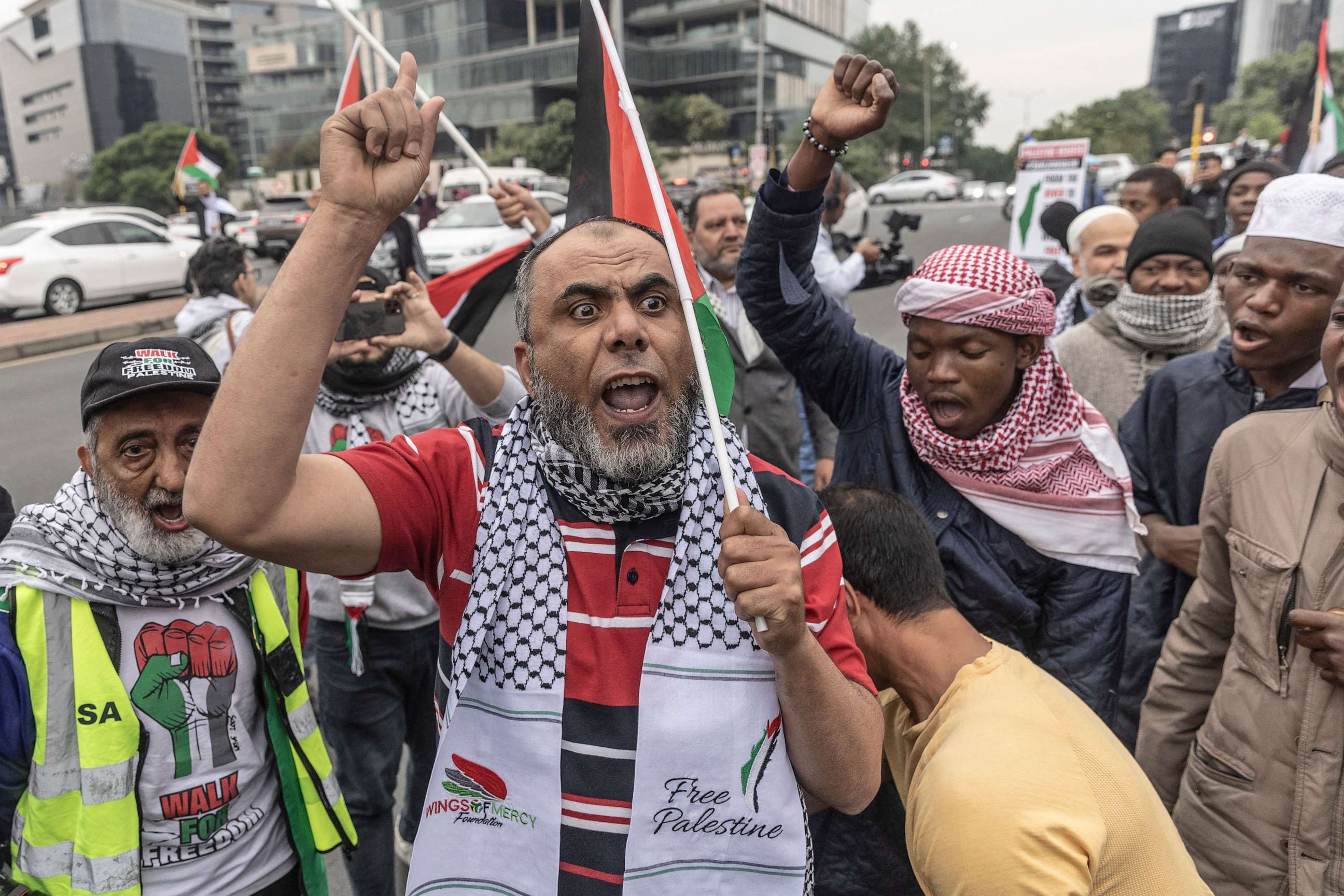 Morocco's King Mohammed VI called for an emergency meeting of the Arab League Council at the headquarters in Cairo on Wednesday to discuss the deteriorating situation, saying the Kingdom of Morocco "expresses deep concern" while condemning the "attacks against civilians wherever they may be."
In the "extraordinary session" of Arab League Nations, Morocco's Minister of Foreign Affairs, Nasser Bourita, emphasized Morocco's "full and unwavering support" for Palestine, describing the political deadlock over the Palestinian issue as a "persistence of systematic violations and oppressive unilateral measures in Al-Quds and the Occupied Palestinian Territories."
Algeria's Ministry of Foreign Affairs too expressed support for Palestine, saying it is following "with deep concern the escalation of barbaric Zionist aggression against the Gaza Strip, which has cost the lives of dozens of innocent children of the Palestinian people, who have fallen as martyrs to the stubbornness of the Zionist occupation in its policy of oppression and persecution imposed on the valiant Palestinian people".
In neighboring Tunisia, citizens took to the streets to rally for Palestine as national protests happened on Thursday with more planned for Friday. The U.S. Embassy in Tunis said on Wednesday it would close for routine services on Thursday and Friday in an "abundance of caution," adding that it received no credible threat.
In eastern Africa, Kenya's President William Ruto "unequivocally" condemned terrorism by Hamas, adding Kenya stands in solidarity with the State of Israel:
"In consideration of the complex and delicate context of the security situation in Israel-Palestine, Kenya also makes a call for the de-escalation of violence," said Ruto.
South Africa has also called for the cessation of violence, adding the region is in urgent and "desperate need of a credible peace process."
South Africa also urged resumption of talks on a two-state solution:
"[South Africa] seeks to ensure a lasting and durable peace that produces a viable, contiguous Palestinian State, existing side-by-side in peace with Israel, within the 1967 internationally recognised borders, with East Jerusalem as its capital," in a statement issued by the government.
South African President Cyril Ramaphosa announced that South Africa is ready to help mediate in the conflict, saying "South Africa stands ready to work with the international community and to share our experience in mediation and conflict resolution as we have done on the continent and around the world."
Meanwhile, Nigeria called for a "de-escalation and ceasefire" through dialogue, adding it was "deeply concerned" by the outbreak of violence.
"The cycle of violence … only serves to perpetuate an unending cycle of pain and suffering for the civilian population that bear the brunt of every conflict," Nigerian officials warned.