Horrors emerge from Hamas infiltration of Israel on Gaza border
"They came through the streets on pickup trucks with turrets on the back."
TEL AVIV, Israel -- Indiscriminate killing. Kidnappings. Homes raided and a music festival under attack. More than 900 Israelis have been killed as a result of the most devastating assault on Israel since the Yom Kippur War of 1973.
Hamas militants broke through the fences surrounding Gaza on Saturday morning, attacking Israeli soil by land, sea and air, using mechanized hang gliders and motorbikes to storm communities caught completely unaware.
"They came through the streets on pickup trucks with turrets on the back, spraying bullets, everything around them at the civilians walking up and down the street," Maj. Doron Spielman, a spokesperson for the Israel Defense Forces in the city of Sderot, which was overwhelmed by Hamas and subsequently liberated, told ABC News' Ian Pannell. "Women with little babies. People dying on the ground."
Hamas fired at least 3,000 rockets from Gaza into Israel, targeting towns and cities in southern Israel.
The majority of the rockets were intercepted by Israel's Iron Dome missile defense system, but what is considered to be a major intelligence failure by the Israeli authorities saw Hamas storm swathes of territory in Israel's south.
In the skies above the Supernova Festival, taking place near the kibbutz of Re'im -- approximately 3 miles from the Gaza border -- those rockets were the first sign of what was to come.
At least 260 people were killed there, according to the Israeli authorities, with video emerging of Israelis fleeing on foot across the desert and some being kidnapped and taken back to Gaza.
One of the attendees, Noam Manket, said that those who tried to flee in their cars were shot by Hamas gunmen. She fled on foot and is yet to hear from some of her closest friends who attended the festival with her.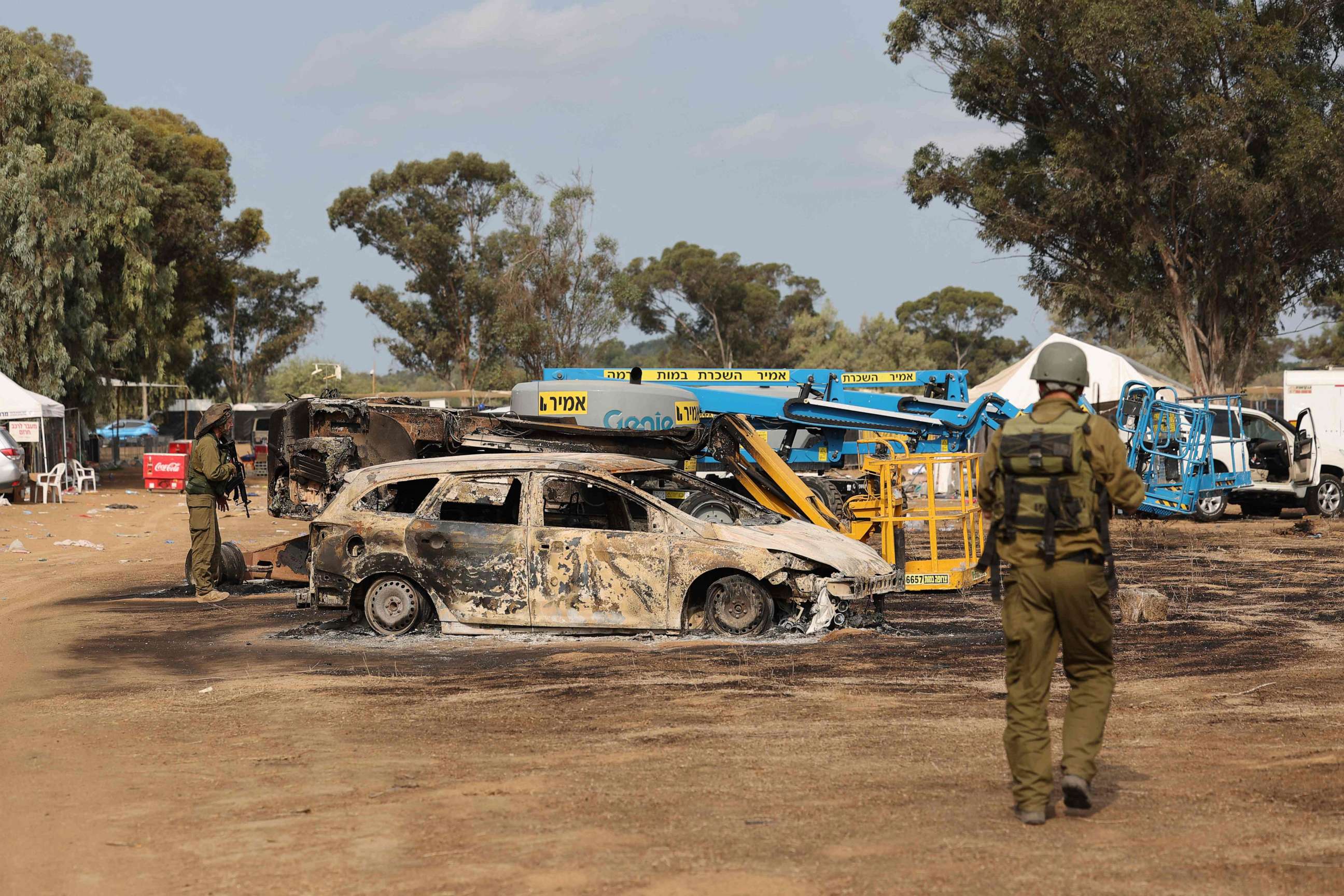 "You just keep running because you realize that if you don't keep running, then you don't go back home," she told ABC News.
More than 100 Israeli citizens and soldiers are believed to have been taken hostage in Gaza. In a statement, Hamas has threatened to execute the hostages if the devastating bombardment of the Gaza Strip, launched in response to the surprise attack. President Joe Biden said Monday at least 11 Americans are among those killed, and more may have been kidnapped and taken hostage in Gaza.
Many families learned that their family members had been kidnapped after identifying them from videos shared on social media.
One of those taken was Karina Ashaev. Her sister, Sasha, described what it was like when she first saw her in a video online, bound and covered in blood as she was driven away on a motorbike.
"At first I saw this and didn't think it was her. I just swiped next," Sasha told ABC News foreign correspondent James Longman. "Her whole face was in blood, she was screaming. We recognized her by her nose, her brows, her chest. And then we know it was her."
Uriel Bohbot, whose brother Elkana was also captured, can also only wait to hear for news.
"I can see that he's afraid, he's so scared ... hopefully, he's gonna be alive," he told ABC News. "I don't know if he will die or live."
In the kibbutz of Be'eri, one of the largest in Israel, 108 bodies were discovered on Monday in the aftermath of the surprise Hamas attack. On the ground, the bodies of Israeli citizens littered the area, but more horrifying stories are expected to emerge as the authorities continue their recovery operations.
Gaza is one of the most densely populated areas in the world. The Palestinian authorities report at least 687 people, including 140 children and 105 women, have been killed so far in the strikes. The IDF said on Monday they had hit over 1,500 military targets.
The death toll is expected to climb.