Alek Minassian apparently wrote a chilling post on Facebook about an "incel rebellion," an abbreviated term for "involuntary celibate," minutes before he allegedly mowed down mostly female pedestrians with a rented van in northern Toronto Monday, according to police.
The 25-year-old Canadian appears to have a limited presence on social media, including the single post on his Facebook account, which was taken down soon after Monday's attack. In the post, he praises Elliot Rodger, a 22-year-old student at the University of California, Santa Barbra, who killed six people and wounded others before killing himself in his car four years ago.
In several YouTube videos, a blog and a 137-page manifesto created before the 2014 rampage, Rodger lamented about his "loneliness" and he appeared baffled -- and angry – about why women were "repulsed" by him because he considered himself the "ultimate gentleman."
In the Facebook post Monday, Minassian allegedly writes, "The Incel Rebellion has already begun! We will overthrow all the Chads and Stacys! All hail the Supreme Gentleman Elliot Rodger!"
The terms "Chad" and "Stacy" are often used on anonymous internet forums, like Reddit and 4chan, where the online community of self-declared "incel" men has been known to congregate. "Chad" apparently refers to a man who has success with women, while "Stacy" is a seemingly unattainable women who rejects "incels."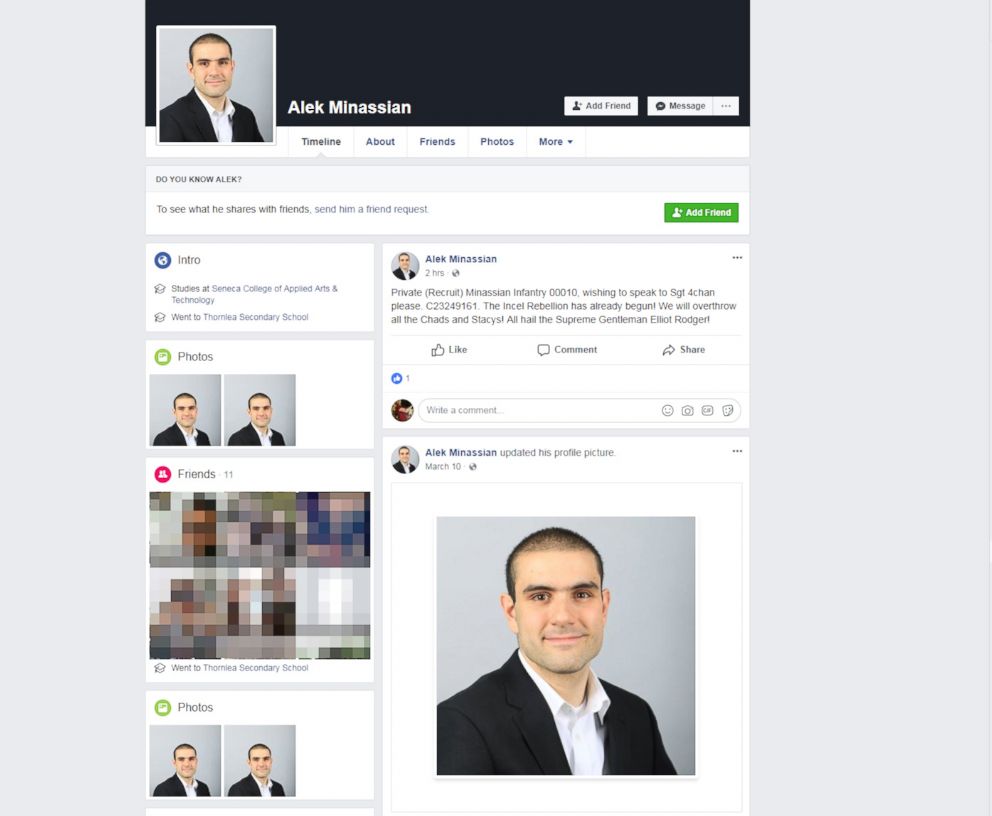 Toronto Police Service Homicide Det. Sgt. Graham Gibson confirmed to reporters that Minassian is alleged to have posted the "cryptic message" on Facebook, just minutes before Monday's deadly attack in the capital city of the province of Ontario. Gibson also said it was "fair to say" that the victims in the attack were "predominately female," ranging in age from mid-20s to 80s.
But there's no evidence so far that Minassian was specifically targeting women when he "deliberately" drove into pedestrians in Toronto's bustling North York neighborhood, Gibson said.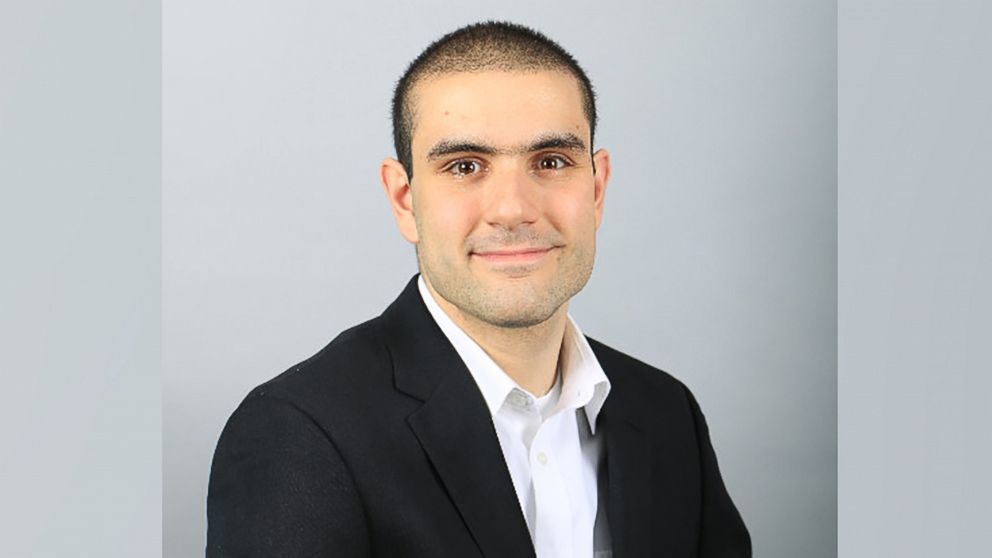 Gibson wouldn't say whether there's evidence to suggest the suspect was frustrated with or nursed grudges against women, but the detective sergeant said it's something investigators will look into.
"As you can imagine, the investigation is extremely detailed and ongoing, and because the accused has been charged, I'm restricted from discussing any evidence involved in the investigation, including any pertaining to motive," Gibson said during a news conference Tuesday afternoon.
Gibson also declined to comment on whether there's reason to believe Minassian is mentally ill.
"That's something that would have to be explored, and it's far too early for me to make any comment on that right now," he told reporters.
Neighbors of Minassian, who lived in the Toronto suburb of Richmond Hill, described him as quiet and odd. They told ABC News they saw Minassian in the neighborhood -- including one neighbor who said he regularly saw him jogging -- but had never spoken to him.
Police said Minassian went to a Ryder truck rental facility just north of Toronto Monday morning where he rented a "paddle-style" white van. That afternoon, he apparently drove the van to Yonge Street and Finch Avenue in Toronto's bustling North York neighborhood, where he allegedly began ramming into pedestrians on the roadway and sidewalk, police said.
Minassian then drove south down Yonge Street for nearly 1 1/2 miles, allegedly striking more pedestrians near Sheppard Avenue. The battered vehicle finally stopped just off Yonge Street on Poyntz Avenue, police said.
Police said 10 people were killed and 14 others were injured in Monday's attack. Ontario's chief coroner, Dirk Huyer, told reporters the deceased victims have not yet been identified, adding that the task is "our no. 1 priority."
"I'm going to tell you today that we have not confirmed any of the identifications at this point and we are working to do that work carefully," Huyer said at the news conference Tuesday afternoon.
Sunnybrook Health Sciences Centre in Toronto confirmed in a statement that it had received a total of 10 patients from the attack. Two of them were pronounced dead upon arrival. Five others were in critical condition and three were in serious condition as of Monday, the hospital said.
Ryder said in a statement it was saddened by "this tragic event" and extended its "deepest sympathies" to those impacted. The rental truck company also stated that it is "cooperating fully with authorities."
Police arrested Minassian and seized a cell phone from him, according to Toronto Police Chief Mark Saunders. He has been charged with 10 counts of first-degree murder as well as 13 counts of attempted murder. He is scheduled to appear in court again May 10 via video link.
A 14th attempted murder charge is imminent, according to Gibson.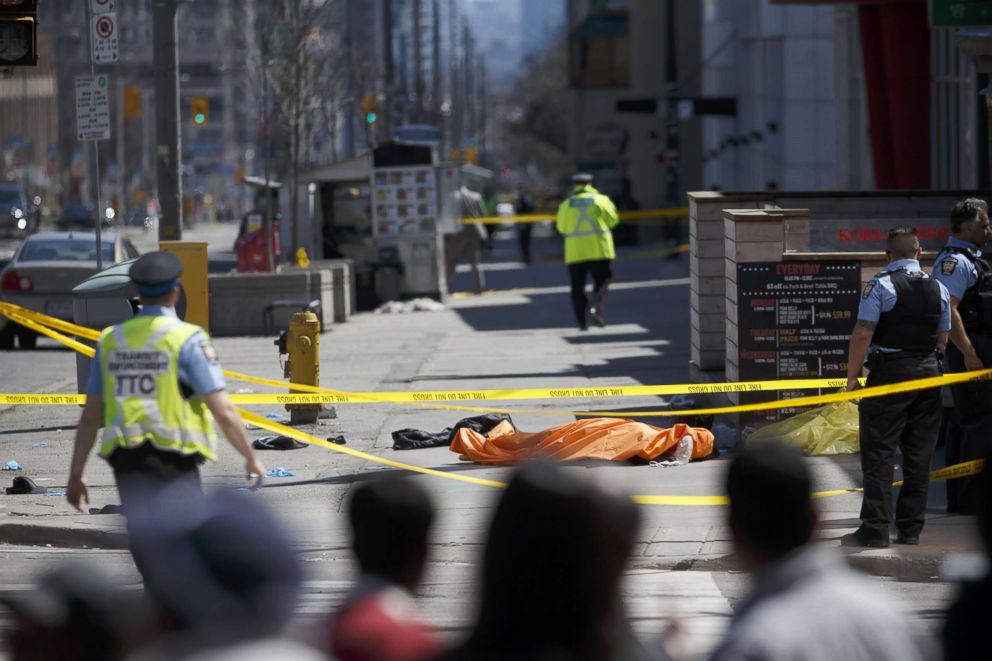 Canadian Minister of Public Safety and Emergency Preparedness Ralph Goodale described Monday's incident as an attack, but said he didn't want to speculate when asked whether terrorism was to blame.
"We cannot come to any firm conclusions at this stage," Goodale told reporters Monday. "The police are conducting their thorough investigation into what happened and why it happened."
At a news conference in Canada's capital on Tuesday morning, Canadian Prime Minister Justin Trudeau said investigators "have no reason to suspect that there is any national security element to this attack."
"Obviously, all Canadians continue and will continue to have questions about why this happened, what could possibly be the motives behind it," Trudeau told reporters in Ottawa. "As was indicated last night by our public security minister, at this time we have no reason to suspect that there is any national security element to this attack, but obviously the investigations continue."
ABC News' Malka Abramoff, Andrew Fies, Ben Gittleson, Alex Hosenball, Erin Keohane, Tom Llamas, Pierre Thomas and Gerry Wagschal contributed to this report.