British Prime Minister David Cameron is having a royal wedding street party at 10 Downing St., and there are a total of 4,000 others planned across Britain.
So what happens at a street party?
"Generally the road would be closed and decorated, often in a red, white and blue theme," says Polly Atkinson, Lifestyle Editor at Conde Nast Brides. "Everyone can gather 'round and eat and drink."
But surely not just any old grub -- this is, after all a royal wedding street party. Lee Bennett, head chef at London's Le Pont de la Tour restaurant, recommends a regal seafood platter.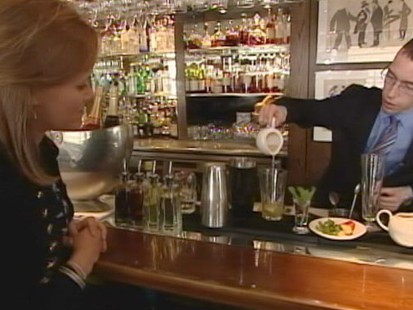 Crab, for instance, is easily eaten out of its shell -- great for a street party.
Need plates? There is no shortage of royal wedding memorabilia and this extends to party ware, which, as Atkinson says can "literally be thrown away afterwards."
Among the companies making street party produce is UK company Talking Tables which has an extensive range called A Very British Street Party with everything from platters and cups to bunting and flags.
Now all these cups will need to be filled with something, so why not make a fruity punch. Here's a special recipe from Luigi Cultrera, barman at Le Pont de la Tour.
A Family Fruit Punch
Ingredients:
Fresh Apple juice 50ml
Fresh Pineapple juice 50ml
Mango syrup splash
Melon Liquor 25ml
Beefeater London Gin 25ml
Fresh mint
Orange zest
Bitter lemon splash

Directions: Pour the mango syrup in to the shaker with the mint and muddle fresh pineapple pieces very gently. Add your apple and pineapple juice, melon liquor and shake thoroughly.
Strain into a chilled glass with washed ice. Top up with gin and a splash of bitter lemon. Then zest the orange on top of the rim of the glass to add freshness and fragrance. Garnish with mint and fruit to your liking.