Today Amanda Knox celebrates her 22nd birthday in an Italian prison -- her second birthday behind bars since she was jailed in November 2007, charged with the brutal murder of her British roommate while studying abroad.
After 20 months in prison, if Knox could be granted a birthday wish, it would likely be freedom.
While Knox had no wrapped gifts, she had her family visit her today in prison, 6,000 miles away from her Seattle home. Visitors included her mother, Edda Mellas, who celebrates her own birthday Friday.
Knox surprised her visitors, however, by baking her own cake. The Italian news agency ANSA. The inmate prepared a chocolate cake with icing and brought pear juice to the meeting, ANSA reported.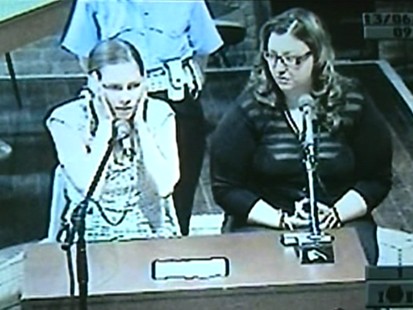 "One of the things [Knox] said was that she
did not want to spend another birthday in jail
-- and here we are," an emotional Mellas told ABC News.
Amanda's sister Deanna, 20, half-sister, Ashley, 14, best friend Madison Paxton and an aunt from Germany celebrated with Knox today too.
"We cannot wrap presents for her but will be bringing her a couple of shirts for court, some CDs and books, and lots of birthday cards from family and friends," her mother said. Mellas told ABC News they were allowed to sing "Happy Birthday" to Knox during their visit.
Amanda gets one 10-minute phone call a week to home, so her dad Curt Knox and other family members will serenade her with "Happy Birthday" by phone.
"We are really glad to be here [in Italy] for her but really sad she has to spend another birthday in jail," Mellas said.
Knox's former Italian boyfriend, co-defendant Raffaele Sollecito, was able to send her a CD by Italian singer Elisa titled "Lotus," and he included a note that read, "A keepsake from a friend for what we are going through together," Sollecito's lawyer told ABC News.
Knox on trial since January
Knox did get a break from the trial this week, since court sessions were canceled because the judge has pneumonia.
The court hopes to wrap up proceedings with two more hearings July 17 and 18 before the court takes a break for the summer. Among the final witnesses expected to be called before the summer recess is a neuro-physiologist who has apparently studied Knox's writings before and after her arrest.
He is expected to tell the court whether some of the things Knox wrote -- such as a statement in which she said she had a vision she was in the cottage when her roommate was killed and heard screams -- were genuine or coerced.
The trial is scheduled to resume in September.
Knox has been on trial in Perugia, Italy, since January, along with her former Italian boyfriend, Raffaele Sollecito, both accused of sexually assaulting and murdering Kercher, a 21-year-old British exchange student with whom she shared a scenic cottage with a view of the Umbrian hills. Kercher was found semi-naked with her throat slit Nov. 2, 2007.
Knox and Sollecito said they were together at his apartment when the murder occurred. A third person, Ivory Coast native Rudy Guede has already been convicted for taking part in Kercher's death and was sentenced to 30 years in prison.
After five months of testimony in which prosecution witnesses had often portrayed Knox as an inappropriately behaved and bizarre young woman, in what her father had called a "character assassination," the defense began its case, a chance to show the jury that Knox is not gulity.
Grisly Testimony in Amanda Knox's Defense
Knox began the defense herself when she took the stand June 12 -- the star witness. She testified primarily in Italian for nearly 12 hours over two days and appeared calm and confident.
A medical examiner gave grisly testimony Monday about how her roommate was likely killed, and concluded that a knife presented by the prosecution could not be the murder weapon.
Medical examiner Carlo Torre also told the court he believed only one knife was used in the crime, and that only one person was involved in the killing.
Torre, hired as a consultant by Knox's defense team, told the court today that the knife that investigators believe is the murder weapon -- a kitchen knife with a 12-inch blade found in Sollecito's kitchen -- was not compatible with some of the wounds found on Kercher. Investigators have said that Knox's DNA was found on the handle of the knife, and that traces of Kercher's DNA were found on the blade.
Torre used autopsy photos to illustrate his points and brought a Styrofoam head on which he demonstrated the cuts to the victim's throat. Because of the graphic nature of the testimony, the judge decided that part of the hearing should take place behind closed doors.
Torre, who is a renowned forensic consultant in Italy and has worked on a number of high-profile cases, told the judges and jurors today he believes the three cuts to Kercher's throat were made by a smaller knife, with a blade that was, at most, 3 inches long. He feels the big wide slash to her throat was made by the sawing action of the smaller knife.
When asked if there could have been two knives involved, a theory put forth by the prosecution when it had to admit that the smaller wounds could not have been made by the big kitchen knife, Torre replied, "It would be the first time in history that a murder was done with two knives."
Differences in Italian and American Judicial Systems
Deciding Knox's fate are two judges and six jurors. Italian jurors are not screened for biases or preconceived notions that could be the result of press coverage. They hear testimony on average only two to three days per week.
Knox Trial Expected to Last Until Fall
It's a potentially dangerous delay for Knox during which the juror's opinion could be swayed by media reports.
In Italy, defendants are allowed to and even expected to lie. While witnesses have to swear to tell the truth, defendants do not. It is assumed that if they are defending themselves, they might not tell the whole truth, and will not be charged with perjury if they don't.
To decide a verdict, both the judges and jury vote, and only a majority vote is needed to convict. In the United States, a jury vote must be unanimous. Both the defense and prosecution plan to appeal the verdict.
With the court taking nearly a two-month recess for the Italian holiday in mid-July, a verdict is not expected until the fall. If convicted, Knox and Sollecito face life in prison. Knox's family refuses to accept the worst case scenario, but understands its nightmare will not end anytime soon.
Mellas has prepared for the worst. "We're all still a little afraid that it's going to go wrong, and it's not going to work out the way it should, but we're being cautiously optimistic."
Curt Knox reflects in a quivering voice, "We stay focused on Amanda and making sure that that light is there for her. We just work through it, we just have to. We are not going to leave an innocent daughter in a foreign prison."
ABC News' Ann Wise contributed to this report.