U.S. fans disappointed in last week's World Cup loss to Ghana might take some solace in the fact that Team USA's loss has become an entire continent's gain.
Africans, setting aside their differences, are pulling together to cheer on the West African country in today's quarter final match against Uruguay. If the team wins, it will become the first African squad ever to make it to a World Cup semi-final round.
The significance of this also being the first World Cup held on African soil isn't lost on Ghana's players either.
"We've made everybody proud," Asamoah Gyan, the striker who scored Ghana's second goal against the U.S. in overtime, told reporters. "Not Ghana alone, but the whole of Africa."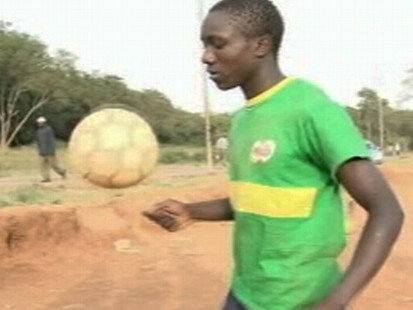 Throughout the continent people are calling Ghana, nicknamed the Black Stars, "Africa's team." In South Africa street vendors have replaced South African flags, with Ghanaian ones. Fans of the country's Bafana Bafana team, which was eliminated in the group stages, are now chanting "Bghana, Bghana." In Kenya, sports bars are waving Ghanaian flags, inviting fans to come out show support for Africa.
Young soccer players across the continent are drawing inspiration from the team's continuing triumph. In Kibera, one of Africa's largest slums located outside of Nairobi, kids say watching the Black Stars and how the continent has pulled together to support the team is motivating them to work hard on the field.
"Even me I'm seeing one day I'm going to be there representing Africa," says Santos Okoth, 15, who plays for the Kibera Umoja youth league. Umoja means "together" in Swahili. "It will be Africa United, not for Kenya."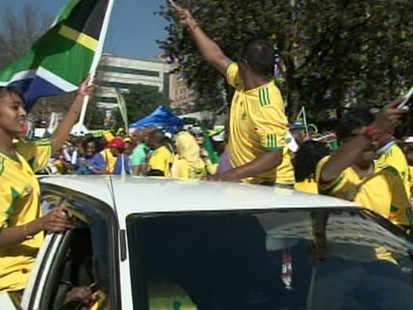 Collins Odhiambo, the coach for Kibera Umoja, says this World Cup has helped his players see themselves as part of something greater than a tribe or nation. "They are saying, 'if Ghana can do it, I can do it'," says Odhiambo.
Six African teams qualified for the World Cup this year: Algeria, Nigeria, Cameroon, Ghana, Ivory Coast, and host nation South Africa. Expectations for African soccer were high. Nearly all of the teams have at least one prominent international soccer star playing for them.
Cameroon is one of only three African teams, including Ghana's current run, to have reached the quarter-finals. But after the tournament began, one by one the African teams fell apart. Nigeria would consistently score early, only to lose the match; Cameroon never lived up to its full potential; and South Africa became the first host country not to advance past the group stages in World Cup history. Out of the six African squads competing, only Ghana advanced.
"Ghana have one thing that all the other African teams this world cup haven't had and that's proper preparation." Steve Bloomfield, author of Africa United: Passion, Politics and the First World Cup in Africa, tells ABC News. "They've had the same coach for more than two and a half years. They have over a long-term period invested in youth development."
Bloomfield says the other African teams that qualified had chaotic preparation time for the tournament. For example, four out of the six teams had completely different coach less than a year ago. But despite the debate over the state of African soccer, Bloomfield says there's nothing complicated or particularly African about Ghana's success.
"Ghana's shown the way forward. If you invest in your players at an early age, if you invest in a coach and give him the backing that he needs, then you can do well," he says.
How well will be answered at the quarter-final match against a tough South American team which already has two World Cup titles under their belts. Injuries and penalty suspensions against key players won't help Ghana's chances of advancing to soccer's final four, either. Still Africans, and much of the rest of the world, believe.
A look at Twitter shows that it's not only Africans rooting for the Black Stars, but people from nationalities all over the world. Newspapers in Britain and the United States are running sports editorials backing the team.
Despite Ghana being the country to eliminate the United States, The Wall Street Journal is featuring, "Why Americans Should Pull for Ghana," calling the team the World Cup's "Cinderella Story."
Bloomfield says he's not surprised that the world seems to be hoping Ghana continues its World Cup run. "There's a romance to it," he says. "It's Africa's World Cup, so it's only natural that if your team's out, you'll get behind the African team."