— -- The deaths of an American couple aboard a riverboat cruising on the Amazon River last year has put a spotlight on a decades-old law that critics say limits the liability of boat and cruise companies operating in international waters.
"There's no place else in the world that you can kill somebody and really have no consequence, other than international waters," said Jill Malott, one of the couple's daughters.
Larry and Christy Hammer, 74 and 72, from Gretna, Nebraska, boarded a vessel in Iquitos, Peru, run by the Alabama-based International Expeditions in April 2016, eager for the vacation of a lifetime.
"They had worked for years and lived pretty frugally," said Malott. "Because they always looked forward to a retirement where they'd be exploring the world together."
They carefully chose this cruise, their daughters said, because they were told it was a brand new vessel, built to exceed Peruvian safety standards.
"International Expeditions has been a pioneer in this part of the Americas," said the company in a promotional video, "developing the expertise and planning to safely carry adventure travelers into this seemingly unchartered world."
On the first night of the cruise, however, something went terribly wrong in the Hammers' cabin. Video from a ship surveillance camera, obtained exclusively by ABC News, shows smoke began to come out of their room and filled the hallway outside in minutes.
According to Bessie and Randy Rosenberg, a California couple staying in a cabin down the hall, no smoke or fire alarm sounded.
"When Randy opened the door, the hallway was just filled with smoke," Bessie Rosenberg said. "You couldn't see five inches in front of your face."
The surveillance video shows that, again and again, crew members went to the Hammers' room but didn't try to go inside. An investigation by the Peruvian navy found that it was 20 minutes and 47 seconds from the first sign of smoke until members of the crew entered the cabin and attempted to rescue the Hammers, and by then, it was too late. Larry Hammer died in the cabin from smoke inhalation, and the crew waited another six minutes before pulling out Christy Hammer, who later died en route to a hospital.
The Peruvian navy determined that an overheated power strip caused the fire and that the ship's fire alarms did not operate — to the disgust of the Hammers' daughters, Malott and Kelly Lankford.
"International Expeditions didn't put audible alarms in the cabins," Lankford said. "Them getting on that boat cost them their lives."
The Peruvian navy also found that a quicker response by the ship's crew "would have enabled at least Mrs. Christy Hammer to be saved."
International Expeditions would not specifically answer questions from ABC News. In a statement, the company said that it is "deeply saddened" by the Hammers' deaths. "Given the pending legal proceedings in Peru, we cannot provide specifics, but our highest priority remains the safety of our guests aboard our chartered vessels ... We continue to review our operations to ensure we have the right protocols in place."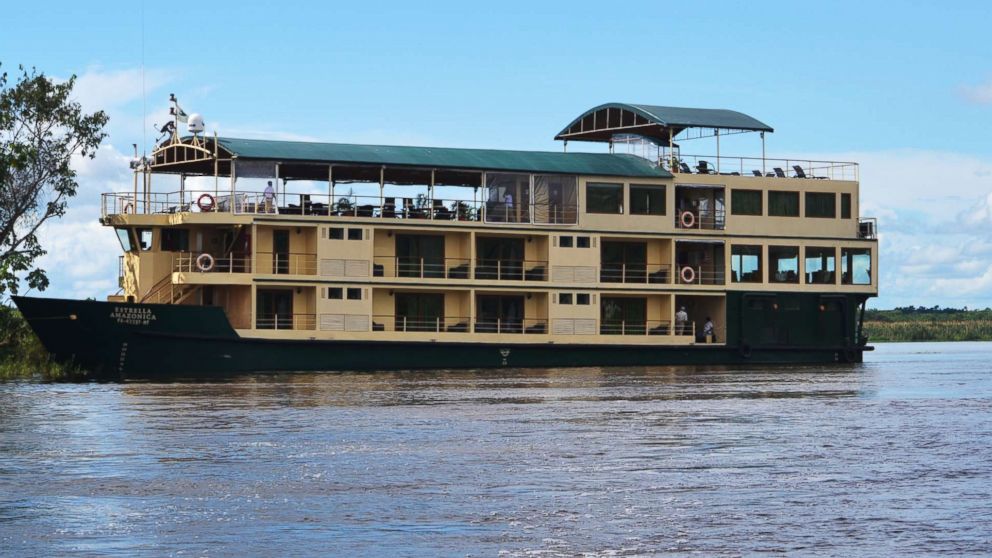 When Malott and Lankford felt that the tour company was not taking responsibility for their parents' deaths, they hired lawyers and began to pursue legal action. They were shocked, they said, when they learned that the families of passengers who die during cruises often come up against a federal statute called the Death on the High Seas Act.
Under the law, passed in the 1920s, surviving family members often may not obtain judgments for nonpecuniary damages (pain and suffering) when a cruise passenger dies in international waters.
"I often refer to it as a get out of jail free card for the cruise lines," said maritime lawyer Michael Winkleman, adding that while cruise companies will often reach settlements, the Death on the High Seas Act means that family members can receive considerably less than they expected.
Brett Rivkind, a Miami maritime lawyer representing Malott and Lankford, said he has seen $5 million cases settled for as little as $100,000 because of the statute. "It's devastating, actually, because you lose a loved one," he said of family members, "and it's extremely difficult as an attorney in communicating to clients this is all they can recover."
"If you're younger or older and retired, they say your life has no value," said Ken Carver, the chairman of the International Cruise Victims Association. "So in effect, lawyers won't even take a case where the ship was at fault."
He has been fighting the cruise industry for 11 years after his daughter disappeared from a cruise to Alaska.
"If you get on a cruise ship in Miami and sail to London and the ship sinks, they have no liability," Carver said. "And they don't want the liability for the thousands of people on that ship."
Carver and other victims' families are in the halls of Congress in Washington this week to try to gain support for the Cruise Passenger Protection Act. Sen. Richard Blumenthal, D-Conn., is a supporter.
"Americans booking a cruise, they see what appears to be an American company, advertised as an American company, they expect sort of the protections you get when you're dealing with an American company," he said. "They assume that. And unfortunately, they don't get it."
The Cruise Line Industry Association told ABC News, "Cruising is one of the most heavily regulated sectors of the travel and hospitality industry, and it has an outstanding record in operational safety and customer care ... Singling out a high-performing segment of the travel and hospitality industry to impose a new and costly layer of federal regulation is unjustified and unnecessary."
The Hammers' daughters contend that the Death on the High Seas Act does not apply to their case because International Expeditions specified in its ticket contract that Delaware law, not general maritime law, would apply to any disputes arising from the cruise. But their parents' deaths and their work with the International Cruise Victims Association has opened their eyes, they said, to the challenges facing many other family members of people who died during cruises.
"We don't want this to happen to another family. This has been the worst year of our lives," said Malott. "What happened was so wrong. And we're going to do our best to make it right."