— -- The father of Keith Broomfield, the American killed fighting alongside Kurdish forces in Syria, has said his son felt "led by the Lord" to go to the region.
Speaking at a news conference outside the family home in Westminster, Massachusetts, Tom Broomfield said when his son went to battle the ISIS militant group he "knew the risk, but believed in opposing evil."
Earlier today, the Kurdish People's Protection Units, or YPG, released a compilation of video clips purporting to show Broomfield, 36, whose death inside Syria was confirmed by the U.S. State Department Wednesday.
The man seen in the YPG videos identifies himself as Keith Broomfield in one clip, and in another clip says, "I'm here to be a part of the movement, do whatever I can to assist that."
Broomfield died on the battlefield "during an operation in Qentere village," according to the YPG's media center, making him the first known U.S. casualty among dozens of Americans who are believed to have joined Kurdish forces in their fight against ISIS militants. State Department officials confirmed he was killed fighting alongside Kurdish forces.
"I'm here to do what I can to help Kurdistan," Broomfield says in the video. "You know, with everything that's been going on it seems like the right thing to do."
According to The Associated Press, Broomfield's family retrieved his body at a Turkish border crossing Thursday. Social media posts showed hundreds of people giving a hero's farewell, waving flags in support as his casket was carried through the streets of Kobani in Syria.
These images were captured by a journalist inside Syria and published on Twitter. ABC News cannot independently confirm the veracity of these photos nor of the video clips.
The State Department declined to comment on the record about the circumstances surrounding Broomfield's death Wednesday, instead saying the U.S. is providing "all possible consular assistance." State Department spokesman Jeff Rathke reiterated today that the U.S. government strongly advises against any travel to Iraq or Syria.
"I want to be absolutely clear that the United States government does not support U.S. citizens traveling to Iraq or Syria to fight against ISIL," Rathke said. "And, of course, not to fight with ISIL, either."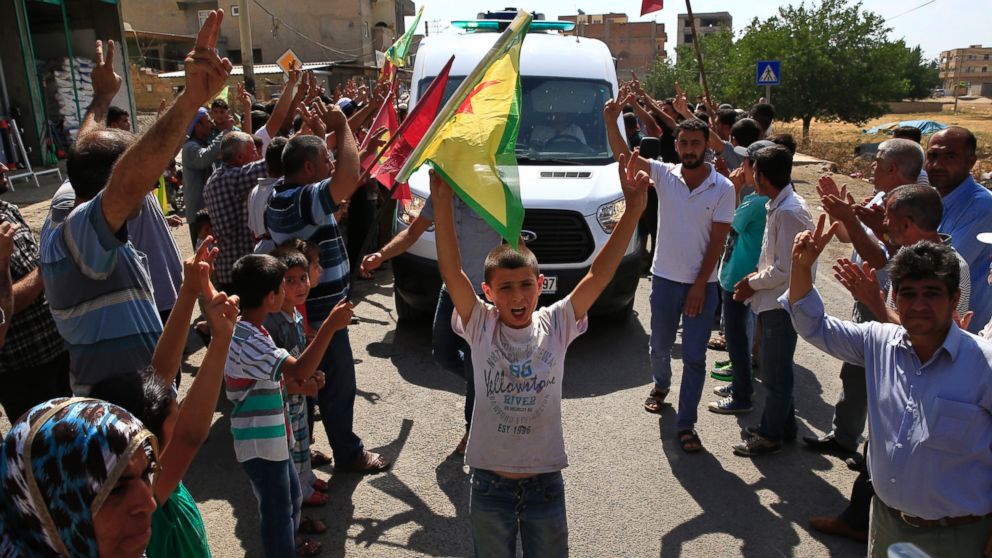 In the video, Broomfield also refers to himself as Gelhat Rûmet, a name presumably given to him by the YPG, and gives various self-identifiers, saying he is from the Boston area, his father is Tom and his mother is Donna.
Broomfield was the second of six children. His brother, sister and father spoke briefly outside their home Thursday, and said they expect to have his body home by Saturday.
Tom Broomfield said the "brutality of ISIS" and the persecution of the Kurdish people were what drew his son to want to fight in Syria.
"That really troubled him, and he did say that he really felt led by the Lord to go over there," Broomfield said. "[Keith Broomfield] said, 'I really feel the need to go there and do what I can. I can't just sit back here and watch.'"
ABC News' Jon Williams contributed to this report.