— -- The American serviceman injured while stopping a gunman on a train last week said charging the attacker was a long sprint, like "slow motion," while fearing that he'd get shot.
As Airman 1st Class Spencer Stone, 23, ran at the gunman, he was thinking, "I'm going to get shot, I'm dead," he said in a video released today by the Pentagon's Defense Video & Imagery Distribution System.
The interview was filmed Sunday in Paris, one day after Stone was released from the hospital.
"Every time I heard a click I was like, 'Oh, I'm still alive,'" Stone said.
Stone said he wouldn't be here today without his friends.
"If it wasn't for Alek [Skarlatos] and Anthony [Sadler], I would be dead. I wouldn't have been able to do it by myself. So, he definitely would have got me," Stone said.
Stone also credited the Air Force for giving him "the tools to be the person I've always wanted to be."
"I've met so many great men and women in the Air Force that I know that almost every single one of them would have done the exact same thing," Stone said.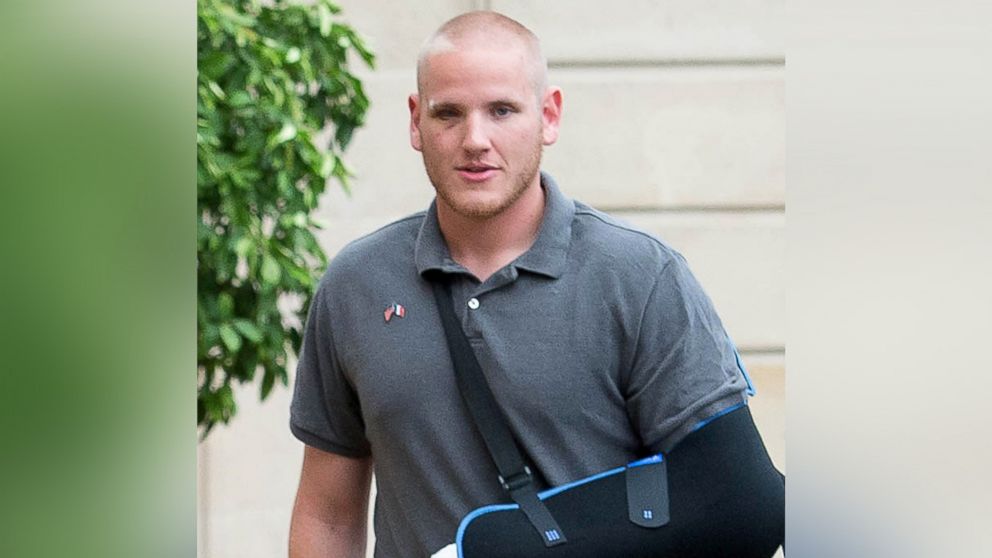 After the gunman fired on board a Paris-bound train Friday, Stone, of Carmichael, California, tackled the attacker to the ground.
Stone's friend Alek Skarlatos, 22, an Army National Guardsman, then took one of the guns away, but the attacker "kept pulling weapons left and right," Stone said. Stone, Skarlatos and their friend, Anthony Sadler, 23, a senior at Sacramento State University in California, were among the several train passengers who stopped the attack.
Stone said the attacker aimed a pistol at him -- and tried to fire -- but the gun didn't work.
It "seemed like he had pointed it backwards and clicked it at my head, it wasn't working either," Stone said.
Stone said Skarlatos hit the suspect with one of the guns and they pried the pistol out of his hand. They were holding the attacker down when Stone realized he was injured.
"I see he's got like about a 6-inch box cutter blade," Stone said. "And then I look at my thumb and it's hanging halfway off."
Stone screamed, "Get the knife," he said, and let go of the suspect. Stone, Skarlatos and Sadler all started hitting him and Stone "choked him out until he went unconscious."
Once the gunman was subdued, Stone went to help another passenger who had been shot.
"I felt like I was the only person that could help him," Stone said.
"I just thought that guy was going to die so I wanted go give him a fighting chance," Stone said. He said the adrenaline was keeping him from feeling his own injury at that point.
Stone has since had surgery to reattach his thumb after the gunman slashed him with the box cutter. He was released from the hospital Saturday.