— -- A distraught Ariana Grande offered her condolences to the victims at the Manchester Arena, where 19 were killed and around 50 others injured after reports of an explosion.
The "Dangerous Woman" singer tweeted that she was "broken" and said she didn't "have words" for what happened.
Grande had just finished performing and left the stage when concertgoers reported hearing a loud bang.
Eyewitness Karen Ford told the BBC, "The lights had come up everyone was just getting out and walking towards the stairs, when all of a sudden this huge sound, which sounded like an explosion went off."
She added: "Everyone just stopped and turned around, and then somebody shouted 'it's a bomb' and everyone just started running. Everybody was trying to push people up the stairs. There was a lot of children there without parents. There was no one to calm them down so everyone was just screaming, crying and pushing."
At the moment, the incident is being treated as a "terrorist incident until police know otherwise," Greater Manchester Police said. U.S. law enforcement officials have been informed that the leading theory is that the Manchester Arena incident was the work of a suicide bomber, though they caution that this is preliminary information, according to a senior law enforcement official briefed on the investigation.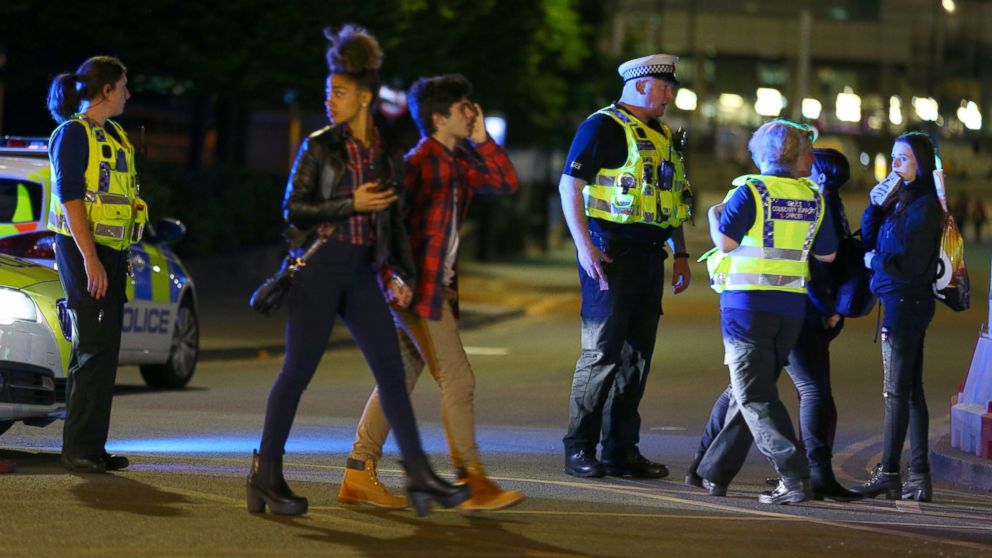 A rep for Grande confirmed that she was not harmed.
In a statement, Grande's manager, Scooter Braun, echoed her tweet, writing, "Our hearts are broken."
"We mourn the lives of children and loved ones taken by this cowardly act," he added.
The wounded are being treated at six different hospitals, Greater Manchester Police Chief Constable Ian Hopkins said in a press conference. "We're doing all that we can ... as we gather information about what happened," he said, asking people to remain vigilant.