The Canadian government said it's working with U.S. visa officials in Nigeria to mitigate the surge of migrants coming to the United States seeking a safe haven in neighboring Canada.
There's a growing number of Nigerian asylum seekers who legally travel to the United States on a visa and stay for a brief time before attempting to cross the border into Canada, according to the Canadian government. In response, three Canadian officials have been stationed to work with U.S. visa officials in the Nigerian city of Lagos to "combat abuse of U.S. travel documents," the government announced in a press release Monday.
"Coming across the border in a way that seeks to circumvent our procedures is no free ticket to Canada," Canada's Minister of Public Safety and Emergency Preparedness Ralph Goodale said in a statement. "We will continue to ensure an orderly managed border, including the compassionate treatment of those who genuinely need Canada's protection. And we will continue to work with the United States to deter the misuse of travel documents that has helped drive the influx."
Canada's Minister of Immigration, Refugees and Citizenship Ahmed Hussen will also travel to the West African nation this month to meet with Nigerian officials about the issue.
"Our government's priority first and foremost is to ensure that all laws are followed to protect the safety and security of Canadians," Hussen said in a statement.
The U.S. Embassy and Consulate in Nigeria did not respond to ABC News' request for comment Wednesday.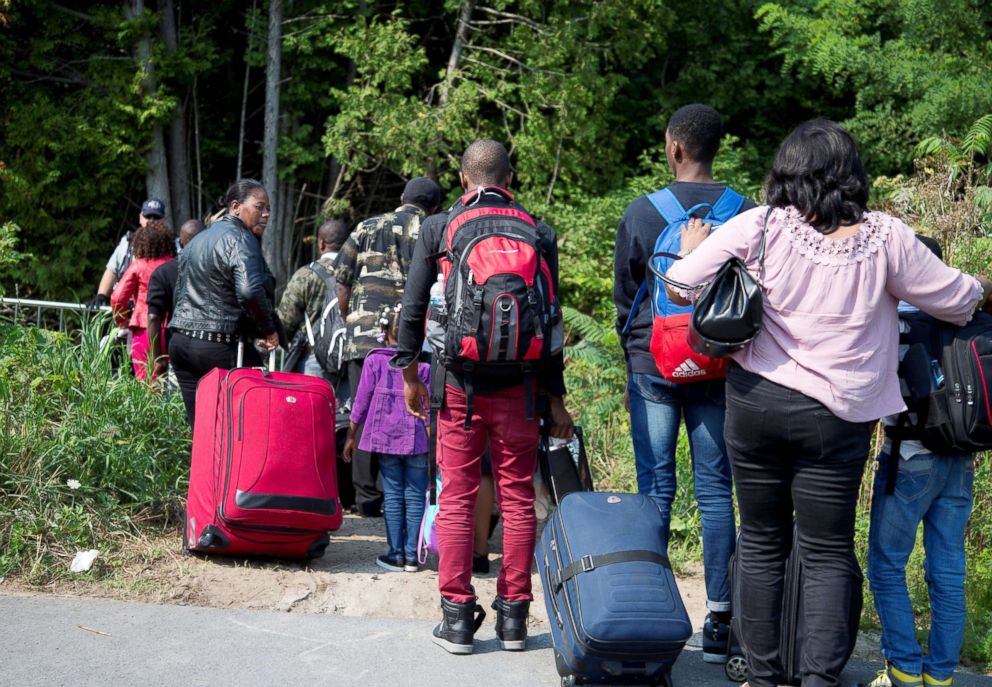 More than 25,000 asylum seekers were apprehended by the Royal Canadian Mounted Police, mostly in Quebec, as they crossed "irregularly" into Canada from the United States between the ports of entry from January 2017 through March of this year. The influx of irregular border-crossers appears to be on the rise, and there's concern the number will soar as the weather warms up.
The number of asylum seekers apprehended by the national police force in the first three months of this year was more than double the amount in the same period last year. And last year, the number intercepted at the border more than tripled in July and August, according to figures from the Canadian government.
Many of the asylum seekers crossing into Canada last year were Haitians who feared they would lose their temporary protected status (TPS) in the United States, after President Donald Trump's administration announced it will end the program for Haitian immigrants by July 2019.
So far this year, most of the asylum seekers crossing into Canada by land have been Nigerian citizens, the Canada Border Services Agency confirmed to ABC News.
"Nigerians do not want to settle in the U.S. but in Canada. It is much easier for a citizen of Nigeria to obtain a tourist visa for the U.S. than for Canada," Stephane Handfield, an immigration lawyer in Montreal, told ABC News in French. "So they get a U.S. tourist visa, stay a few days in the U.S. and cross the Canadian border."
Handfield said it's also easier for asylum seekers to obtain refugee status in Canada than in the United States.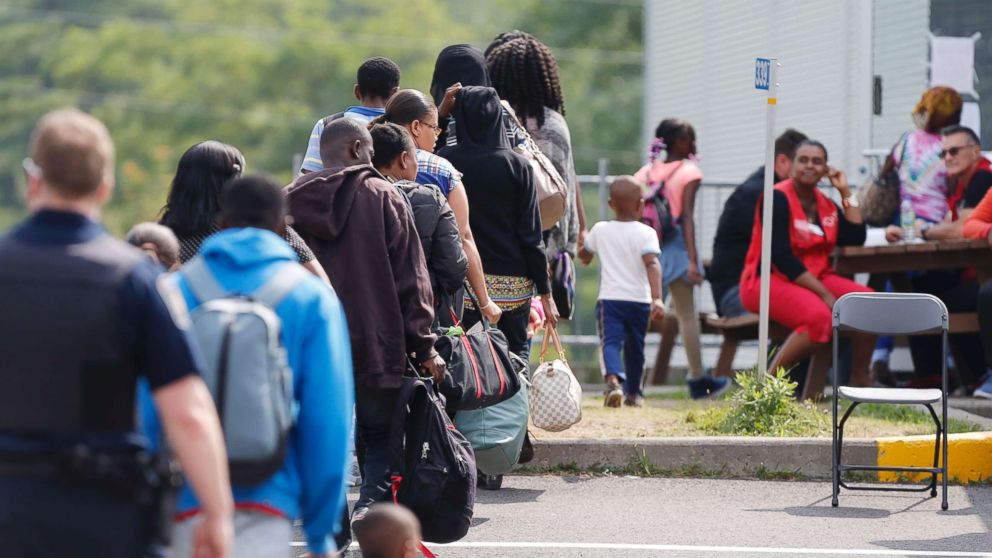 Nigerians are fleeing their home country for a number of reasons, such as poverty, persecution and violent conflict, including Boko Haram's years-long insurgency. The Nigeria-based jihadist group, which seeks to establish an Islamic state, has killed more than 20,000 people and displaced some 2.3 million since 2009, according to the latest figures from the United Nations.
"When people are fleeing persecution, whether they're in Nigeria or elsewhere, they will take whatever method and route is available to them," John Cockell, spokesman for the United Nations High Commissioner for Refugees in Canada, told ABC News. "International humanitarian law recognizes this and that's why asylum seekers are not penalized for entering a country using irregular means, as many choose to do in the case of Canada."
"We feel [Canadian] authorities have actually done a very good job with managing the increased numbers," Cockell added.
The Canadian government said it will build new facilities for short-term accommodations at a popular border crossing into the province of Quebec from New York state. Canadian officials will also fast-track work permits for asylum seekers, so they can financially support themselves and their families while they wait to see if their claim for protection is granted.
"While we adhere to international conventions and want to offer asylum to those fleeing persecution and war, the fact remains that there are very specific laws, rules and criteria to be respected in order to find refuge in our country," Canada's Minister of Transport Marc Garneau said in a statement.
ABC News' Ben Gittleson contributed to this report.