PARIS and LONDON -- Chad's newly reelected president, Idriss Deby Itno, died Tuesday on the battlefield in clashes with rebels, according to the country's military. He was 68.
"Supreme Chief of the Armed Forces, Idriss Deby Itno has just given his last breath while defending the territorial integrity on the battlefield," Gen. Azem Bermandoa Agouna, spokesman of the Chadian army, said in a televised statement. "It is with deep bitterness that we announce to the Chadian people the death, this Tuesday, April 20, 2021, of Marshal of Chad ... as a result of his injuries to the forehead."
One of Africa's longest-ruling leaders, Deby was injured on the front line in the northwestern Kanem region where rebels seized territory, a spokesperson for Chad's presidential office told ABC News.
In the wake of Deby's death, Chad's constitution was suspended, both parliament and the national government were dissolved, a transitional council of military officers was established, the country's land and air borders were closed and a nightly curfew was imposed. Deby's son, Mahamat Idriss Deby Itno, has been named interim president by the transitional council.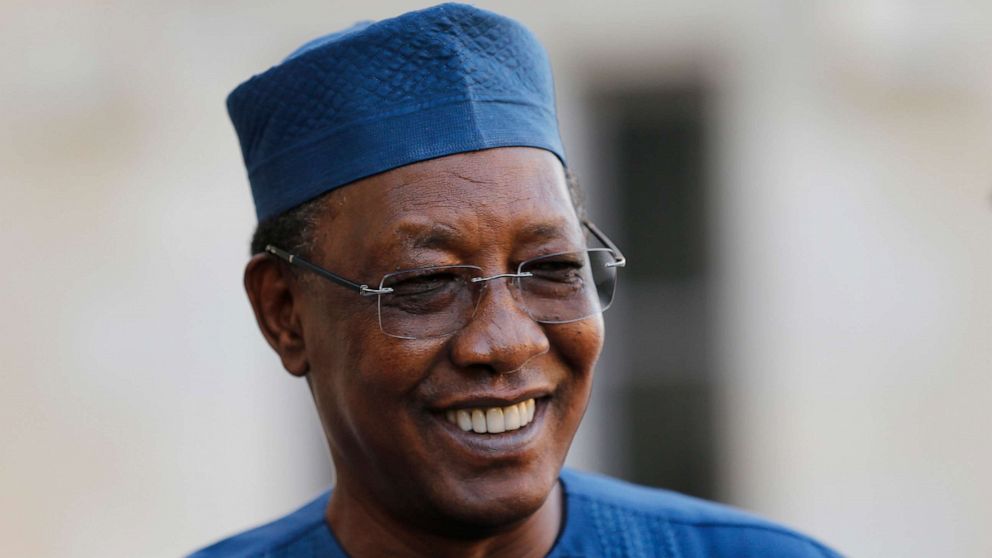 Deby's death comes as Chadian forces battle the Front for Change and Concord in Chad (FACT), a rebel group based on the country's northern frontier in Libya. The rebel fighters entered Chad through Libya on the country's election day, April 11, a FACT commander told ABC News.
The rebels came under attack Tuesday by three lines of Chadian armored fighting vehicles, one of which was carrying Deby. The Chadian president was shot and killed when his vehicle was destroyed and he was forced to evacuate, according to the FACT commander.
The FACT commander told ABC News his forces are not advancing on the capital, N'Djamena, just yet but that they are in close contact with military representatives and they want to negotiate a role in the transitional council. If they do not come to an agreement, the commander said his fighters will attempt to invade the capital.
Over the weekend, Chadian government spokesperson Cherif Mahamat Zene said the army defeated FACT fighters who had taken full control of the Borkou-Ennedi-Tibesti and Kanem regions of northern Chad but that fighting later resumed.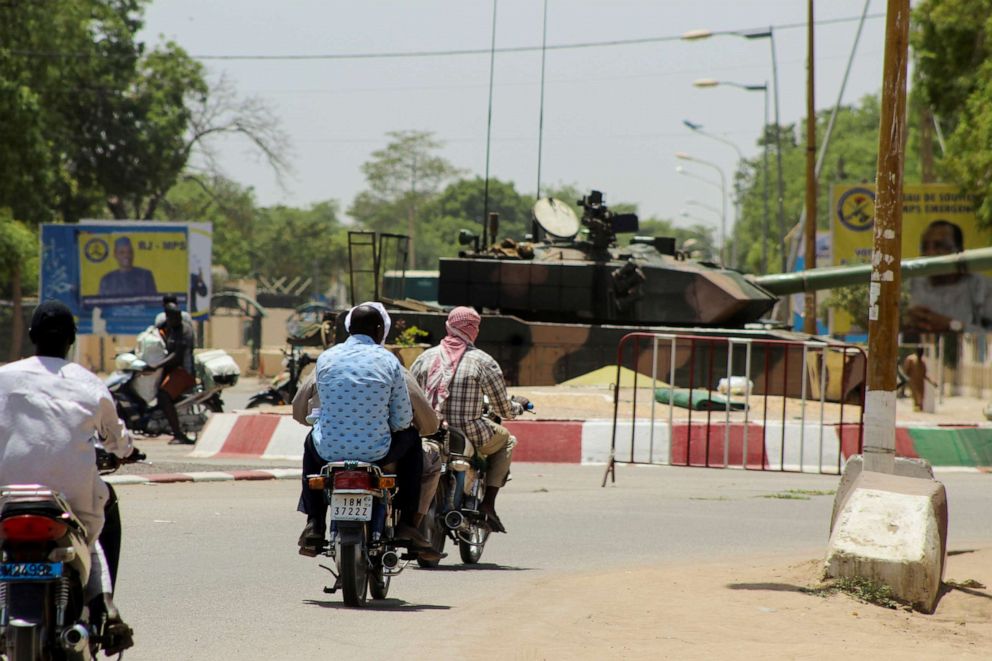 The U.S. Department of State raised Chad's travel advisory to a red-alert Level 4 on Saturday, urging all Americans not to travel to the country "due to civil unrest and armed violence" and listing COVID-19 as another reason to "reconsider" going there.
On Tuesday, the U.S. Embassy in N'Djamena temporarily directed its personnel "to shelter in place" and said it will be closing to the public "until further notice for all but emergency cases." The embassy said it does not anticipate organizing evacuation flights and urged any remaining U.S. citizens to leave as soon as possible via commercial airlines. The embassy later lifted the shelter-in-place order and said its consular section will remain closed.
Deby was declared the winner of Chad's presidential elections on Monday -- the day before his death -- which would have given him another six years in office. According to provisional results announced by Chad's National Independent Electoral Commission, Deby won the election with 79.32% of the vote.
Deby, who seized power in a coup in 1990, ruled the north-central African nation with an iron fist for 30 years and was accused of fixing elections. Human Rights Watch, a New York-based human rights watchdog, said Chad's security forces had led a relentless crackdown on protesters and political opposition to the 2021 presidential election, compromising the ability of Chadians to freely choose their elected representatives.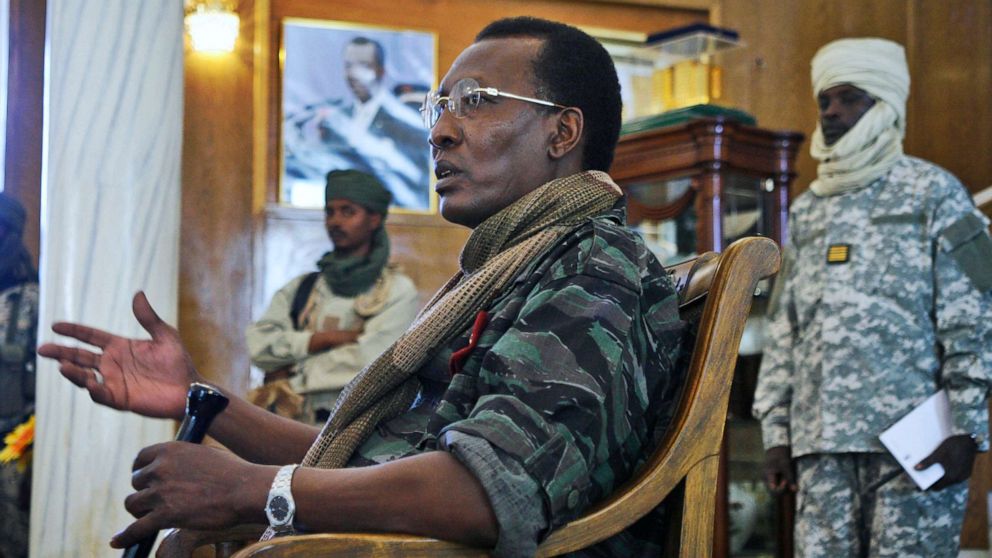 Despite a poor human rights record, Deby was a crucial counterterrorism ally of France, the United States and others in Africa's Sahel region.
French Foreign Minister Jean-Yves Le Drian said in a statement Tuesday that he "was extremely shocked to learn" of Deby's death and that a political transition must now "establish an inclusive, civilian government in the interest of the country and the Chadian people."
"Chad is losing a friend of France and a reliable partner who has worked tirelessly for the security of his country and the stability of the Sahel," Drian added.
The African Union said it "stands in solidarity" with Chad.
"The late President Déby played a key role in promoting the African Union's Agenda to promote peace and security and was an ardent supporter of the Union's efforts to create an environment of security and stability, especially within the Sahel region," the regional bloc said in a statement Tuesday.
The U.S. Department of State spokesperson Ned Price said in a statement Tuesday that the United States condemns the "recent violence and loss of life in Chad" and that it supports "a peaceful transition of power in accordance with the Chadian constitution."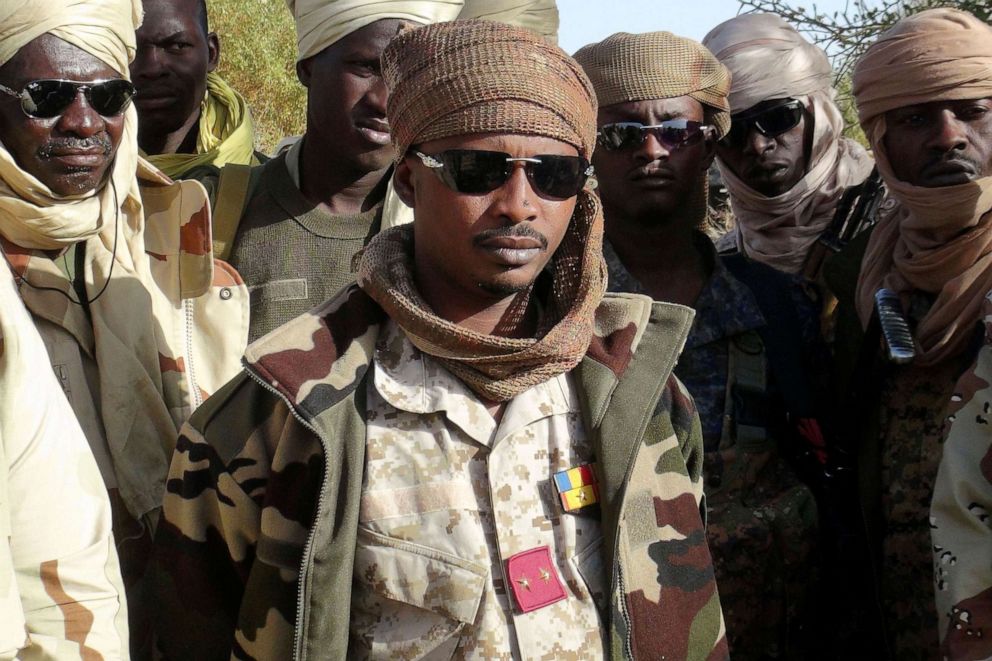 During a press briefing later Tuesday in Washington, D.C., Price faced questions from reporters about the Chadian military stepping in and naming Deby's son interim head of state, which was in clear violation of the country's constitution.
"We will be watching very closely," Price said. "We will be supporting the people of Chad and seeking to ensure -- to help them ensure that everything going forward is in accordance with their constitution."
"Obviously, Chad's institutions are enshrined in its constitution," he added. "We want to see the elements of that constitution protected going forward, whether that entails a transition of power or the sanctity and integrity of Chad's institutions."
Price said he had no calls to read out between U.S. and Chadian officials but that cooperation on counterterrorism will continue in the meantime.
"I am confident that work will continue," he said.
ABC News' Aicha El Hammar Castano and Conor Finnegan contributed to this report.