In the final moments before a Boeing 737 crashed in the dead of night on an island off the coast of Colombia and cracked into three pieces, passengers said they heard a thunderous boom before they were thrown onto the runway.
"It's just like a nightmare, but I'm thankful because I'm alive," Carolina Bellino, a pregnant American who was onboard the plane that made a "miracle" landing Monday, told "Good Morning America."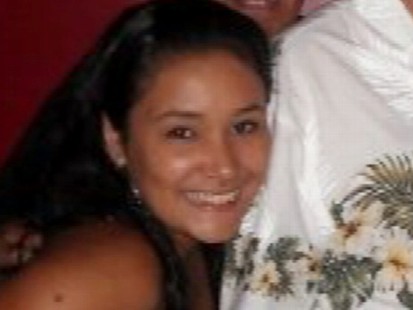 Amazingly, all but one of the 131 passengers onboard the Boeing 737-700 survived. The lone fatality was a 73-year-old woman who reportedly died of a heart attack moments after the crash.
It was a little before 1:45 a.m. when investigators said Aires Flight 8250, en route from Bogota to San Andres Island in a thunderstorm, hit short of the runway, skidding on its belly before splitting into three pieces.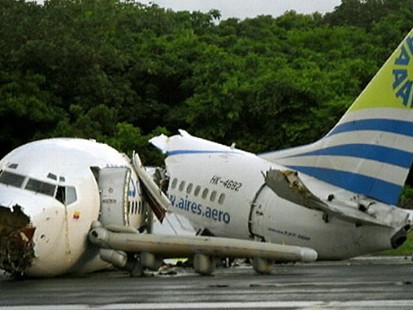 Six Americans, including Carolina and David Bellino of Georgia, were among the passengers who were sitting by the plane's emergency exit.
Carolina Bellino, who is two months pregnant, told "Good Morning America" it happened so suddenly that the crew didn't have time to warn the passengers to brace for impact.
"I remember the flight attendants saying, 'Get ready for landing.' After that, what I remember is my husband pulling me through the exit door. We were sitting next to the emergency door. The plane broke in three or four pieces," she said.
Bellino's husband, David Bellino, fractured his neck and broke his back on impact but still managed to drag his wife to safety.
"First, he got up and he tried to open the door. He went out and he came back for me. He collapsed. The wing was covered with fuel. I was concerned ... we would have an explosion and die," she said.
Of the passengers and crew members onboard, 66 were injured and 34 were hospitalized, according to the Colombian Civil Aviation Authority.
The Bellinos were among those rushed to the hospital near the San Andres airport, where they sent messages to their church group and family, letting them know they'd survived.
"It was a miracle, and we have to give thanks to God" that only one person died, said San Andres Gov. Pedro Gallardo.
Aviation Experts Credit Plane's Design for 'Miracle' Crash
Aviation experts say the aircraft's improved design was what saved so many lives, pointing to the fuel tanks' location on the wings of the plane as playing a crucial role.
"One of the important things that made this crash survivable is there was no fire," said aviation expert John Landsman. "It's not unusual to have people survive the impact, but [they] often perish in fire afterward."
Carolina Bellino said she looked to God and was thankful that she and her baby survived the dramatic ordeal.
"It was just so amazing ... seeing all these people. I don't know if it's 80 people. They're all alive," she said. "You know, I'm thankful to God. This is a miracle."
After the harrowing crash, the parents-to-be look at life differently.
"It's a new beginning for us," she said. "You know you realize you can lose your life in just 20 seconds."
Boeing 737 Splits on Landing; One Passenger Dies
The Aires website said the airline has 10 Boeing 737-700s in service. The oldest was originally put into service by Southwest Airlines in 1997.
This is the second time a 737-700 has been involved in an accident in which people died, according to the website AirSafe.com.
The previous accident took place Dec. 8, 2005, when the pilot of a Southwest Airlines flight landing at Chicago's Midway Airport from Baltimore couldn't stop the aircraft on the runway. The aircraft struck a fence and two vehicles on the ground, killing a 6-year-old boy, but none of the 95 passengers onboard were seriously injured.
Click here to return to the "Good Morning America" website.