— -- A courtroom in the Netherlands was left stunned today after Slobodan Praljak, a former commander of Bosnian Croat forces, took his own life by drinking what he said was a bottle of "poison."
Right after Praljak's 20-year sentence was upheld, in The Hague at the U.N.'s International Criminal Tribunal for the Former Yugoslavia, he yelled, "I am not a war criminal," and proceeded to drink from a small bottle. The episode was captured on the courtroom's video feed.
The judges appeared stunned and confused for a short time before starting to move on.
"I have taken poison," Praljak interrupted, according to an interpreter on the courtroom's video feed. Many in the room began to scramble to assist him. The presiding judge quickly ordered that the proceedings be suspended and the room's curtains be shut.
Hours later, Croatian Prime Minister Andrej Plenkovic said Praljak died shortly after drinking the contents of the bottle, according to The Associated Press. "We have all unfortunately witnessed his act by which he took his own life," Plenkovic said, the AP reported.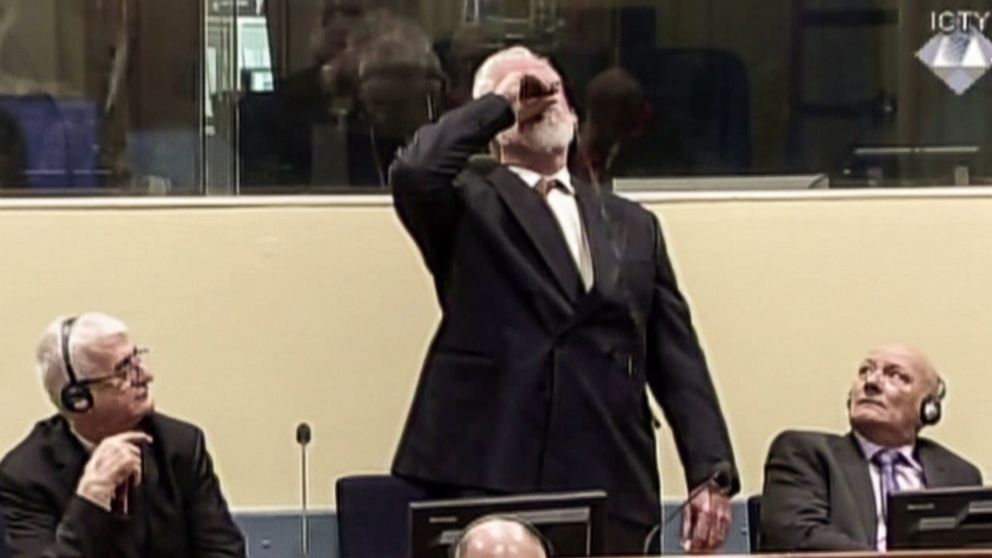 Praljak was a commander of Bosnian Croat forces in the Bosnian war from 1992 to 1995, according to the AP. He was one of six Bosnian Croat political and military leaders who appeared in court today who were convicted in 2013 by the United Nations on a number of charges of war crimes against Muslims, according to the AP.
Toma Fila, a Serbian lawyer, told the AP that "pills and small quantities of liquids" would not be flagged by court security, which follows procedures similar to those at airports, and that taking poison into the court is "absolutely possible."