— -- An Australian tourist was left stunned after he witnessed a crocodile attempting to swallow a shark.
Andrew Paice, 43, was on a one-hour cruise on the Adelaide River in Australia when he spotted something unusual in the river.
"Earlier, we saw an 18-foot male crocodile known as Brutus leaping out of the water to eat a piece of buffalo meat held out on a pole to them," Paice told ABC News via email.
VIDEO: Veteran Animal Trainer Fights for His Life After Tiger Attack
Snake Eats Monster Centipede, Which Eats It Back
Photos Tell You Who Won Snake Vs Croc Battle
When Paice and his family were on their way back to the jetty, they went past Brutus again. Only this time, they spotted there was a fin in the riverbank as well.
"I thought it was a [fish] or something," Paice said.
"Then the guide took the boat in for a closer look and behold… it was a shark," Paice added.
Brutus, famous among tour guides, is thought to be about 80 years old and missing a front leg and most of his teeth. He was photographed wrestling with a bull shark it its jaws.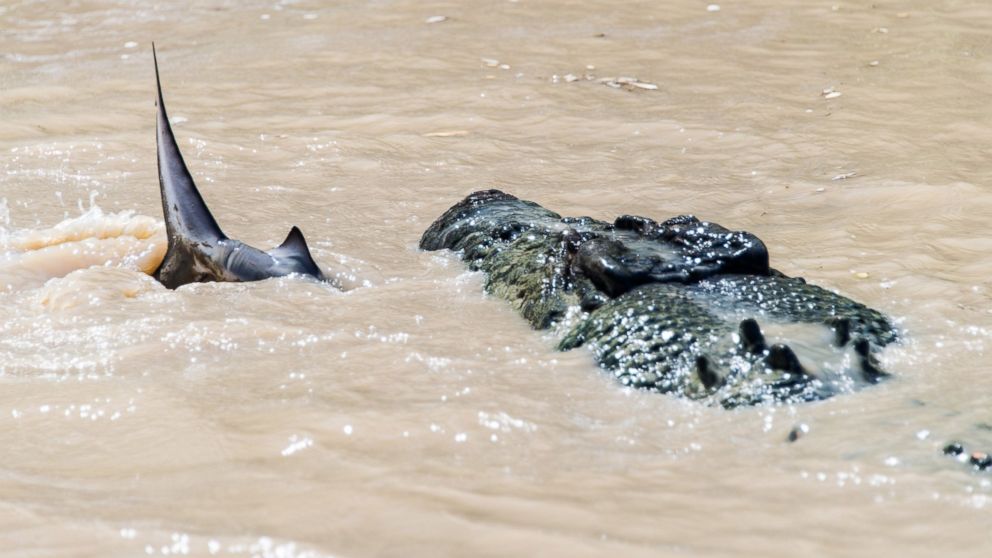 "The shark was alive in the crocodile's mouth," Paice said. "The shark kept wriggling and thrashing about in the croc's mouth."
"The croc slid back into the water with the shark in its mouth and then swam across to the mangroves to protect its catch," Paice added.
Paice said his daughter was "awestruck" by the experience.
"Our tour guides, Morgan and Harry, have been doing this for 30 years and they have never seen anything like this," Paice said.
Paice said the shark was about 5-feet long. Although Brutus looked like he had taken the shark, Paice said there was a possibility it had actually escaped.
"Brutus is such an old croc," Paice said. "His teeth aren't really good, so he couldn't puncture him very well."
Paice is currently on a one-year adventure around Australia with his partner Nikki and his daughter.
Paice, an amateur photographer, has taken over 6,500 pictures over the past four months.
"It has certainly given me a boast in regards to my photography," he said.