— -- Lullabies may have been created for children, but that hasn't stopped an elephant in Thailand from falling asleep when her caretaker sings one to her.
Video posted on YouTube by the Save the Elephant Foundation shows Faamai the elephant with her caretaker, Lek Chailert, before she is put down for a nap.
First, Faamai is seen pulling Chailert in with her trunk for a hug. Then, as Chailert swats Faamai gently with a bright pink sweater, the elephant drops to her knees and lies on her side, as Chailert continues to serenade her with her singing voice.
Chailert eventually joins Faamai on the ground, resting her head on the elephant's. Faamai can be heard breathing deeply and is visibly relaxed, with her trunk coiled beneath her.
The pair, located in the Elephant Nature Park in Chiang Mai, Thailand, look content as they lie on the ground together.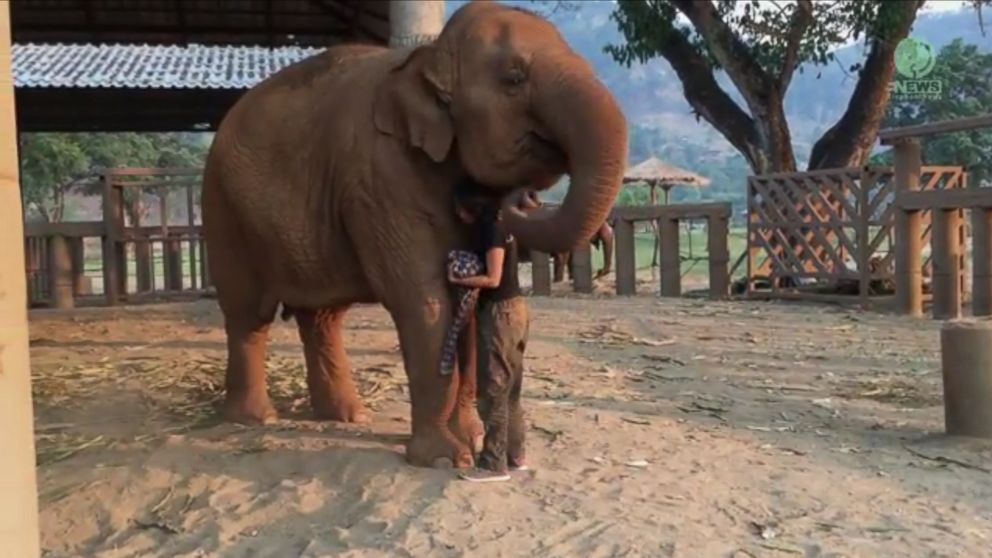 "Every time she hears the lullaby from Lek she still falls asleep," the foundation wrote in the description on YouTube. Its Facebook page features several photos posted by Chailert of the park's elephants playing happily.
The Elephant Nature Park plans on opening a fifth location in Phuket in August, Chailert told Thai media earlier this month. Other parks are located in Kanchanaburi, Suri and Cambodia.
Coconuts Bangkok described Chailert as an "elephant expert" who has been seen in documentaries by National Geographic, the Discovery Channel, Animal Planet and the BBC.