Evacuation of Yazidis on Mt. Sinjar in Iraq 'Far Less Likely,' Says Pentagon
Marines, special forces landed on Mt. Sinjar to assess situation.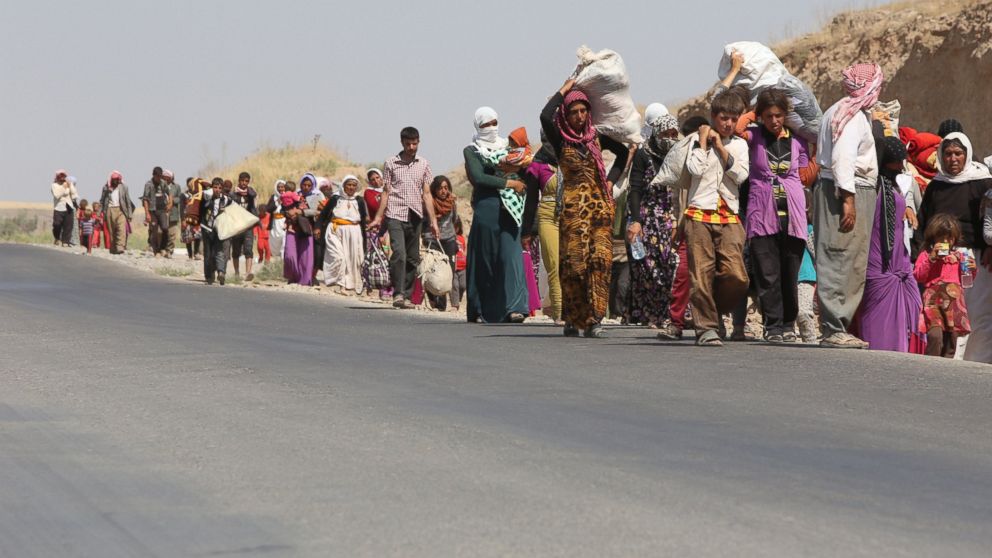 — -- An evacuation of thousands of refugees who were forced onto Mt. Sinjar in Iraq is "far less likely" after an assessment by United States Marines, Special Forces and the USAID disaster assistance relief team, the Pentagon said today.
Less than 20 personnel briefly landed on the mountain, where thousands of Yazidis are trapped and facing a humanitarian crisis.
"The team has assessed that there are far fewer Yazidis on Mt. Sinjar than previously feared, in part because of the success of humanitarian air drops, air strikes on ISIL targets, the efforts of the Peshmerga and the ability of thousands of Yazidis to evacuate from the mountain each night over the last several days," Pentagon Press Secretary Rear Admiral John Kirby said in a statement. "The Yazidis who remain are in better condition than previously believed and continue to have access to the food and water that we have dropped."
Defense Secretary Chuck Hagel announced on Tuesday that the United States sent a 130 member military assessment team to Erbil in the autonomous Iraqi province of Kurdistan to determine what further assistance the U.S. can provide to the Yazidis.
U.S. Sends 130-Member Military Assessment Team to Erbil
Gut-Wrenching Images of Yazidi Refugees as They Search for Loved Ones
Watch: If We Had Stayed on the Mountain, 'We Would Have Died'
Thousands of members of the Yazidi minority group fled to the mountain in order to escape from ISIS in northern Iraq.
The Yazidis, a religious minority in Iraq, have been targeted by the Islamic army for being what they call "devil worshipers" and were threatened with execution if they didn't agree to convert to Islam.
Addressing a group of Marines during a visit to Camp Pendleton in California, Hagel said the team had arrived in northern Iraq "to take a closer look and give a more in-depth assessment of where we can continue to help the Iraqis with what they're doing and the threats that they are now dealing with."
The new team is in addition to the 40 U.S. military personnel already in Erbil who for several weeks have been manning a Joint Operations Center with Kurdish military forces.
Hagel said the team would soon provide an assessment to Centcom that would make its way to the Pentagon "very shortly."
With reporting by ABC News' Luis Martinez.