Federal prosecutors in New York announced drug charges Thursday against Venezuelan President Nicolas Maduro and other government officials.
The charges include narco-terrorism conspiracy, cocaine importation conspiracy and weapons possession conspiracy. Prosecutors allege that Maduro and 14 current or former officials ran a vast criminal enterprise for the last 20 years, using state resources to fuel the international drug trade, including in the U.S.
"Maduro and the other defendants expressly intended to flood the United States with cocaine in order to undermine the health and well-being of our nation. Maduro very deliberatively used cocaine as a weapon," Geoffrey Berman, U.S. attorney for the Southern District of New York, said as he unveiled the charges alongside Attorney General William Barr.
The State Department is now offering up to $15 million for information leading to Maduro's arrest and up to $10 million for the arrest of four other senior officials, Secretary of State Mike Pompeo also announced Thursday.
It's a remarkable set of steps to take against a head of state, but the Trump administration has made it clear that it no longer views Maduro as Venezuela's leader.
Barr said U.S. officials expect to "eventually" gain custody of Maduro and the other officials and are currently "exploring all options" to do so.
Maduro responded on Twitter Thursday, calling it a conspiracy by the U.S. and Colombia to "fill Venezuela with violence."
Prosecutors also allege that Maduro and the other Venezuelan officials, including Defense Minister Vladimir Padrino and Chief Supreme Court Justice Maikel Moreno, "participated in a corrupt and violent narco-terrorism conspiracy" as leaders of the Venezuelan "Cartel of The Suns." Enriching themselves, they also worked in partnership with Colombia's Revolutionary Armed Forces group FARC, the violent guerrilla movement designated by the U.S. as a terrorist organization.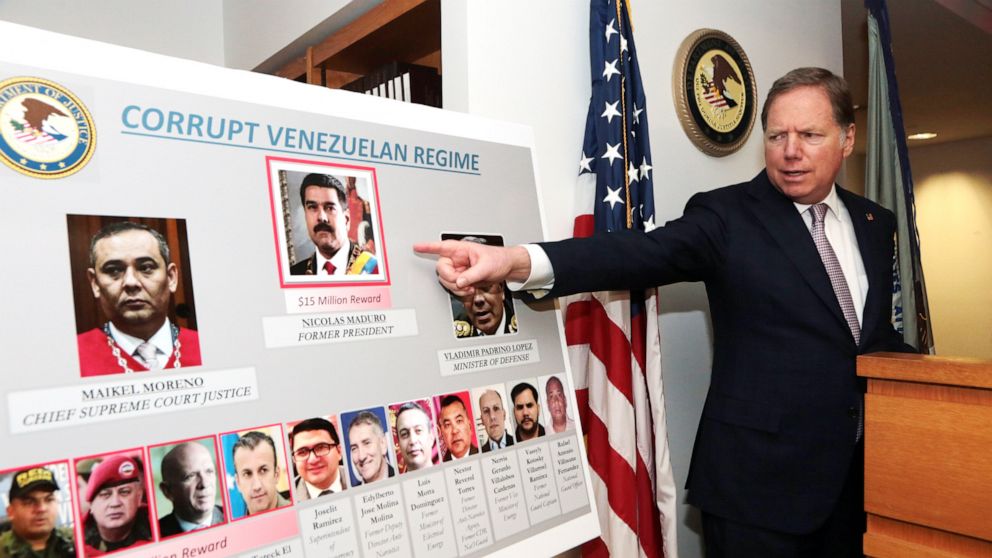 As leaders of the cartel, they worked to "facilitate the importation of tons of cocaine in into the United States" since 1999 through the "corrupted" use of Venezuela's "legitimate institutions" -- the military, intelligence service, legislature, and judiciary, according to the indictment.
Maduro, who became president of Venezuela in 2013 after Hugo Chavez's death, is described as the cartel's head and allegedly "prioritized using cocaine as a weapon against America and importing as much cocaine as possible into the United States," according to the indictment.
He is also alleged to have coordinated with FARC in the training of an "unsanctioned militia group" that acted as a de facto armed forces for the Venezuelan cartel and to have provided the terror group military-grade weapons. FARC leaders Luciano Marín Arango, aka Ivan Marquez, and Seuxis Hernandez, aka Jesus Santrich, who have previously been indicted by U.S. federal prosecutors, moved some operations to Venezuela, where they transited cocaine through to the Caribbean and Central America and on to the U.S.
This is the latest effort by the Trump administration to push Maduro from power and highlight his corruption. Thursday's indictment describes Maduro as "a Venezuelan citizen" who was "previously the president of Venezuela" and is "now the de facto ruler of the country."
Instead, the U.S. has recognized Juan Guaido, the president of Venezuela's opposition-controlled National Assembly, as Venezuela's legitimate leader since January 2019, eventually winning the support of nearly 60 other countries.
Despite the international pressure, including from Venezuela's closest neighbors and through tighter U.S. sanctions, Maduro has remained defiant and in control of the country's military and security state, largely thanks to unwavering support from Russia. Senior U.S. officials like Special Representative for Venezuela Eliot Abrams have vowed to increase the pressure on Maduro to leave power in 2020 and push for free and fair elections, which the country hasn't had since 2015.
The indictment calls for all of the defendants, including Maduro, to forfeit any and all property derived from the alleged offenses.
In addition to the $15 million reward for Maduro, the State Department is offering up to $10 million for information leading to the arrest of some of his key allies: former military intelligence chief Hugo Cavajal, retired general Cliver Alcala, former vice president Tareck El Aissami and Diosdado Cabello, head of the Constituent Assembly, which Maduro created with his supporters to undermine the legitimate parliament, the National Assembly.
All four men have already been designated by the U.S. Treasury for corruption or narcotrafficking, with El Aissami even being designated as a drug "kingpin."