LONDON -- One of the world's most wanted fugitives accused of involvement in the Rwandan genocide has been arrested in South Africa after more than two decades on the run, authorities announced Thursday.
Fulgence Kayishema was taken into custody in Paarl, about 35 miles northeast of Cape Town, on Wednesday afternoon in a joint operation by the United Nations' International Residual Mechanism for Criminal Tribunals (IRMCT) and South African authorities. He is accused of orchestrating the killing of thousands of people at a church in the Kivumu commune of western Rwanda's Kibuye prefecture in 1994 when he was the local police inspector, according to the IRMCT's Office of the Prosecutor.
"Fulgence Kayishema was a fugitive for more than twenty years. His arrest ensures that he will finally face justice for his alleged crimes," IRMCT Chief Prosecutor Serge Brammertz, who led the investigation, said in a statement on Thursday. "Genocide is the most serious crime known to humankind. The international community has committed to ensure that its perpetrators will be prosecuted and punished. This arrest is a tangible demonstration that this commitment does not fade and that justice will be done, no matter how long it takes."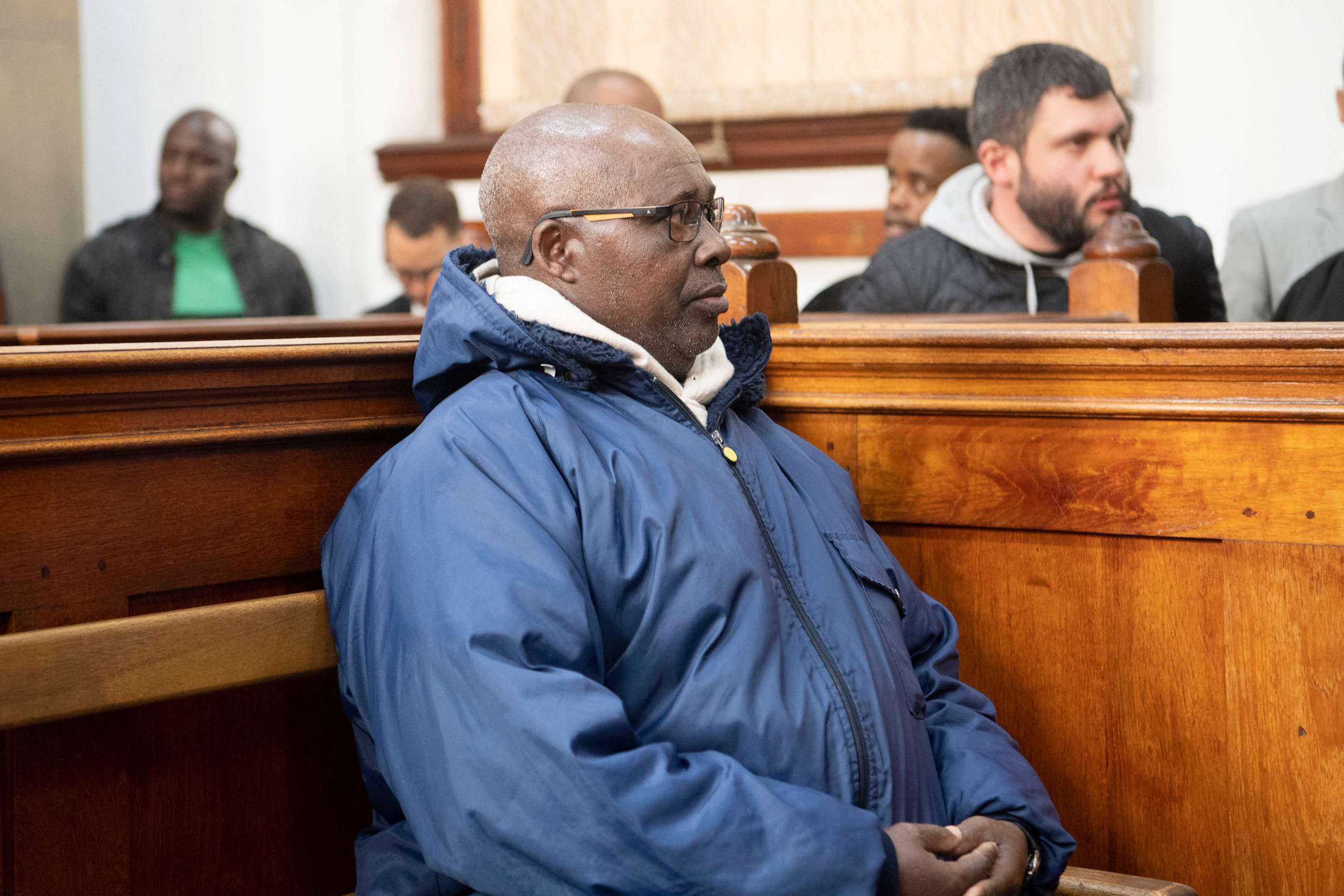 The Rwandan genocide occurred in 1994 as divisions between Rwanda's two main ethnic groups came to a head. The Rwandan government, controlled by extremist members of the Hutu ethnic majority, launched a systemic campaign with its allied Hutu militias to wipe out the Tutsi ethnic minority, slaughtering more than 800,000 people over the course of 100 days, mostly Tutsis and the moderate Hutus who tried to protect them, according to U.N. estimates.
In April 1994, during the early days of the genocide, more than 2,000 Tutsi men, women and children sought refuge in the Nyange parish church in Kivumu after they were surrounded and attacked by Kayishema's police force and members of the Hutu militia Interahamwe, according to an indictment filed by the International Criminal Tribunal for Rwanda in 2001. The indictment accuses Kayishema of directly participating in the planning and execution of the attacks on the Tutsi population in Kivumu and the ensuing massacre at the church.
Kayishema, a Hutu, allegedly obtained and distributed fuel in an attempt to burn down the church while the Tutsi refugees were barricaded inside. He and others then allegedly brought in a bulldozer to demolish the building, causing the roof to collapse on those inside. Anyone found alive was killed. Kayishema and others then supervised the burial of the bodies in mass graves over the next two days, according to the indictment.
Most of Kivumu's Tutsi population was killed in the church massacre. By July 1994, there were no known Tutsis left in the area, according to the indictment.
The indictment charges Kayishema, now in his 60s, with one count of genocide, one count of complicity in genocide, one count of conspiracy to commit genocide and one count of extermination as a crime against humanity.
The genocide ended in July 1994 when a rebel group led by a Tutsi major-general named Paul Kagame defeated Rwandan government forces and took control of the country. Kagame became Rwanda's de facto leader before officially assuming the role of president in 2000.
Kayishema, along with many others who allegedly played a role in the genocide, ultimately fled Rwanda and used fake names and forged documents to conceal his identity and whereabouts. He also relied upon a network of trusted supporters, including relatives, former Rwandan soldiers, ex-Hutu militiamen and those aligned with the genocidal Hutu Power ideology, according to the IRMCT.
The investigation leading to Kayishema's arrest spanned multiple countries across Africa and elsewhere and was conducted in cooperation with many law enforcement and immigration agencies. Now, there are only three remaining fugitives indicted in the Rwandan genocide, according to the IRMCT.
"Kayishema's arrest demonstrates yet again that justice can be secured, no matter the challenges, through direct cooperation between international and national law enforcement agencies," Brammertz said. "Today is a day to think of the victims and survivors of the 1994 Genocide against the Tutsi. While twenty-nine years have passed, they continue to bear the physical and mental scars of their suffering. My Office reaffirms that we will not rest in our efforts to secure justice on their behalf, and by carrying out our mandate contribute to a more just and peaceful future for the Rwandan people."
The Rwandan government said its prosecutors worked with the IRMCT's Office of the Prosecutor and South African authorities to ensure that Kayishema "will finally face justice."
"Nearly 30 years later, we have a long list of Rwandan genocide fugitives still at large in several countries around the world," a Rwandan government spokesperson told ABC News in a statement on Thursday, "and we will continue to work with partner states and institutions to ensure that they are held to account for crimes committed in the 1994 Genocide against the Tutsi."