German Chancellor Angela Merkel pointedly said today that she will not "tolerate" any blame or criticism for the air strike in northern Afghanistan that killed an undetermined number of civilians until an investigation of the incident is complete.
The bombing of two fuel trucks in Kunduz last Friday has put added pressure on Merkel by making an unpopular war even more distasteful to German voters.
German officers have been criticized for calling in U.S. airstrikes on two fuel trucks that had been captured by the Taliban, fearing the trucks were to be used in an attack on their base and assuring the U.S. pilots no civilians were present in the airstrike zone.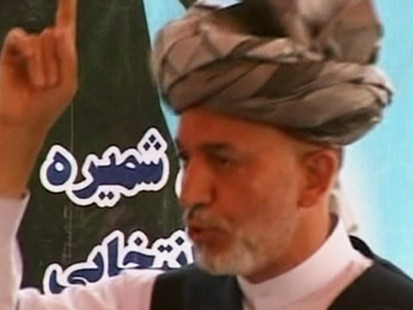 The resultant blasts have killed a number of civilians with estimates ranging from 56 to 125.
The issue has become so heated in Germany that Merkel addressed the German Parliament today.
The chancellor said she deeply regretted if any civilians were harmed as a result of German actions, but using unusually harsh language she added, "We will not accept premature judgments. I say this very clearly after what I have experienced over the last few days: I will not tolerate that from whomever it may be, at home as well as abroad."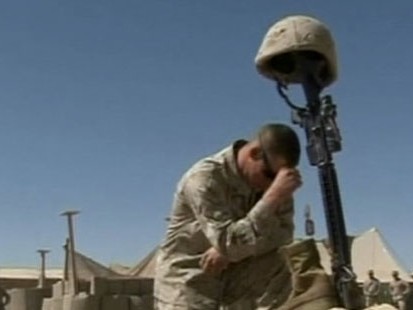 Initial reports said that the German commander on the ground ordered the air strike after seeing the live footage of two hijacked fuel tankers stuck in a dry river bed, with people around them believed to be Taliban insurgents. The images had been transmitted from
U.S. aircraft
in the skies above the Kunduz region.
German Defense Minister Franz Josef Jung initially defended the military action, saying the air strike requested by German troops was "urgently called for."
"We had evidence that the Taliban had seized the two fuel tankers around six kilometers (4 miles) from the German military base in order to carry out an attack on our soldiers in Kunduz," he said. Jung insisted that Taliban "had made up the predominant share" of the 50 to 60 victims killed in the air strike, although he has since conceded that civilians were also killed.
German Chancellor Merkel Defends Kunduz Attack
"I regret deeply innocent people being killed and injured as a result of German actions, and it is important for me to say that today, as German chancellor before this house, and particularly to the Afghan people," Merkel told the parliament in Berlin today.
"There are contradictory claims, especially about the number of people killed. It won't be possible to clarify that here today, but let me say every innocent person who dies in Afghanistan is one too many. We mourn every single one. Every innocent person injured is one too many," she said.
The timing of this tragic incident and the reaction it caused could not be worse for Merkel's government, who support the troop deployment in Afghanistan, but have largely avoided to call the German mission in Afghanistan "a war" because of wide spread opposition.
Instead they have been calling the German mission "a stabilization effort" and are maintaining that German troops are mainly there to help that country get back on its feet.
Germany has about 4,200 troops in Afghanistan. Based in the relative safety of the north, German soldiers have been helping the Afghans construct bridges, build schools and kindergartens, rebuild communities. But they've also been come under Taliban attacks, although less so than their U.S. and British comrades in the south.
Only three weeks before the German nation goes to the polls, the air strike has sparked a fresh debate on the German military presence and opposition party leaders are calling for the withdrawal from Afghanistan.
The Left Party, successor to the former East German communist party, is campaigning with the slogan "Get out of Afghanistan" knowing that two thirds of the German voters according to recent polls are against the mission there.
German broadcaster n-tv had people call in today to answer the question, "Should German troops leave Afghanistan?" and 73 percent of the callers said yes, and only 27 percent said no.
German Opposition to Afghan War
Even former Chancellor Gerhard Schröder raised his voice to join the debate, "We need a date for an end to the international engagement in Afghanistan," he said in an interview published by Die Welt.
Schröder, however, was contradicted by his former chief of staff and current Foreign Minister Frank Walter Steinmeier who is running for chancellor in the elections on Sept. 27.
Steinmeier told parliament today, "It would be wrong to talk about a date for withdrawal. That would be giving the Taliban a signal as to how long they have to lay low before they could take over power again."
While Merkel was tough with critics of its actions in Kunduz, she was also tough with critics of Germany's involvement in the war.
"The mission in Afghanistan remains necessary as it contributes to global security and as it protects the life and limb of people here in Germany against the evil of terrorism," she said. "Everyone who calls for Germany to step aside from fighting international terrorism, particularly in Afghanistan, should consider that."