Girl power driving US women to historic success at Winter Olympics
The U.S. women are one medal away from tying a team record.
February 23, 2018, 4:35 AM
PYEONGCHANG, South Korea— -- The women of the United States Olympic team are aiming to make history with just two days left in Pyeongchang.
With 12 medals to their credit, the U.S. women need just one more medal to tie their record of 13 medals set four years ago in Sochi. Their five gold medals ties their previous record set in 1992 and 2002.
The U.S. women's hockey team earned one of those gold medals in dramatic fashion, defeating rival Canada in a shootout on Thursday. The U.S. had not won that event since 1998.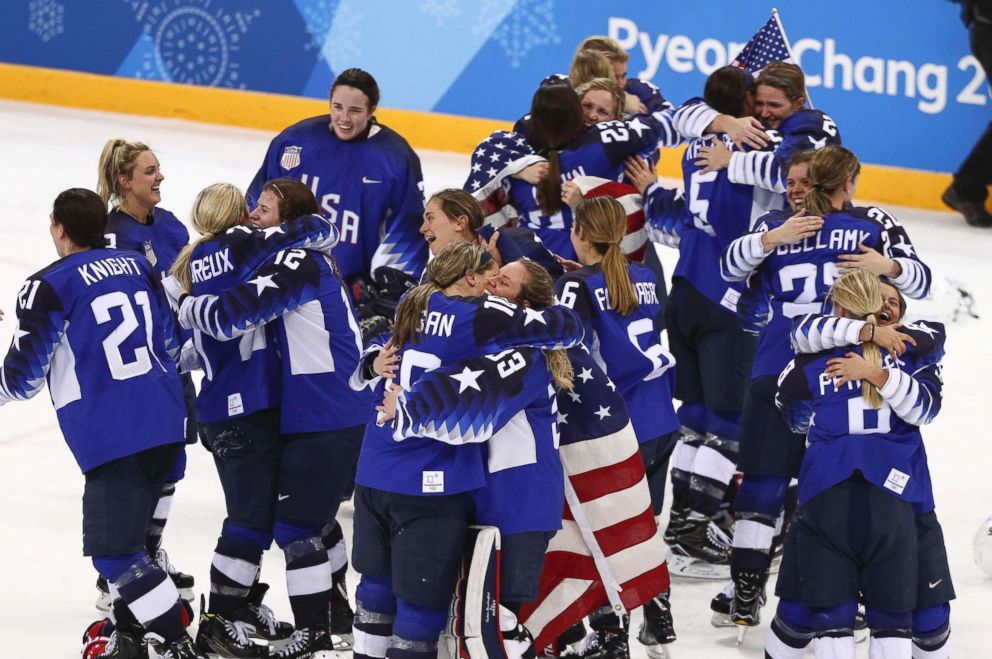 U.S. women also broke ground by winning their nation's first-ever medal in cross-country skiing -- and the first-ever gold in cross-country for men or women. Jessica Diggins and Kikkan Randall edged Sweden and Norway to bring home the gold in the team cross-country event.
"These girls all skied their hearts out and left it all out there," Diggins said after the race. "Watching them each ski I was just getting more and more fired up to go out there and chase down as many people as I could. I'm really proud of this team and psyched to be a part of it."
The Pyeongchang games also marked the international emergence of snowboarder Chloe Kim. The 17-year-old Korean-American matched the hype surrounding her Olympic debut, winning the halfpipe event.
"It was very, very exciting to watch the contest today. Women's snowboarding has progressed; it's such a fast pace, it's such an honor to be a part of that and I feel like there's going to be some cool tricks in the [future]," she said.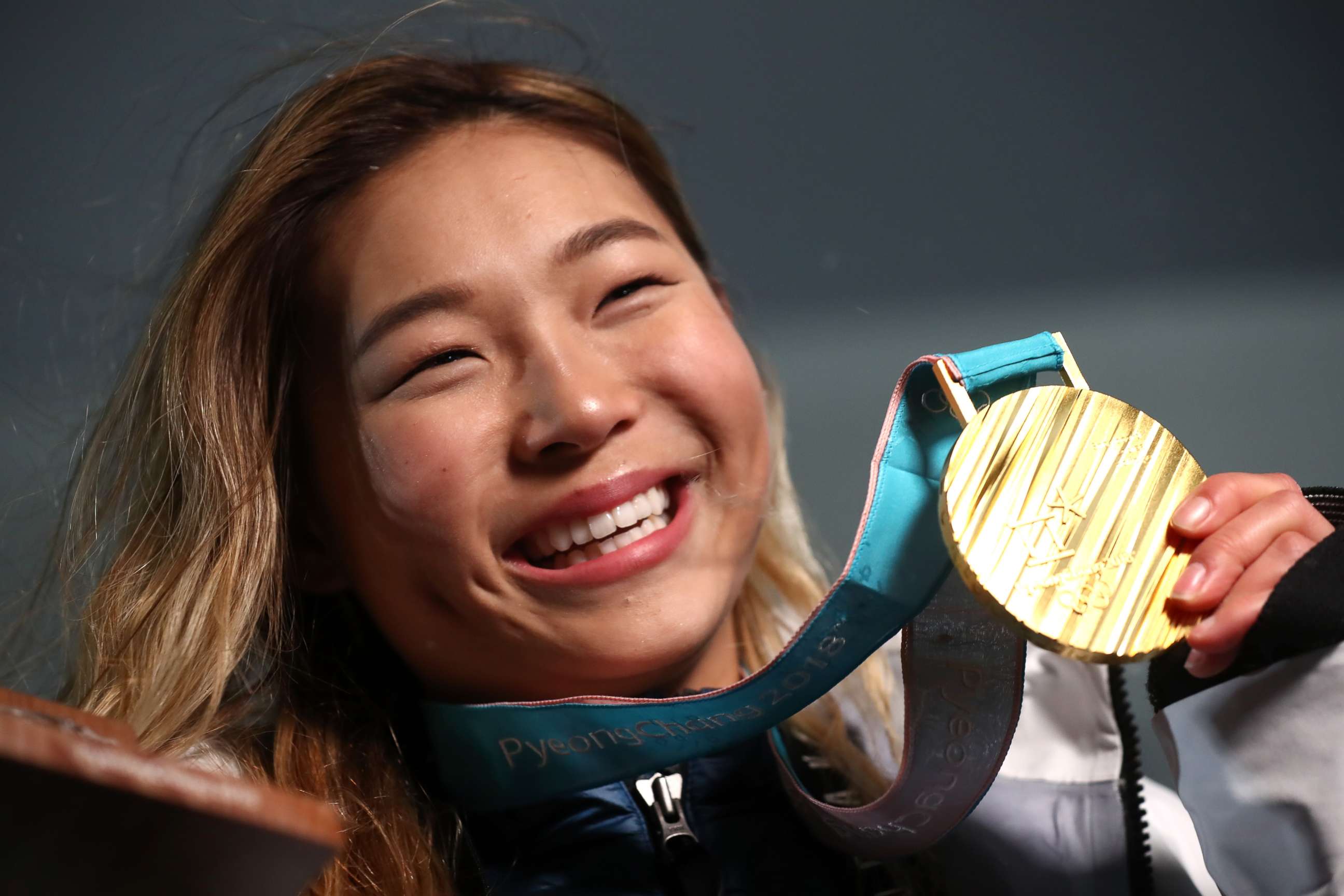 "There are so many people here who came to watch. That is so exciting to see women's snowboarding be something that people want to see."
Jamie Anderson, who won gold in snowboarding slopestyle and silver in big air, echoed Kim's sentiments.
"Especially since Sochi, there has been a huge increase in women snowboarding and it's been very empowering," she said. "I realized it was super inspirational to have all these girls that are getting out of their comfort zone and tapping into that power."
"I genuinely didn't think that girls were capable of certain tricks and I was proven wrong," the 27-year-old veteran said. "Instead of discouraging me, I decided to let it light my heart on fire, too, and follow their lead."
Just as Anderson was inspired by her competitors, she too hopes to inspire the next generation of female athletes.
"I feel really privileged to be in this position, to hopefully inspire girls to get out of their comfort zone and get into sports, because it really just helps so much in life, brings you joy, gets you outside, breathing fresh air -- less computer action and phone time and more freedom," Anderson said.
The U.S. women's hockey team hopes their dramatic victory can inspire future generations, like the U.S. soccer team's World Cup win in 1999, or even the women's hockey team's win in Nagano, Japan.
"I hope the growth of it explodes," said U.S. women's hockey player Hilary Knight. "I hope we can go back and share this success and I hope the young girls that are watching get inspired and want to do essentially what we did 20 years later after watching the 1998 Olympics. It's a huge accomplishment and honestly it hasn't even sunk in yet."
The women of U.S. hockey triumphed not just on the ice, but off it as well. The team threatened to sit out the world championships in 2017 if they didn't receive pay more in line with their male counterparts. USA Hockey put out a call for replacement players, but were rebuffed and the organizing body eventually relented. The U.S. then went out and won the world title.
"This is no accident," said Christine Brennan, USA Today columnist and ABC New contributor, of the U.S. women's success in South Korea. "It's the result of the nation's decision to give girls and women the same athletic opportunities as boys and men, starting with Title IX in 1972. We're also seeing more equity in how national governing bodies fund women's and men's sports. Last March, the U.S. women's hockey team boycotted the world championships for better pay. The men who run USA Hockey finally backed down and gave the players a much better contract. Those same players just beat Canada and won their first gold medal in 20 years."
"Girls are awesome, but so are guys," two-time alpine skiing medalist Mikaela Shiffrin said. "I just think we have a really, really strong team coming into this Olympics on both sides, but there's a lot of expectations. There's a lot of things that can go wrong, as you saw, with the weather. For me having a gold and a silver and being part of a really strong performance on the women's side, and Lindsey [Vonn]'s performance yesterday after having eight years since her last Olympics, is incredible. I think it's really inspiring for young girls and for anyone out there who's aspiring to be in the Olympics some day or even win a medal."
ABC News contributor Steven Nyman, who competed in three Olympics for the United States, deemed the women's performance historic, particularly in the mountains.
"Mikaela and Lindsey showed what they were made of and it was a lot of fun to cheer them on," Nyman said. "The women had some unfortunate injuries as well with Jackie Wiles going down right before the games. She was a true medal contender in downhill. But hats off to our ladies for being so strong and determined and showing the world what they're made of."
The U.S. has a few events left in which to grab that final medal, or medals, they need to tie or break the record. Ladies' snowboard parallel giant slalom gets underway Friday. Maggie Carrigan would be the USA's best bet there, but she's a longshot for a medal. The ladies' mass start speed skating event, a new one in Pyeongchang, features last year's bronze medalist in the world championships, American Heather Bergsma. And the only other event left to come for the U.S. women is the 30-kilometer cross-country classic.
"We think nothing of seeing girls and women in hockey gear, or on a wrestling mat, or wearing basketball uniforms," Brennan said. "In fact, the nation loves it."