'Golden Week' Traffic Nightmare Forces Roadside Wedding
More than 1,500 people in one city missed their flights in annual traffic jam.
October 2, 2014, 10:15 AM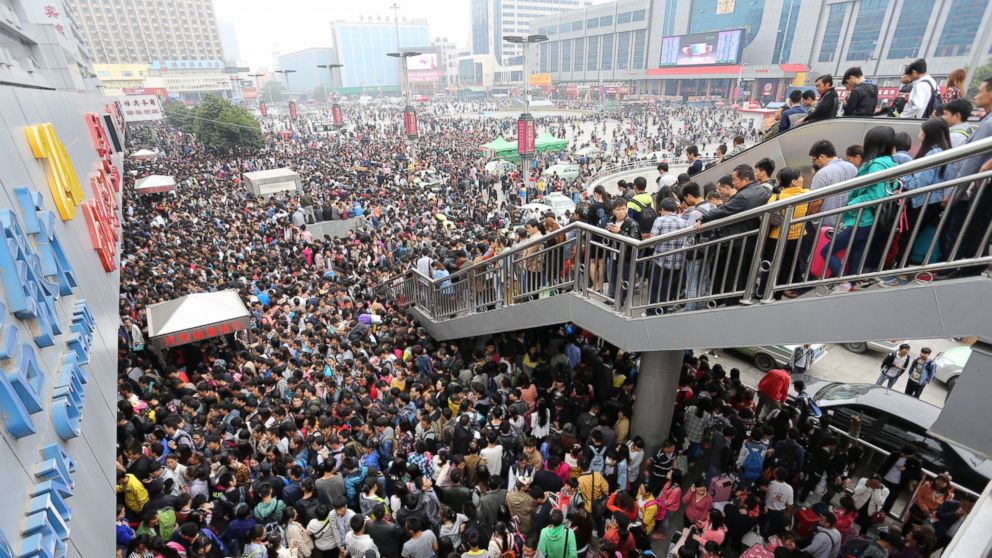 BEIJING— -- China is in the throes of its Golden Week when the entire country has a week off, but for Chinese trying to go someplace it may seem more like hell week. This year, the traffic mayhem resulted in a roadside wedding.
The frustration of being stuck in traffic was probably most keenly felt by Lv Kangzhou and his bride Yan Mengxia. By tradition, the groom drove early in the morning to the bride's home in Zhejiang province in east China to pick her up along with her family and take them to his family's hometown for the wedding, according to the Qianjiang Evening News.
By 4 p.m., Lv's wedding was 90 minutes away, but his car had not moved an inch for a long time. Lv contacted the local radio to explain his plight and ask for a traffic prognosis. The radio host told Lv there was no way he was going to make it to his wedding on time and offered to hold their wedding on the air. At 5:30 p.m., Lv and his bride said their vows on the side of the road while Lv's family and friends witnessed the ceremony while listening on the radio at the hotel where the nuptials were supposed to take place.
Lv wasn't the only person stuck in Golden Week crowds. According to the state news agency Xinhua, 11.7 million people traveled by train Wednesday. It calculated that 120,000 people gathered at Tiananmen square in Beijing to watch the flag raising ceremony. Last year, the Forbidden City in Beijing hosted 175,000 tourists on a single day during Golden Week, and the number is expecting to be even bigger this year.
Chinese internet users routinely complain about the Golden Week holiday every year. As internet user Tuzhi said on Sina Weibo: "On the Great Wall, I'm holding your hand, but I cannot see your face."
The holiday week was decreed 15 years ago as a way to boost China's tourism industry and it has become a period in which Chinese people battle each other for transportation, tickets and just space to move. Preparing for a trip includes packing food, water and entertainment for the possibility of the trip lasting considerably longer than planned.
Traffic jams were compounded three years ago when the government decided to go toll-free on highways during public holidays to lighten the heavy burden on railways and airlines. That has turned the highways have become public parking lots.
According to Chinese popular social media Sina Weibo, cars on the highway outside of Beijing moved 100 meters, about 300 feet, in two hours on Wednesday, the first day Golden Week. Outside of Shanghai, the traffic lined up 70 kilometers, about 45 miles. In southern city Guangzhou, the airport highway became a 13 kilometer long (8 miles) parking lot, that forced about 1,500 people to miss their flights.