The FBI is conducting painstaking DNA tests on a batch of human remains which could be those of American hostages killed in ISIS captivity, after agents and U.S. commandos recently unearthed them from liberated areas in Syria, ABC News has learned.
It may be months before testing at the FBI Laboratory in Quantico, Va., determines whether any are those of Americans or other westerners executed by ISIS or killed while held hostage, officials and family members said.
The successful recovery of human remains gives hope to American families eager to lay their loved ones to rest at home -- even as they are urging the U.S. government to bring to justice two captured ISIS guards who helped U.S. authorities pinpoint the Syrian grave sites where remains were recovered.
Several officials told ABC News that a decision still has not been made on what to do with the pair of Londoners captured by allied Kurdish YPG fighters in January, Alexanda Kotey and El Shafee Elsheikh, who according to the U.S. Department of State were half of the British terror quartet their captives called "the Beatles."
Two weeks ago, the parents of murdered American hostages Kayla Mueller, Steven Sotloff, James Foley and Abdul-Rahman (Peter) Kassig were flown to Washington to meet with the FBI, federal prosecutors and top Trump administration officials to express their views on what should be done with the prisoners.
While President Trump has said that he wants to send more terrorists to the prison at Guantanamo Bay, Cuba, the family members urged officials at the meeting to try the captured ISIS fighters in federal court.
The families reminded officials, according to sources present at the meeting, of an Obama Presidential Policy Directive issued four months after Kayla Mueller's death in 2015 (which has not been rescinded) emphasizing the prosecution of hostage-takers.
"The United States shall diligently seek to ensure that hostage-takers of U.S. nationals are arrested, prosecuted, and punished through a due process criminal justice system in the United States or abroad for crimes related to the hostage-taking," the directive states.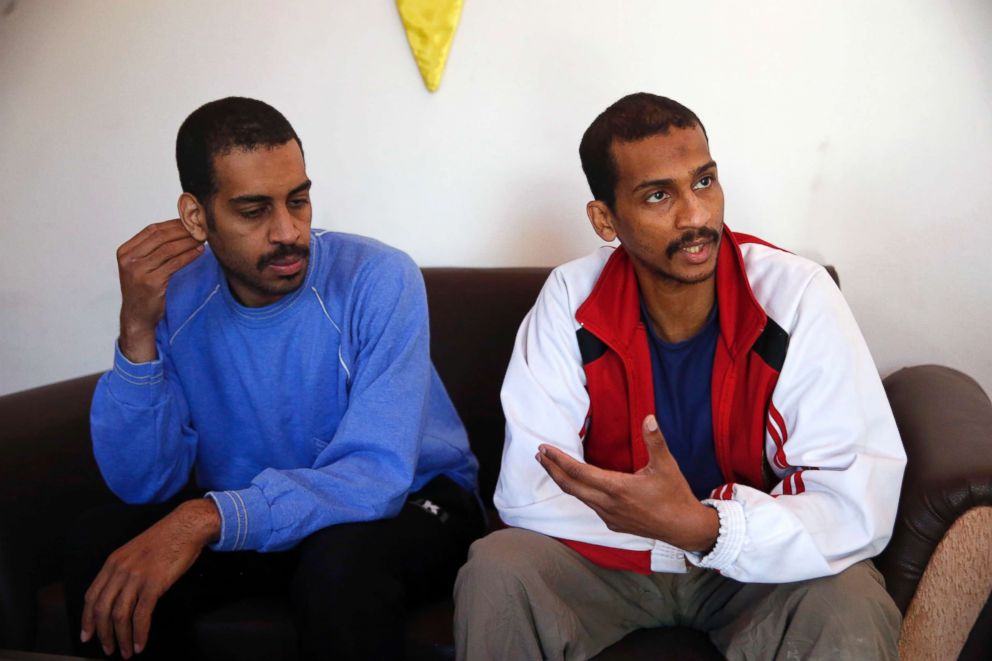 The U.K., which revoked the citizenship of all four "Beatles" including Mohammed Emwazi, the ISIS executioner dubbed "Jihadi John" by the media, has also objected to the men facing anything but a civilian trial, several sources said. Emwazi was killed in a CIA drone strike in Raqqa, Syria, in 2016 and Aine Davis, the fourth alleged "Beatle," was captured in Turkey.
"The Brits are not in support of the death penalty and Guantanamo but that was not a threat or demand to not help," one counterterrorism official said.
In a joint op-ed published in The New York Times earlier this month, the four families urged Trump not to try them in the military court at Guantanamo and not to seek their execution.
"Either path would make them martyrs in the eyes of their fanatic, misled comrades in arms — the worst outcome," they wrote. "Instead, they should be tried in our fair and open legal system, or in a court of international justice, and then spend the rest of their lives in prison. That is what our children would have wanted."
The U.S. government has rarely ignored the wishes of families of terrorism victims about how perpetrators should be held accountable.
Information obtained during Kotey and Elsheikh's interrogations and in material discovered in their possession at the time of their capture helped locate sites in Syria where FBI agents with cadaver dogs started excavating graves under escort by U.S. Special Forces in late February.
"Information was obtained leading them to a few of the people," a counterterrorism official told ABC News at the time.
At least four U.S. hostages died in ISIS hands. Journalist James Foley, journalist Steven Sotloff and aid worker Abdul-Rahman (Peter) Kassig were shown being beheaded by "Jihadi John" in ISIS propaganda videos. Aid worker Kayla Mueller was killed in captivity in circumstances that remain unclear.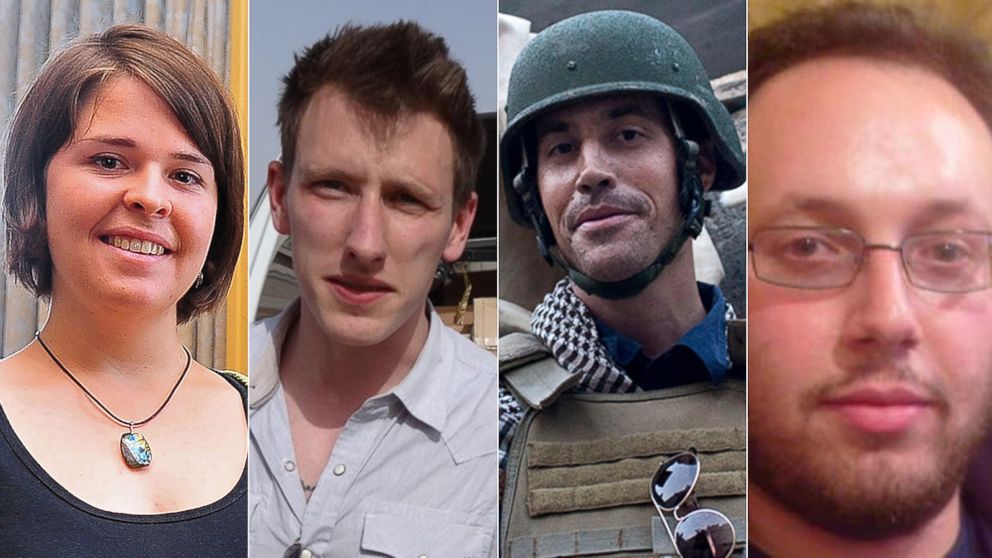 Past efforts to search sites had come up empty, and it's still not certain precisely whose remains were found. ISIS also executed several hostages from other western and non-western nations, including many Syrians.
One official told ABC News agents had "zero idea who they were," an indication that the remains were in an advanced state of decomposition and likely derived from multiple victims.
The remains were brought back to a U.S. base for forensic and DNA analysis to try to match them with samples from the families of American and other ISIS hostages, the counterterrorism officials told ABC News.
Since the families were notified in February by the U.S. Hostage Recovery Fusion Cell that the searches in Syria were underway, the slain captives' loved ones have been eagerly awaiting the next notification by officials.
The mother of the first American hostage executed on video, journalist James Foley, said she has been told her son was probably not among the remains found by the U.S. team, but is nonetheless grateful that the operation is underway.
"We do really appreciate all the efforts being made," Diane Foley told ABC News earlier this month.
The family of humanitarian aid worker Kayla Mueller, who at 26 was the last American to die in the hands of ISIS in February 2015, has endured many years of rumor and speculation, but now they just want to bring their daughter home to be laid to rest near her family.
ISIS emailed Mueller's parents photos as proof of her death, but over the past year, the Mueller family has heard rumors that their daughter might still be alive. U.S. officials have downplayed any reports of her survival, but the true circumstances of her death remain unclear.
"The rumors of the past year — we've had to live with that," her father Carl told ABC News last month.