Putin foe Aleksei Navalny jailed amid major Russia protests
The White House condemned arrests of protesters.
— -- Following a call to action by anti-corruption campaigner Aleksei Navalny, thousands of demonstrators came into the streets in dozens of cities across Russia on Monday in some of the largest, most widespread anti-government protests the country has seen under President Vladimir Putin.
The protests were met with large-scale arrests, with police in Moscow and Saint Petersburg saying they had detained at least 650 people. Dozens of other arrests were reported by monitoring groups across other Russian cities as well, from the western enclave of Kaliningrad to the eastern port of Vladivostok on the Pacific.
The White House condemned the arrests, with spokesman Sean Spicer demanding the immediate release of peaceful demonstrators.
The protests were called by Navalny, who is seeking to found a political movement against the Kremlin. Navalny himself was arrested on Monday before reaching the march in Moscow. He was detained by police at his apartment and late Monday evening jailed for 30 days by a court. The court on Monday night convicted Navalny of a repeat offense of calling for an unauthorized public demonstration and disobeying a police officer.
The marches marked an unusual day of significant public dissent in Russia and one that brought rare political disruption to the heart of Moscow, as demonstrators defied police and marched down the city's main street.
Thousands of demonstrators, some with Russian flags, stood for several hours ringed in by riot police, many shouting "Putin is a thief."
Some of the demonstrations had received permission to go ahead, but in Moscow, police had warned they would be illegal. The protests were deliberately organized on one of the Russian government's most important holidays, when hundreds of authorized events are also held.
The demonstrations were a follow-up to large-scale protests that swept Russia in late March. Those protests, also mobilized by Navalny, were directed against senior Kremlin officials and attracted tens of thousands of people in almost 100 cities, with over a thousand people arrested.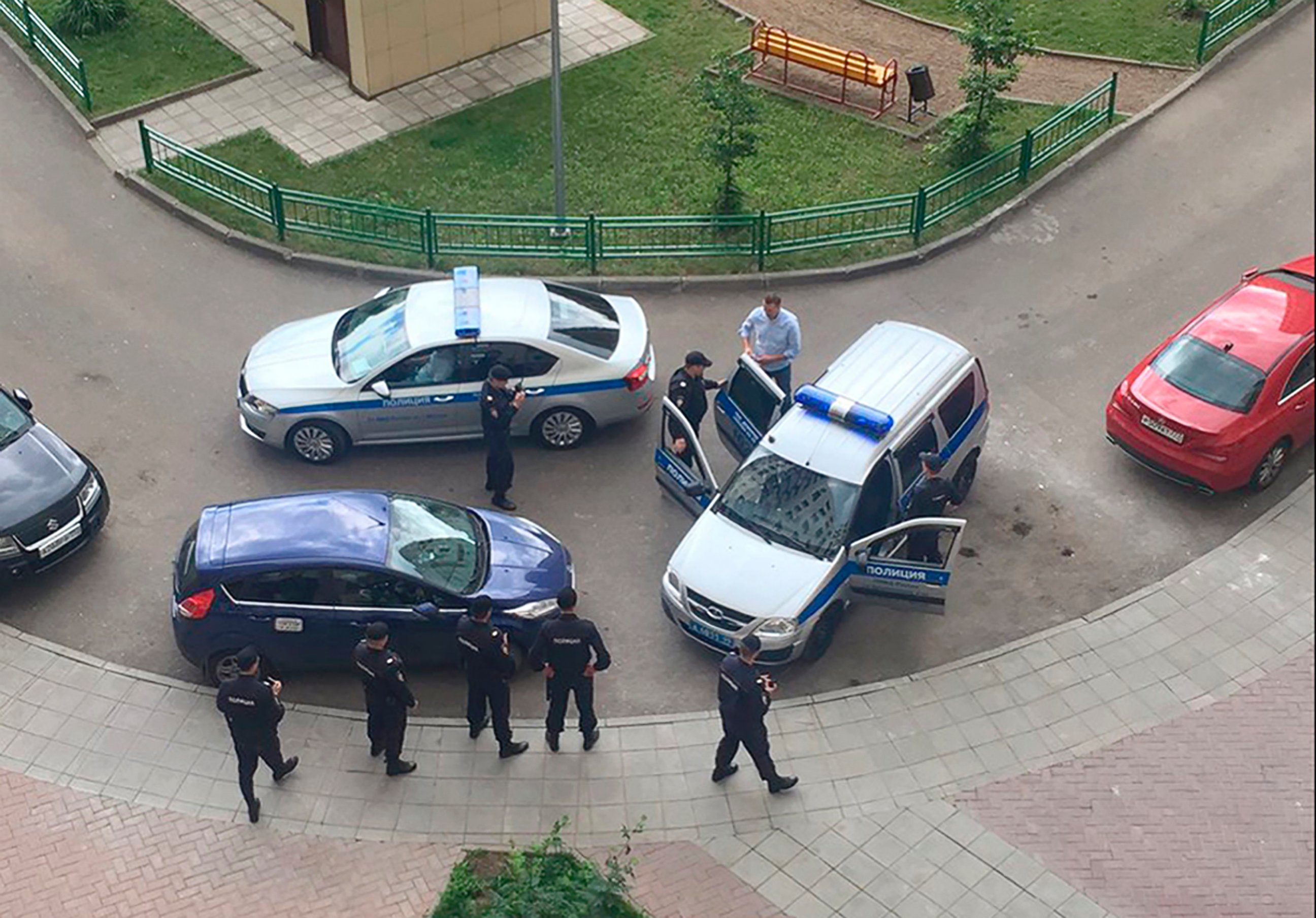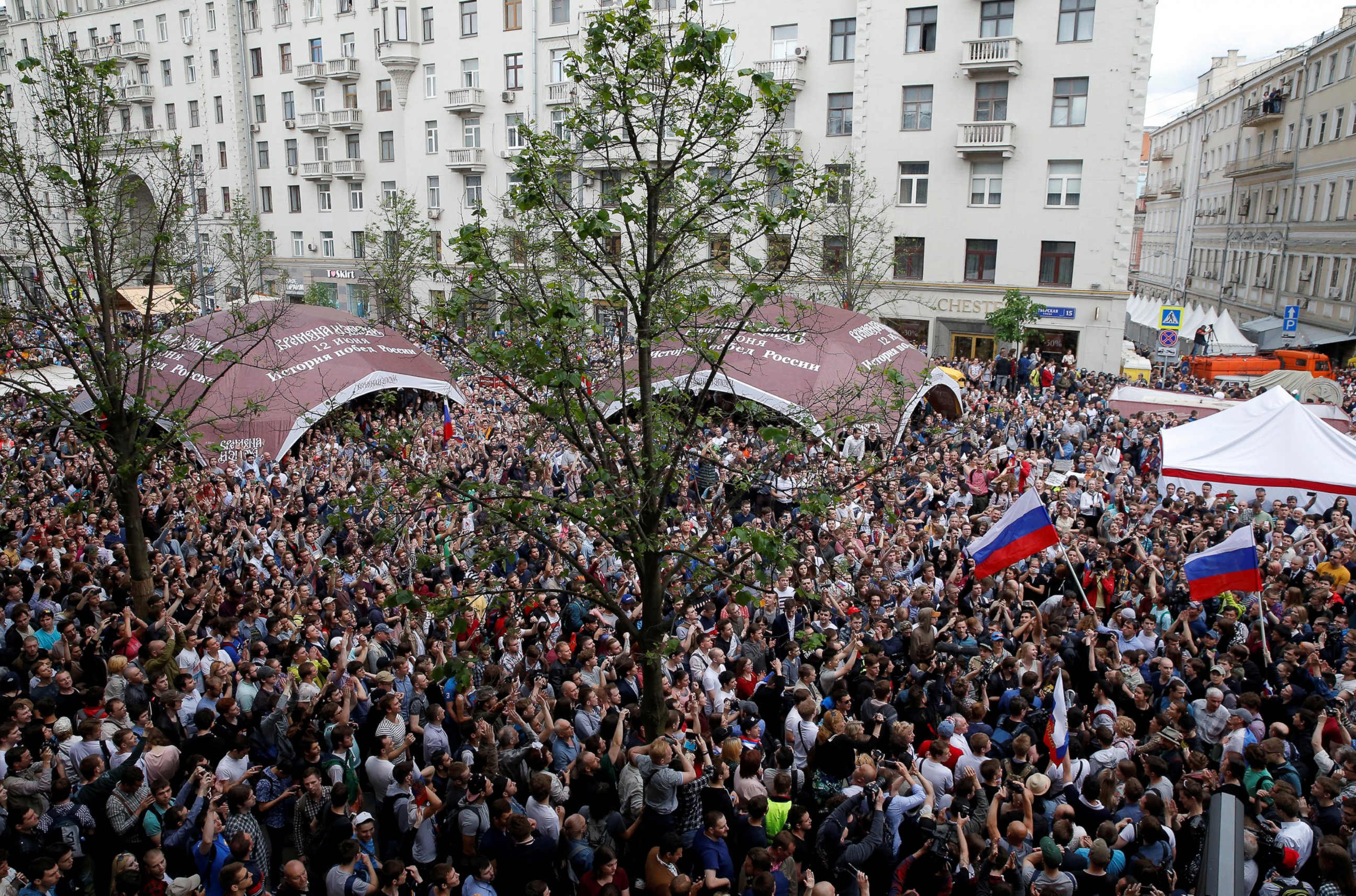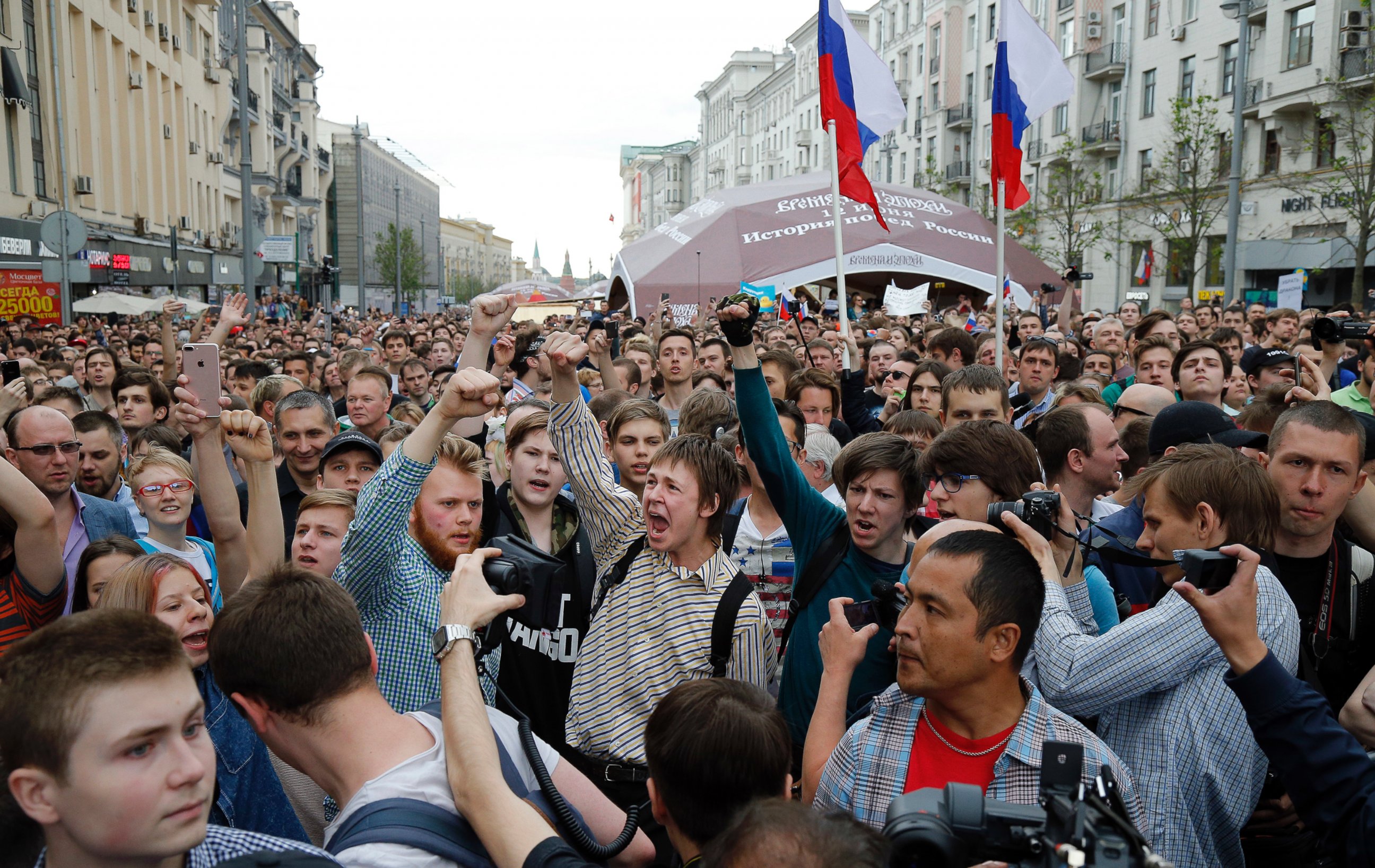 The number of people at today's demonstrations was still being debated on Monday evening. Moscow's interior ministry office said around 4,500 people had taken part there. In St. Petersburg, authorities claimed 1,500 were present. Russia's police frequently give lower estimates and the number could be higher. Photos and videos from rallies in smaller cities appeared to show crowds ranging from a few dozen to hundreds.
The protests today were again focused on alleged corruption among senior officials and centered in particular on Russia's Prime Minister Dmitry Medvedev, who Navalny has accused of amassing a property empire through sham charitable schemes.
In March, Navalny, whose Fund for Combating Corruption (FBK) specializes in producing investigations into the supposed ill-gotten gains of senior officials, released a video report detailing how Medvedev has allegedly acquired mansions, vineyards and a yacht worth hundreds of millions of dollars. Medvedev has denied the allegations, telling Russian news agency TASS in April that they were "hodge-podge."
The report, however, seems to have struck a nerve among some Russians, particularly the young, who participated in unusually large numbers in March's and today's protests. Many of those demonstrating in Moscow were in their late teens or early twenties.
"First of all I'm happy that Russians are doing some civil activity, because this is uncommon," said Vladimir Ardislamov, a 22-year-old pharmaceutical student. He said he wanted a "working system" and praised Navalny for pushing for it.
Navalny, who is running what he says is a campaign for Russia's presidential elections in 2018, has attracted a substantial following online through his exposés of official graft, using his own YouTube channel to circumvent official state media from which he is effectively barred. For months he has been touring Russia opening local campaign headquarters in small cities, attracting hundreds of mostly very young volunteers.
Navalny, 41, has faced frequent abuse, repeatedly been doused with anti-septic, including one occasion this spring that temporarily blinded him. His presidential bid is hindered by a 2013 fraud conviction he says is politically motivated.
Only a small minority of Russians express support for Navalny. Putin's approval rating is around 80 percent, but in recent months, Navalny has struck an increasingly uncompromising position with authorities, insisting on people's right to demonstrate.
Monday's Moscow demonstration had been authorized at a different location, but late Sunday night Navalny told his followers to move it to the city's central Tverskaya street, where they did not have permission, arguing authorities had tried to sabotage the event.
The move produced a bizarre clash. When the thousands of demonstrators arrived in Moscow, the street was blocked by sandbags, tank traps and medieval tents -- props from a historical reenactment festival that had been organized for the national holiday. The protesters were initially held at the entrance to the event, where police had set up metal detectors. But riot police were eventually obliged to move the crowd through the re-enactment festival, meaning that the demonstrators found themselves mingling with men dressed as medieval Russian knights. Some of the knights, equipped with costume swords and shields, tried to defend their tents as the demonstrators were driven past them by police. Most just sat glumly and watched the protest surge around them.
Some saw a symbolism in the strange collision, as the protesters intruded into the Kremlin-backed holiday, forcing most those who had come to enjoy the authorized event to disperse.
"I think it's a great idea!" said Ekaterina Parkhomenka, a retiree in her 60s, of Navalny's decision to move the march. "Two parts of the society meet here. Citizens and all the others!"
Many of those taking part in the festival did not agree. Most sat glumly, trying to hold onto their props. One many yelled at demonstrators "This is a place for Russian knights, for Rus Vikings!"
Pavel Kasyanov, dressed in a chainmail vest, noted wryly that he was writing a university thesis on the role of myths in popular imagination.
"This all looks like a very successful, well-constructed myth," he said of the protest campaign. "No one knows how it will finish."
The protesters decision to disrupt a large public event was an usually strident public demonstration in Russia, appearing to illustrate the emboldened attitude of those who have coalesced around Navalny's calls for protest. The protest was eventually dispersed after police charged repeatedly into the crowd, dragging demonstrators at random to waiting vans.
The cases of hundreds of those arrested at the March demonstration are still being processed by the courts, with those convicted facing fines, community service or occasionally jail time.
Following the March demonstrations, Putin himself was silent for several days, before warning that such demonstrations can lead to violent upheaval similar to that in the Arab Spring.
Speaking at an Arctic Forum, Putin told an audience he supported efforts against corruption, but said warned he disapproved of attempts to use the subject "by some kind of political forces for their own mercenary interests."