— -- Hurricane Gonzalo battered Bermuda today, covering much of the island with a white haze as waves slammed its shore.
The Category 3 hurricane -- packing maximum sustained winds of 125 m.p.h. -- has forced officials in Bermuda to issue a Hurricane Warning.
Gonzalo Strengthens to Major Hurricane, Takes Aim at Bermuda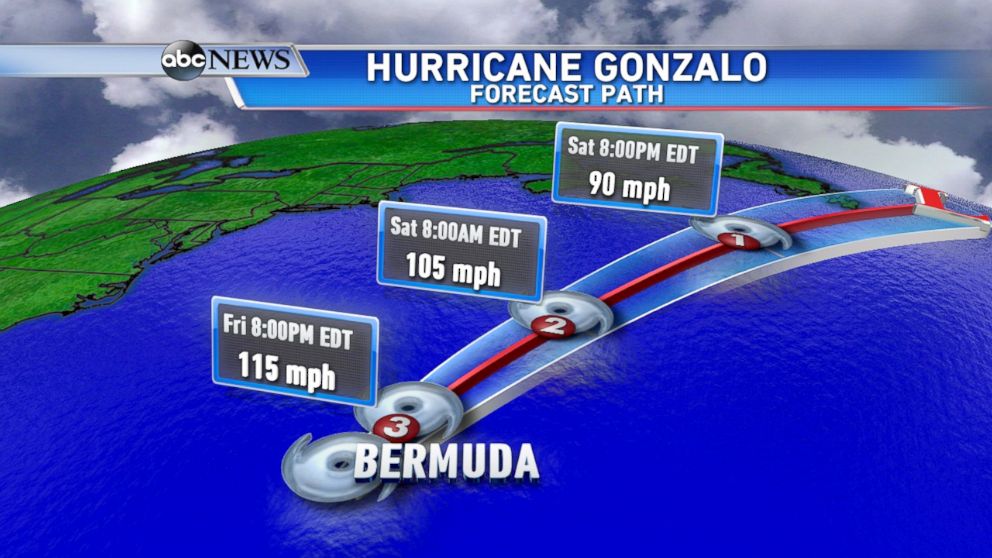 While the storm will weaken as it approaches, loss of life and property remains a genuine concern.
Storm surge could top 10 feet at the shore, waves could climb above 20 feet and winds could surpass 100 m.p.h.
It's been a while since Bermuda has taken a hit as strong as this may be. In 2003, Hurricane Fabian brought with it winds of 120 m.p.h. and killed at least four people.
Impacts to the East Coast will remain low as Gonzalo runs into more vertical wind shear and cooler waters heading Northeast away from land. However, if you are anywhere from the coastline of North Carolina to Maine, you may see some rough surf and rip currents.