An Indonesian passenger jet carrying 189 people crashed into the ocean shortly after takeoff on Monday, authorities said.
Search and rescue officials said they lost contact with Lion Air flight JT610 minutes after it left Jakarta, the country's capital.
The 189 on board included three children and the crew, officials said.
No survivors are expected to be found, a rescue official told the Associated Press.
Sutopo Purwo Nugroho, a spokesperson National Board for Disaster Management, said the plane crashed near the coast of Bekasi, West Java.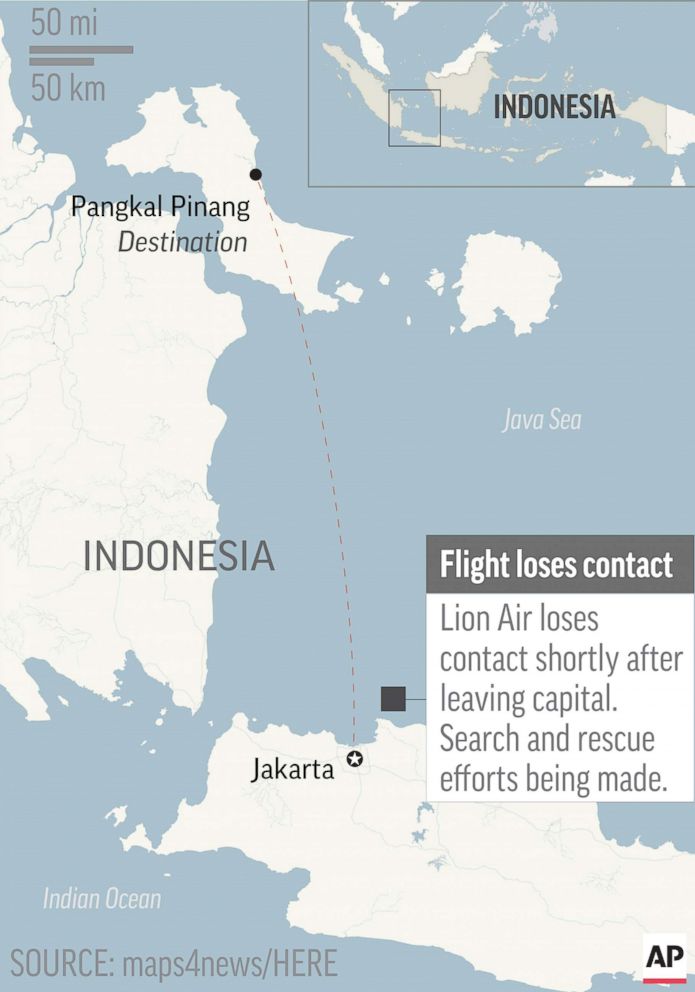 He also tweeted images and video from the crash site, showing rescue officials as they recovered wreckage and personal belongings from the sea.
Crisis centers have been set up for families as authorities search for survivors. Officials said search and rescue teams have found various items from passengers, including IDs, passports, driver's licenses and health insurance cards.
"We immediately carried out coordination and search efforts until finally we found pieces of aircraft at the disaster site," said Kabasarnas Marsdya, an official with the Basarnas Command Center. "Our divers have moved with the underwater equipment. We ask for prayer -- hopefully the evacuation of the victims can run smoothly."
The newly manufactured Boeing 737-800 was scheduled to land at Depati Amir Airport in Pangkal Pinang, an island off Sumatra, at 7:10 a.m. local time. The plane took off at 6:20 a.m. and lost contact about 13 minutes later, the airline said in a statement.
Pramintohasi Soekarno of Indonesian Civil Aviation said the aircraft was issued a certificate of registration and airworthiness in August. The flight captain, Bhavye Suneja, had more than 6,000 hours of flight time and the co-pilot had about 5,000 hours of flight time, according to Lion Air.
Officials with the country's National Transportation Safety Committee are investigating the cause of the crash.
U.S. authorities are trying to determine whether an Indonesian national -- known to U.S. authorities and on the U.S. no fly list -- may have been on the Indonesian flight.
Lion Air is one of Indonesia's largest airlines.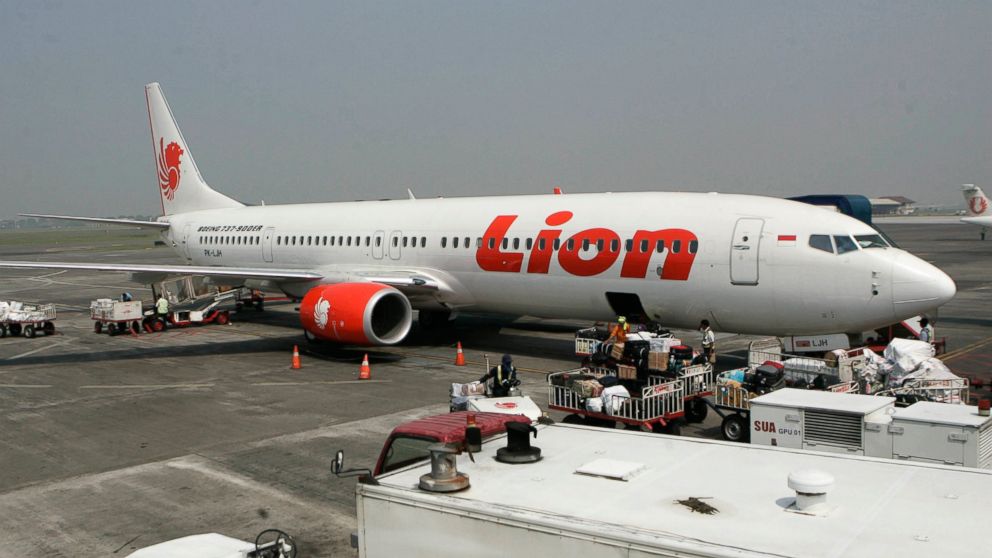 In 2013, one of its Boeing 737-800 jets missed the runway while landing in Bali, crashing into the sea, but all 108 people on board survived, according to the AP. Indonesian airlines in 2007 were barred from flying to Europe because of safety concerns, though several were allowed to resume services in the following decade. That ban was lifted in June, as the U.S. lifted a decade-long ban in 2016.
ABC News' Mike Levine contributed to this report.