Hundreds of thousands of government supporters flooded the streets of Iran today in a well orchestrated show of solidarity with the regime. State television showed live pictures of people praising the Supreme Leader Ayotallah Ali Khamanei and calling for the punishment of opposition leaders.
Iran's official news agency carried a report that the leaders of the Green Movement, Mir Hussein Mousavi and Mahdi Karoubi had fled Tehran, fearing for their own safety.
"Two of those who played a major role in igniting tension in Iran following the vote, fled Tehran and went to a northern province because they were scared of people, who demanded their punishment," IRNA reported, without naming the two.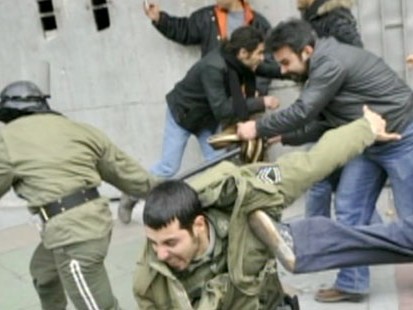 The report was immediately denied by a son of Karoubi. "My father and Mr. Mousavi are in Tehran and IRNA's report is baseless. They are still pursuing the people's demands," Hossein Karoubi told moderate Parlemannews.
ABC News sources also indicate that both leaders are still in Tehran and opponents of the government are dismissing this report as state propaganda designed to denigrate the two who are still contesting President Ahmadinejad's legitimacy as president after this summer's disputed elections.
An earlier rumor that Mousavi's wife, Zahra Rahnavard, had been arrested was also dismissed.
"This is misinformation by the government. They are testing the reaction of the people and they are going to make people afraid," Mohsen Makhmalbaf, Mousavi's unofficial spokesman told ABC News.
Both Mousavi and his wife had earlier today attended the funeral of their nephew, Ali Mousavi, who was killed Sunday during anti-government protests.
According to Makhmalbaf his funeral was held under the close scrutiny of the Revolutionary Guard. The body, which had been removed from hospital by the government, was handed over to the family in the early hours of the morning on the strict proviso that the ceremony would be small and brief.
"They only had half an hour to pray and cry during the funeral. And then at the end of this half an hour they brought Mousavi in. He was there, but just for a short time at the end," Makhmalbaf told ABC News.
'Death to Mousavi!'
While Mousavi was burying his nephew thousands of government supporters were chanting slogans against him, some of them even calling for his death.
According to wire reports people were bused into urban areas by the government and civil servants and other employees were given the day off so that they could attend the rallies staged in Shiraz, Arak, Qom and Tehran, among other cities.
At one such rally in Tehran a pro-government cleric called on the opposition leaders to pledge their loyalty to the Supreme Leader.
"Should you not repent, these people and this ruling system will deal with you as Mohareb [enemy of God]" Ahmad Alamolhoda warned. According to Islamic law Mohareb are to be punished with the death penalty.
Some members of parliament were also calling for their punishment.
"We have asked the judiciary to arrest the leaders of this sedition," said hard-line MP Hasan Norouzi, without saying how many lawmakers made the demand. "Karoubi, Mousavi and all those who ignite tension should be arrested and tried."
Since Sunday's bloody clashes which left eight protesters dead, 500 people have been arrested, according to Iran's police Chief Gen. Ismail Ahmadi Moghaddam. This number could be higher because hardline Basij militiamen and intelligence agents may have apprehended more people on their own, Moghaddam told IRNA.
The pro-green web site Jaras says that as many as 1,510 people are being held and according to HRNA (Human Rights Activist News Agency) the notorious Evin prison is overflowing.
"According to reports from a human rights group in Iran, the massive number of arrests in the past three days forced Evin prison authorities to build a temporary detention center inside the prison." HRNA reported.
Photographs published on-line Tuesday purportedly showed people gathered outside the prison hoping for news of relatives inside.
Iranian Regime's New Tactics
Among those arrested in the last few days was the sister of Iranian Nobel Peace Prize winner Shirin Ebadi. Makhmalbaf views this is part of the new intimidation tactics being used by the regime. "They arrested the sister of Shirin Ebadi to put her under pressure. This is the style of the Mafia," he said.
"They always change their tactic and strategy. On Ashura they were killing people and targeting people," referring to the religious holiday earlier this week. "This is new, targeting. They are telling people we can kill you."
Makhmalbaf believes the government deliberately targeted Mousavi's nephew, a claim the police have denied.
They are not, however, shying away from threatening violence against the protesters. "The days of tolerance are over and the police will have a severe encounter with riot makers," Moghaddam warned Tuesday.
Despite these threats several members of The Green Movement's online community are calling for a retaliatory rally tomorrow.
One blog entitled "Be Alert! Something is in the air" warns protesters to be mindful of the government's possible heavy handedness, but to continue with well organized non-violent protests.
"Unfortunately the current situation is far from normal. In addition to rumors and innuendos about the potential arrests of Mousavi and Karoubi (which have of course not been confirmed), there is a high chance of a stupid move or coup by the government. Let's remember that this government has nothing left to lose," the blog warned.
The Associated Press, Reuters and ABC News' Desiree Adib contributed to this report