— -- Marking the 37th anniversary of its Islamic revolution, Iran continued to publicly mock the 10 U.S. sailors its military forces detained in Iranian waters last month.
Groups of shackled Iranian men and at least one woman (many of them overweight) were paraded thought the streets of downtown Tehran as part of the celebration. Dressed in fatigues meant to depict those of U.S. sailors, the men had guns pointed at them while kneeling on the ground with their hands behind their heads. Others were tied together with bags over their heads.
Crowds gathered to watch the mock reenactment of the heavily propagandized Jan. 12 incident. Ten American sailors were detained for roughly 24 hours after their Riverine command boats strayed into Iranian waters near Farsi Island.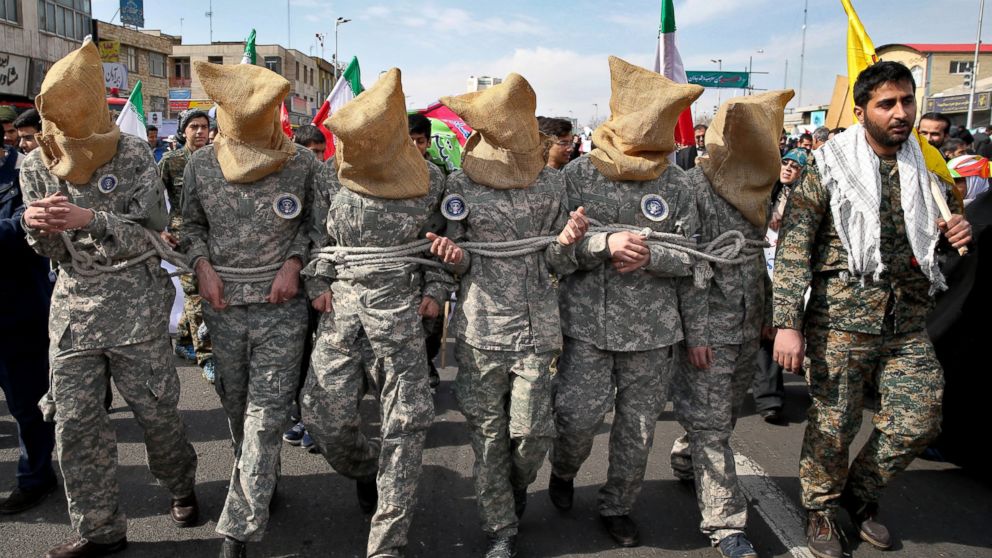 Iranian state media released images yesterday that it said shows one of the U.S. sailors weeping while in detention. The State Department expressed its "disgust" at Iran's decision to release that footage in a statement to ABC News. Last month, Defense Secretary Ash Carter said he was "very, very angry" after Iran first released footage of the U.S. sailors and said the U.S would not have done the same to the Iranians, had the roles been reversed.
The Navy's 5th Fleet released a short description of the incident last month but has yet to produce a larger investigation it said is in the works. None of the U.S. sailors involved have publicly talked about the incident.