Talks between Iran and the West ended on a positive note today with Iran granting inspectors access to its secret facility at Qom.
The European Foreign Policy Chief, Javier Solana, announced that Iran had agreed to "cooperate fully" with the IAEA [International Atomic Energy Agency] on the recently-disclosed site.
These inspections are due to take place in the "next couple of weeks," according to Solana.
This announcement was shortly followed by a statement from the IAEA. "Director General ElBaradei has been invited to Tehran by Iranian authorities. He will travel there soon to discuss a number of matters."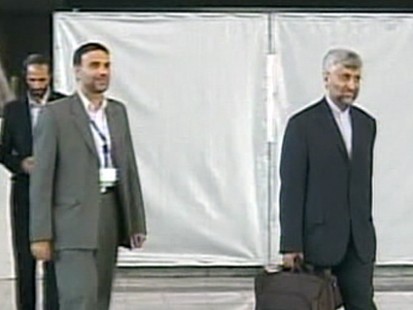 Speaking at the same press conference the
Iranian delegation appeared equally upbeat
.
"We had broad talks. This meeting created a good opportunity for fresh cooperation to remove international concerns," Saeed Jalili, Iran's chief negotiator told a news conference.
The two sides agreed to meet again before the end of the month.
The talks also bore witness to the first high-level bilateral meeting between Iranian and U.S. officials since Washington severed relations with the Islamic Republic three decades ago following the takeover of the U.S. embassy and the subsequent hostage crisis.
"On the margins of the meeting, Under Secretary Bill Burns met with his Iranian counterpart Saeed Jalili," Robert Wood, State Department Deputy Spokesman told ABC News.
Burns and Jalili held a discussion officials described as "significant" during the lunch break of the talks between Iran and the five permanent member-nations of the U.N. Security Council, plus Germany which were being held today in Geneva.
Burns, who heads the U.S. negotiating team, was there to deliver some firm demands to the Iranians, most notably to press them for access to the "secret" nuclear facility in Qom that was revealed last week.
A U.S. official described the one-on-one meeting with Iranians as "largely a statement of the positions of the Iranians and the P5+1, which included the need for unfettered access to Qom, and the need for concrete steps to demonstrate that the Iranian nuclear program is peaceful."
This meeting marks a sharp contrast to the last time the two met in July 2008 when Burns reportedly left the room to avoid shaking hands with Jalili.
The Iranian Stance
While today's talks may be a positive beginning U.S. officials still expressed low expectations for what the Iranians are likely to deliver.
"This is part one of a long process," said one official, noting that negotiators hope for constructive meetings not major concessions.
In the days running up to the talks Iran made it clear that it was not prepared to negotiate on certain issues.
"We are not going to discuss anything related to our nuclear rights, but we can discuss about disarmament, we can discuss about non-proliferation and other general issues," Ali Akbar Salehi head of Iran's Atomic Energy Organization, told a news conference last Tuesday.
According to Iran's official news agency, IRIB, Jalili echoed these sentiments today to European Union Foreign Policy Chief Javier Solana, who is hosting the talks.
In what IRIB described as "clear and unequivocal" language, Jalili said during talks in Geneva: "The Islamic Republic would by no means be dissuaded of its certain rights."
The Carrot and The Stick
In the background, the United States continues to build support for a fourth round of sanctions against Iran. Among the measures being discussed are new curbs on imports of materials related to Iran's energy infrastructure.
This so-called carrot and stick policy was clearly laid out at the start of the Obama administration.
"We actually believe that by following the diplomatic path we are on, we gain credibility and influence with a number of nations who would have to participate in order to make the sanctions regime as tight and as crippling as we would want it to be," Hillary Clinton explained in her first address to the House Foreign Affairs Committee as secretary of state.
Russia, a long-time opponent of imposing further sanctions on Iran, changed its stance and last week intimated that it would support more severe sanctions on the country.
"Russia's position is clear: Sanctions rarely lead to productive results but, in some cases, sanctions are inevitable," Russian President Medvedev said in New York last week after talks with President Barack Obama.
Iranian Sanctions Off Today's Agenda
But China is standing by its policy of non-interference. "China always believes that sanctions and pressure should not be an option," Chinese Foreign Ministry spokeswoman Jiang Yu told reporters last week.
France, Germany and the U.K. broadly support harsher sanctions if Iran does not cooperate.
But Burns' Iranian counterpart, Saeed Jalili, in an interview with Der Spiegel leading up to today's meetings, brushed aside any talk of sanctions.
"What is new about that? And do you really believe there are sanctions that can hit us that hard? We've lived with sanctions for 30 years, and they can't bring a great nation like Iran to its knees," he said. "They do not frighten us. Quite the opposite. We welcome new sanctions."
U.S. officials say sanctions were not on today's agenda and that the talks are about "engagement, not pressure."
As one official told ABC News, "We're here to test if the Iranians are serious about negotiating. If not, then we will look at other measures."
U.S. officials believe the disclosure of the Qom facility gives them the upper hand, unifying the international community in a way that will pressure Iranians to return the favor with substantive concessions.