— -- The Great Mosque of al-Nuri and its iconic leaning minaret, which has towered over Iraq's second-largest city for over eight centuries, was destroyed by ISIS militants late Wednesday, according to Iraqi officials.
It was there at the pulpit of the landmark mosque three years ago that ISIS leader Abu Bakr al-Baghdadi delivered a startling public sermon and declared a "caliphate" after his jihadist fighters overran Mosul while seizing swaths of territory in Iraq and Syria.
The black flag of Baghdadi's hard-line Sunni Muslim militant group had been flying over the mosque's 150-foot minaret since June 2014.
In a statement Wednesday night, Iraqi Prime Minister Haider al-Abadi said ISIS had signaled a "formal declaration of defeat" by blowing up the al-Nuri mosque and its al-Habda minaret, known to locals as "the hunchback" for its titled structure. The mosque is believed to have stood for nearly 850 years.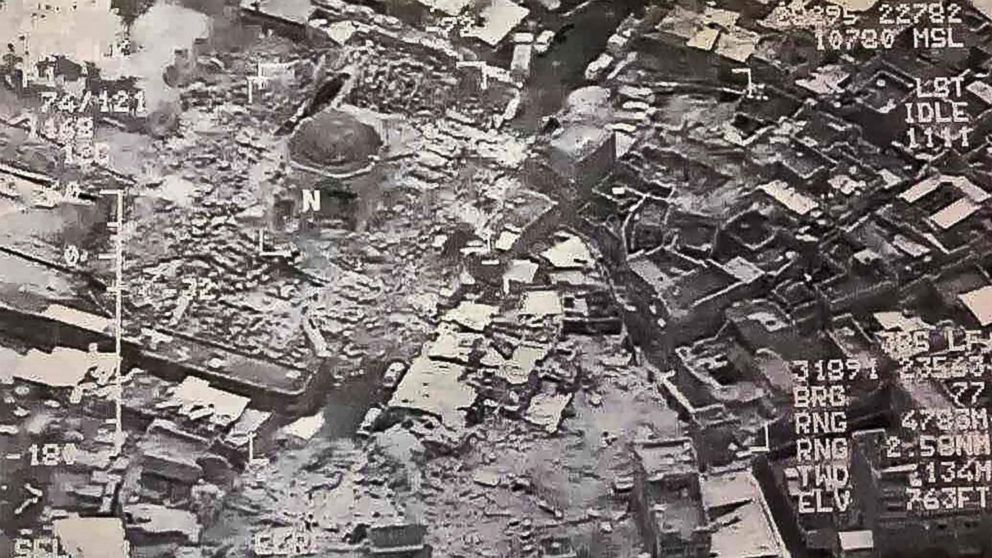 Through its Amaq News Agency, ISIS claimed a U.S. airstrike leveled the symbolic site.
But the Combined Joint Task Force Operation Inherent Resolve, the formal name for the U.S.-led military coalition helping to fight ISIS in Iraq and Syria, said in a press release Wednesday night that the militants destroyed the mosque as they retreated from the area, citing the Iraqi government.
"As our Iraqi Security Force partners closed in on the al-Nuri mosque, ISIS destroyed one of Mosul and Iraq's great treasures," said Maj. Gen. Joseph Martin, the commanding general of the U.S.-led coalition in Iraq and Syria. "This is a crime against the people of Mosul and all of Iraq, and is an example of why this brutal organization must be annihilated.
"The responsibility of this devastation is laid firmly at the doorstep of ISIS, and we continue to support our Iraqi partners as they bring these terrorists to justice. However, the battle for the liberation of Mosul is not yet complete, and we remain focused on supporting the ISF with that objective in mind," Martin added.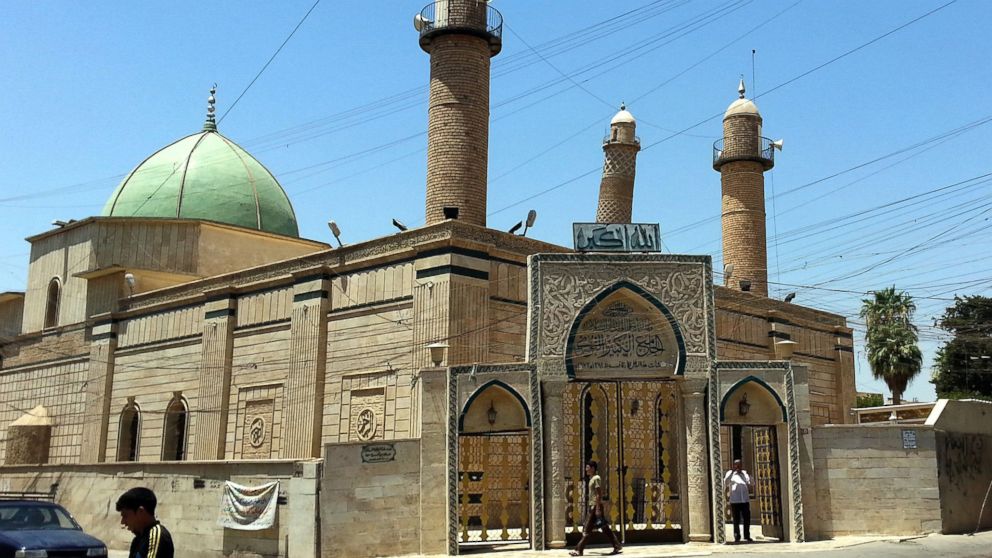 Lt. Gen. Steve Townsend, who commands the U.S.-led coalition in Iraq and Syria, said he caught one last glimpse of al-Nuri mosque not long before he learned it had been demolished.
"I was just in Mosul Wednesday afternoon and close enough to see the mosque and its famous leaning minaret. Little did I know it was for the last time," Townsend told ABC News. "This is just another example that ISIS is a cruel, heartless and godless ideology that cannot be permitted to exist in this world."
The battle to retake Mosul was launched more than eight months ago. The U.S.-led coalition said its forces have so far helped Iraq reclaim over 47,000 square kilometers (about 18,000 square miles) of their land from ISIS.
The mosque's destruction came after Iraqi forces launched an invasion of western Mosul's Old City earlier this week, the last stronghold of ISIS in its self-declared "caliphate" in Iraq. An estimated 100,000 civilians are effectively being held there as "human shields" by ISIS fighters, according to the United Nation's refugee agency.
ABC News' Ely Brown, Mazin Faiq, Benjamin Gittleson, Kirit Radia, Darren Reynolds and Cindy Smith contributed to this report.