— -- Between 20 and 25 ISIS fighters wearing Iraqi Army uniforms infiltrated al-Asad airbase Friday -- the sprawling western Iraqi base where 400 American forces are training Iraqi troops -- and tried to enter the base, military officials said.
The ISIS fighters were killed as Iraqi forces repelled the attack, officials said, and no U.S. military service members were affected by the attack. A statement released by Combined Joint Task Force-Operation Inherent Resolve confirmed the attack.
"About 7:20 a.m. (Iraqi time, Friday, Feb. 13) a small Daesh element attacked an Iraqi Army facility on the Al Asad Air Base in Anbar province," read the statement.
Daesh is the pronunciation of ISIS in Arabic.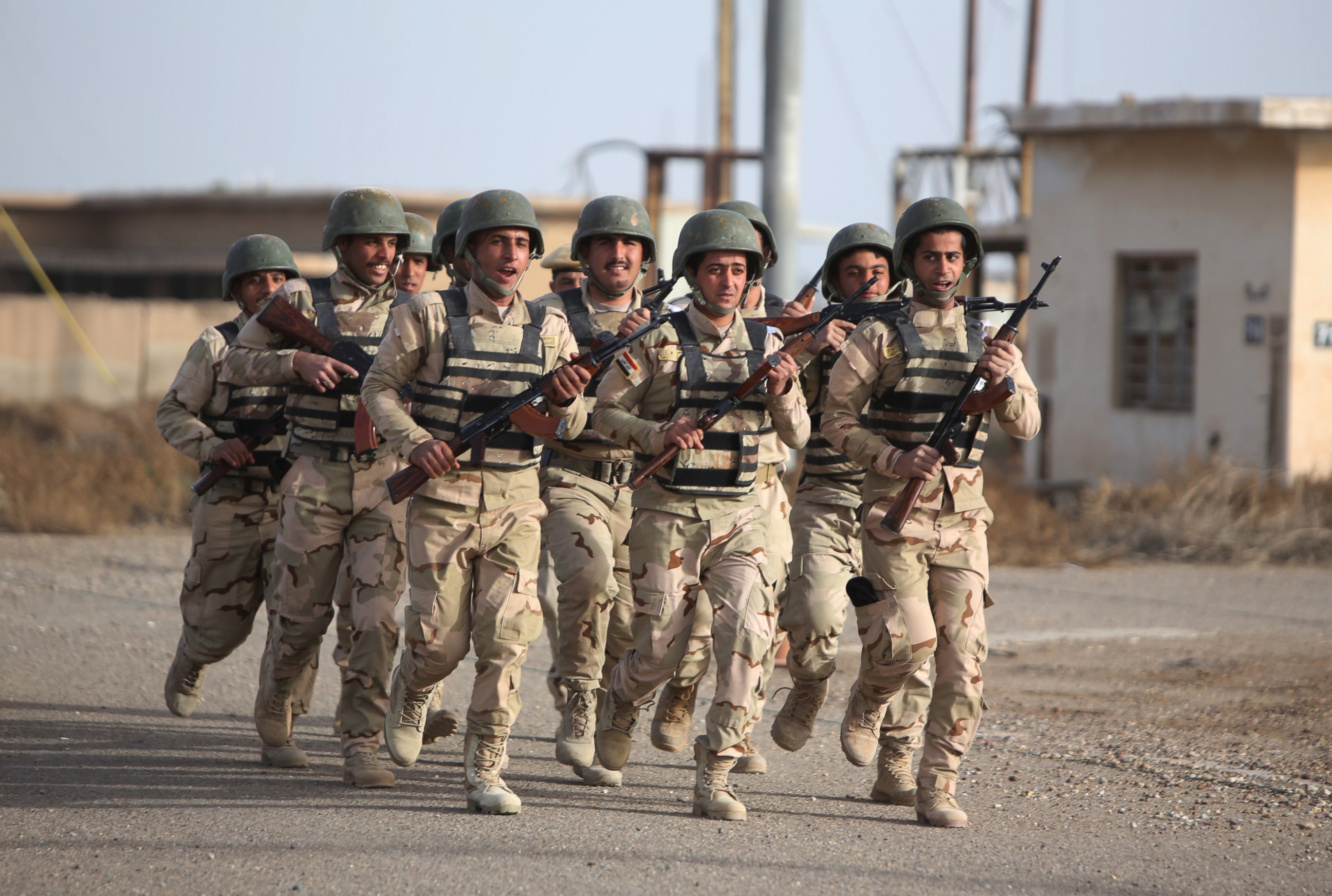 Pentagon spokesman Rear Admiral John Kirby said at a Pentagon briefing that between 20 and 25 ISIS fighters had tried to enter the base. Most, if not all, of the attackers were wearing Iraqi Army uniforms, he said.
The first wave of ISIS attackers detonated suicide vests at the base's perimeter, Kirby said, and they were followed by a second wave of 10 to 15 fighters who tried to breach the perimeter.
"They were immediately engaged by members of the Iraqi army, the 7th Infantry of the Iraqi Army, and all were killed," Kirby said, noting there were no Iraqi Army casualties in the incident, which he described as short in duration.
Kirby stressed that none of the 400 U.S. personnel on the base were anywhere near the attack. "At least a couple of miles away," said Kirby. "So, they might have heard shots being fired, but that would've been about it."
ISIS controls major parts of Anbar Province in western Iraq where al-Asad Airbase is located. The U.S. military is using the large 25-square-mile base as a training facility to train Iraqi troops and assist with Iraqi training of Sunni tribesmen to fight against ISIS.
For several months the base has been a frequent target of ISIS mortar fire, though U.S. military officials say it is ineffective because the fire is not targeted.
Kirby confirmed that on Thursday ISIS fighters had taken over al-Baghdadi, a town located less than 10 miles from the base at al-Asad. ISIS fighters who had been besieging the town for months were able to make into the town on Thursday and take over the local Iraqi police station.
The taking of al-Baghdadi was the first time in months that ISIS had gained ground in Iraq, where it has been in a defensive posture.
"It's one town. It's not all of al-Anbar. It's not all of Iraq," said Kirby. "We need to keep it in perspective."
U.S. officials said that Iraqi troops were making progress in clearing ISIS fighters at al-Baghdadi though Kirby said the town was still assessed to be under the control of ISIS.