Days before President Obama's Middle East envoy George Mitchell returns to the region to discuss an Israeli settlement freeze, news has emerged of Israeli Prime Minister Benjamin Netanyahu's intention to approve hundreds more homes in the occupied territories.
Only after that would he be willing to agree to what one Israeli official speaking to ABC News, called a "moratorium" of a few months on further construction.
The move is likely to dismay the Palestinians and the Arab world who have insisted on a complete settlement freeze as a condition to restarting peace talks with Israel.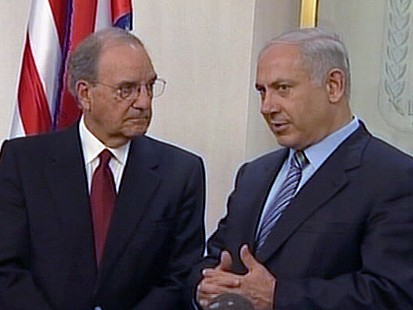 The senior Palestinian negotiator Saeb Erekat told ABC News today, "This is a direct and flagrant provocation by the Israeli side. It is likely to undermine
all the efforts of the Obama administration
to make peace in the region."
Obama and his senior officials have for months been applying unusual diplomatic pressure on the Israelis to halt settlement construction.
If today's plans are incorporated into any agreement, it would imply a significant compromise by the Obama administration on its initial demands.
The administration hopes a settlement freeze would kick start a peace process that would also include the wider Arab world, and lead to a regional agreement.
But the talks with the Israelis have been painfully slow. Netanyahu heads a government many components of which are long time supporters of the settler movement and are dead set against a freeze.
Netanyahu's plan to build more homes may be an attempt to satisfy government partners who have warned him not to announce a halt in construction of any kind.
The Israelis have insisted on the right to what they term "normal life" in the Jewish settlements. This they claim, requires some measure of continued construction.
All settlements in the occupied territories are deemed illegal under international law, and the Road Map peace plan calls for a complete cessation of construction.
The Palestinians see settlements built on the land they want for their state as a major obstacle to peace.
Settlement Plans Put Peace Process at Risk
The new homes at the center of today's story would be in addition to the 2,500 that are already under construction across the West Bank.
An Israeli official also confirmed to ABC News that East Jerusalem, which is also viewed as occupied territory by the international community, would be left out of any "temporary moratorium."
The same official told ABC News the length of the moratorium would depend on the reaction of the Arab states. The Israelis are demanding gestures of normalization from them before agreeing to the temporary halt.
At the moment the Israelis are willing to consider a nine-month time limit. It could be extended if the peace process makes significant headway.
So far U.S. calls for gestures from the Arab world have met with a mixed response. Saudi Arabia has publicly and in private said it would not offer Israel concessions until after a successful conclusion to a peace process.
But other smaller states have agreed to limited measures. Morocco has indicated a willingness to open an Israeli economic office on its soil, and Qatar might be persuaded to reopen an Israeli interests section. Other gestures being discussed include allowing Israeli passenger jets to overfly Arab airspace.
Mitchell arrives next week for more talks with Israeli and Palestinian leaders in an effort to conclude a deal on settlements. The U.S. is interested in convening a U.S.-Israeli-Palestinian meeting at the U.N. later this month on the fringes of the General Assembly.
But today's announcement will likely make the job persuading Palestinian President Abbas to sit down with Netanyahu even more difficult.
Saeb Erekat told ABC News: "This issue is a major challenge to President Obama. If he can't make Netanyahu freeze settlements, how can he expect the Palestinians and the Arab world believe the Israelis are interested in peace? This is about President Obama's credibility."