Israeli Prime Minister Benjamin Netanyahu spent 40 minutes on the phone with Secretary of State Hillary Clinton Thursday night. The contents of the call have not been made public, but it is thought Netanyahu proposed a series of confidence-building measures designed to defuse the diplomatic crisis with the U.S.
Those measures are thought to pertain exclusively to the West Bank, where Israel is expected to remove more checkpoints and possibly release some Palestinian prisoners who belong to Fatah, the faction led by the moderate Palestinian president Mahmoud Abbas.
However, the prime minister apparently did not promise to cancel the recently announced plan for 1,600 new homes in the Jewish settlement of Ramat Shlomo.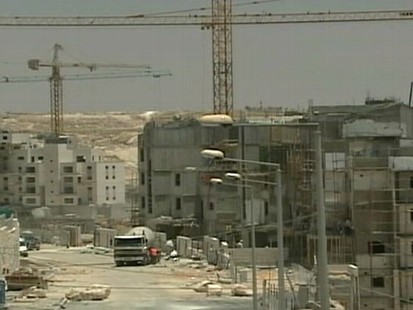 This was a
key demand made of him by the U.S.
, as it was this announcement that so
embarrassed Vice President Joe Biden
when he was in Jerusalem and which
sparked the current tensions
.
Instead, it is widely reported, although not confirmed by the prime minister's office, that he agreed to delay the start of construction and that other plans for settlements in East Jerusalem will not be made public in what many commentators are calling a "don't ask, don't tell" policy.
The offer was made after intensive days of discussions Netanyahu held with his inner cabinet, a group of seven senior ministers.
While the prime minister's offer may not amount to a full freeze, it may result in a significant slowdown of construction in the contested parts of East Jerusalem which Israel annexed from Jordan after the Six Day War of 1967.
It is in East Jerusalem that the Palestinians want to establish a capital of their own. Israel's annexation has never been accepted by the international community.
The phone call was deemed a success by most Israeli columnists Friday.
Evidence that the worst of the diplomatic crisis may be over was supported by the news that President Obama's Middle East envoy, George Mitchell, will arrive in the region Sunday for separate talks with Netanyahu and President Abbas. He had previously postponed his visit due to the crisis.
Netanyahu will fly to Washington Sunday night and will address a Monday-evening conference of AIPAC, the American Israel Public Affairs Committee, a group that advocates for Israel in Washington.
Given the improved atmosphere it is thought he will now have meetings with senior administration officials while he is there. The prime minister's office would not confirm that meetings have already been set up but did say they were being planned.