GAZA CITY — -- Police in Israel are investigating two deadly attacks In Jerusalem today after an Israeli soldier was shot this morning and a public bus was attacked by a construction excavator.
Israeli police said that a mostly-empty bus was traveling through Jerusalem when an excavator driven by a Palestinian began to flip the bus into other cars. Three people on the bus were injured and a pedestrian was killed. Police shot and killed the driver of the excavator and ruled the incident a terror attack.
A short time after the bus incident, an Israeli soldier was shot and wounded near Hebrew University, also in Jerusalem. The assailant was riding a scooter and fled the scene. Police were investigating the attack.
White House: UN School Shelling 'Unacceptable' and 'Indefensible'
Quadruplets a Sign of Hope Amid Gaza Bloodshed
Inside Israel's Search for Tunnels Used by Hamas
The bus incident occurred just hours into a "humanitarian window" began in the fighting between Israel and Gaza, though it was quickly broken when Israel forces struck a Gaza beach camp and injured 30, according to the Palestinian health ministry.
The strike happened at Al-Shata Refugee Camp in west Gaza City, ABC News has learned. That's far from Rafah, in southern Gaza, which has been the scene of particularly heavy fighting and strikes the past few days.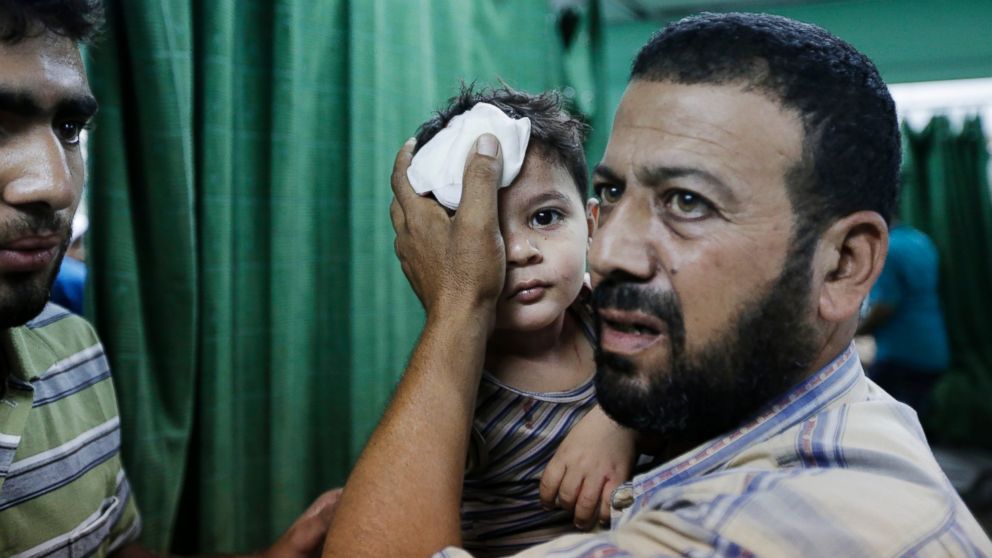 Israel's self-declared truce -- which Hamas has not agreed to -- does not include areas where its soldiers were already operating.
Israel has been drawing down its ground operation since the weekend but has kept up heavy aerial, offshore and artillery bombardments of the strip. The Gaza war, now in its fourth week, has left more than 1,800 Palestinians and more than 60 Israelis dead.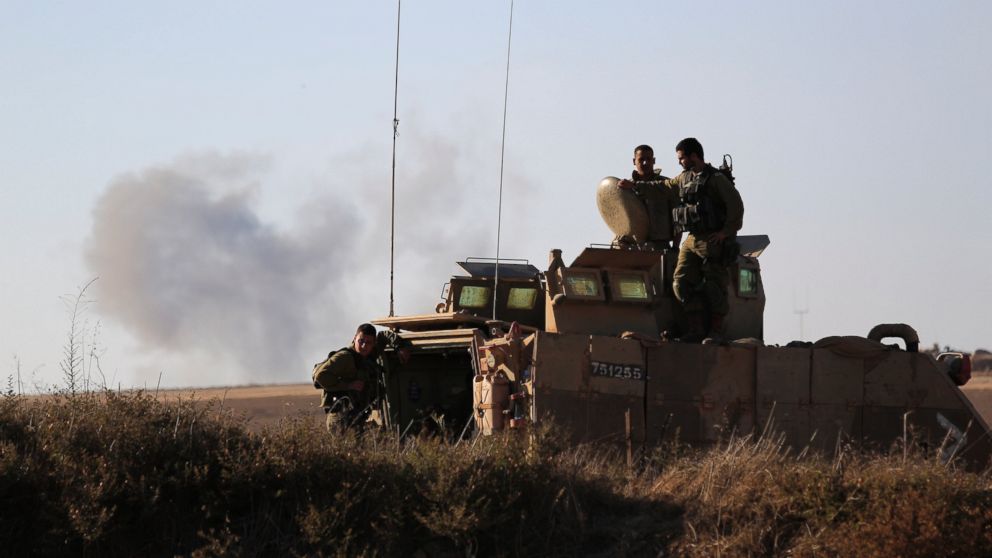 More than three-quarters of the dead in the war have been civilians, including the 10 people killed Sunday at a United Nations school that has been converted into a shelter in the southern Gaza Strip town of Rafah, U.N. officials said. U.N. Secretary-General Ban Ki-moon called the attack a "moral outrage and a criminal act" and demanded a quick investigation, while the U.S. State Department condemned the strike in unusually strong language.
"The United States is appalled by today's disgraceful shelling outside an UNRWA school in Rafah sheltering some 3,000 displaced persons," State Department spokeswoman Jen Psaki said.
"The suspicion that militants are operating nearby does not justify strikes that put at risk the lives of so many innocent civilians," her written statement read.
Israel launched its military operation in Gaza on July 8 in response to weeks of heavy rocket fire and has since carried out more than 4,600 airstrikes across the crowded seaside territory. It sent in ground forces on July 17 in what it said was a mission to destroy the tunnels used by Hamas to carry out attacks inside Israel.
Since the fighting erupted, Hamas has fired more than 3,200 rockets into Israel, many of them intercepted by Israel's Iron Dome defense system.
The number of children killed during the current military operation, at least 392, has surpassed the number of children killed during Israel's "Cast Lead" military operation in 2008 and 2009, UNICEF said.
The Associated Press contributed to this report.
Get real-time updates as this story unfolds. To start, just "star" this story in ABC News' phone app. Download ABC News for iPhone here or ABC News for Android here.