— -- As a captive of ISIS in Syria for 18 excruciating months before her reported death in 2015, American hostage Kayla Mueller was usually called by her ISIS guards as "Amriki," meaning, in Arabic, the "American." But her courage, resilience and humanity as a captive apparently penetrated the thuggishness of at least one of her terrorist captors, who called her by one of Islam's most revered names.
"Before we arrived, an older guard would call Kayla 'Maryam,' the Arabic version of Mary," said former ISIS hostage Frida Saide, a Swede who spent six weeks locked up with Kayla near Raqqa, Syria, in early 2014.
Mary, the virgin mother of Jesus, is the only woman referred to by name and given considerable attention in the Qu'ran, Islam's holy book.
Saide, who had been a Doctors Without Borders aid worker, said an older guard had apparently taken pity on Kayla because she was often locked in a small dark room alone for days or weeks at a time after being abducted on Aug. 4, 2013, with several staffers of Doctors Without Borders -- known overseas by its French acronym MSF -- in one of the medical charity's marked vehicles near a hospital run by MSF-Spain in Aleppo, Syria.
"He was an old Syrian man who would take some time to sit and talk to her, to keep her company. She would ask him about Arabic words or grammar. He would share with her the same food that he prepared for himself and other guards, nice food," Saide recounted from her conversations in the six weeks she spent locked up with Kayla between February and March 2014.
The MSF staff seized with Kayla had been released within days in 2013. Saide and four other MSF workers were abducted in January 2014 and later held with Kayla and other western captives.
The young American, seemingly abandoned by several aid groups -- including MSF -- that she had been associated with or worked for in Turkey, didn't have to cover her face with the older guard and he could see when she had cried.
"He tried to cheer her up by giving her chocolate and oranges," Saide told ABC News' "20/20" this month in her first interview since being ransomed out in 2014. "He explained many times that Muslims love Mary, and I think he wanted to point out that we are not so different after all."
But his kindness stood in contrast to his fellow jihadis, who brutally tortured, beat, beheaded and shot to death at least 10 of their western captives in 2014 and 2015.
Tune in to ABC News "20/20" Friday, Aug. 26 at 10 p.m. ET for the full Brian Ross report, "The Girl Left Behind."
Back home in Prescott, Arizona, however, Kayla will always be remembered with other nicknames, such as "Special K" and "Peanut," by family and friends, her mother Marsha said.
While a hostage in Syria, Marsha often called her "Kaylala" in her journals "because of the music and joy in my heart when I think of her."
Since arriving in 1988 as the child that her parents were told by their doctors they could never have, Kayla Jean Mueller lived selflessly for others, her family said.
"She wasn't really a girlie girl, no makeup. ... She wasn't into clothes, she wasn't really into anything like that. She was into doing and planting trees and helping kids -- and that was Kayla," her mother told ABC News in an interview.
Kayla "felt suffering in her heart" and believed she was supposed to help, Marsha Mueller said, noting her daughter felt "it was what we were just here to do."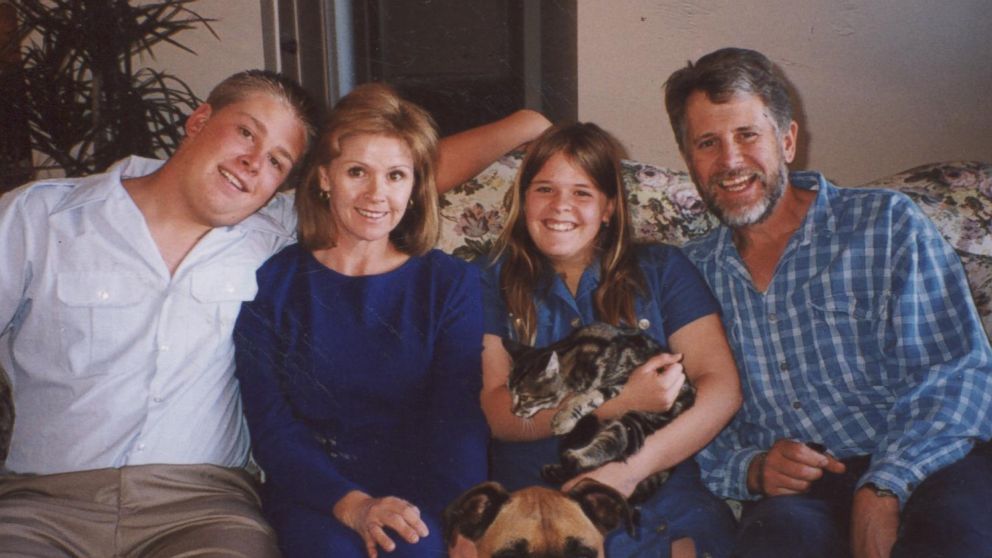 As far back as the eighth grade, it was clear Kayla meant to get out into the world, to help others where she could and to do her part to fight injustice, her family said. In a speech when she was barely a teen, she called on her classmates to do the same.
"So start volunteering, be a good person, always have love in your heart and think before you do," she said then.
That urge led her around the world.
"She always had wanderlust," said her father, Carl. "The places she went, gosh, it's a long list. Places that most people never visit in a lifetime and she did it all on her own. ... I don't know how to explain it, but Kayla felt suffering in her heart and it was as if it just seemed natural -- she was supposed to help."
After helping various refugees around the world, a refugee charity offered Kayla a job in southern Turkey. Syria, just over the border, was in the midst of a popular uprising that was devolving into a bloody civil war. She arrived in late 2012 and went to work helping Syrian refugees.
In May 2013, she returned to her hometown and spoke about her experience at the local Kiwanis club.
"When Syrians hear I'm an American, they ask, 'Where is the world?'... All I can do is cry with them, because I don't know," she said then. "For as long as I live, I would not let this suffering be normal, become something that we just accept. ... It's really important sometimes to just stop and realize what we have, realize why we have it, realize how privileged we are. And from that place of knowing how blessed we are, start there. And if we start there, we'll do a lot of good."
Kayla returned to Turkey shortly after that, where she continued to do what she could for Syrian refugees.
Carl Mueller said his daughter wrote once in her journal about her experience in Turkey: "Here I am doing exactly what I want to do and my parents are proud of me."
Kayla was kidnapped by ISIS -- then a largely unknown rebel group -- in August 2013 after she accompanied a friend to Aleppo to help fix communications equipment at a Doctors Without Borders hospital. She was held for 18 months by the terror group before ISIS claimed she had been killed in a Jordanian airstrike and her death was confirmed by the White House.
But hostages that were held with Kayla related to ABC News story after story about her courage and caring, even as she was being abused by her ISIS captors, including ISIS leader Abu Bakr al-Baghdadi.
In a March 2014 letter from Kayla smuggled out by the MSF women and provided by her family to ABC News, she apologized to her loved ones for distressing them. She also addressed her captors' care.
"I have been treated with utmost respect and kindness," Kayla wrote in her own hand in the letter addressed to her parents and a few friends such as the Rev. Kathleen Day, from the campus ministry of her college, Northern Arizona University.
The statement was true, in part, given that at least a few guards had been nice to her amid the abuse she suffered from others, her former cellmate said.
"This is what she meant," said former hostage Frida Saide, who smuggled the letter out for her American friend.
Kayla signed it, "All my everything, Kayla."
Along with two other letters ISIS ordered her to write around the same time, it was to be the last time Carl and Marsha heard from their daughter.