After frenzied protests that took at least 68 lives in Kyrgyzstan, the opposition today said it will form an interim government to rule the country for the next six months.
Kyrgyzstan is a crucially important United States ally, the U.S. maintains an air base here that is a key supply point for the war in nearby Afghanistan. Although the opposition had earlier called for the U.S. base to be closed, opposition leader Roza Otunbayeva today said that the base would be allowed to continue its operations.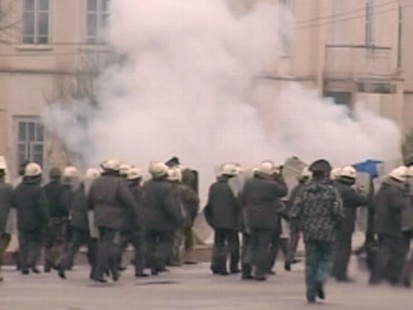 "Its status quo will remain in place. We still have some questions on it. Give us time and we will listen to all the sides and solve everything," she said at a news conference.
A U.S. embassy spokeswoman confirmed that the base was still functioning, telling Reuters, "I don't think there are any plans to change that."
Otunbayeva will be in charge of the country's new government. She told reporters today that she plans to hold negotiations with the deposed president Kurmanbek Bakiyev, who fled the capital Bishkek and said to be in hiding in the central Jalal-Abad region.
She said the new government will change election laws that she claims were designed to give Bakiyev and his supporters control of the parliament.
Today thousands of people gathered around Bishkek's central square next to the presidential administration building, known as the White House. Burned-out cars littered the front of the White House, many with tires still burning.
Several hundred were attending a rally while others rifled through the cars looking for parts. The looting continued in the White House grounds, with piles of trash lying about.
The building itself displayed shattered windows and black marks from the fires. Two fire trucks were in front of the White house, with one of the firemen wearing a Fairfax County fireman's suit.
One day after violent protests against the government, there was no visible security presence in the city.
A banner tied to the White House gates stated "there's no room for [...] Maxim Bakiev [sic] in Kyrgyzstan," attacking the son of the former Krygyz president for his purported corrupt business dealings.
After Wednesday's protests, the Health Ministry told the Associated Press that the death toll rose overnight to 68, with 400 people still hospitalized across the country as protestors attacked local governments Wednesday and police used live ammunition to repel them.
"Security forces were shooting with submachine guns," said one wounded protester being carried away in a stretcher Wednesday. "Why are they shooting at the people?"
Protesters were armed as well, and they injured and killed several police officers. Some protestors even commandeered police vehicles.
"There will be blood for blood," a protestor vowed.
Kyrgyzstan Plagued by Corruption, Poverty
Tensions have been growing in Kyrgyzstan over what opposition supporters called increasingly repressive government policies. Arrests of opposition leaders overnight -- plus a 200 percent increase in utility prices -- sparked a violent backlash.
Kyrgyzstan, a mountainous country of five million people in Central Asia, is one of the poorest former Soviet republics, and has long been plagued by corruption and political division.
The United States has a "transit center" located at Manas International Airport in Kyrgyzstan, about 19 miles northwest of the capital of Bishkek. It is a major hub for the transit of personnel and equipment into Afghanistan. There are about 1,100 U.S., French and Spanish personnel located at the facility, with the overwhelming majority of them being American.
State Department spokesman PJ Crowley said Wednesday that the base was "functioning normally." But, a Defense official said there was a temporary re-routing of some incoming aircraft.
The Associated Press and Reuters contributed to this story.