— -- At the first kick-off in the current English soccer season, few could have predicted Leicester City Football Club's rise to the top.
The Foxes, as the team is known, is now just one win away from clinching the title. It would be a remarkable turnaround for Leicester -- the club have never achieved such a feat in its 132-year history.
The unlikely story of how the struggling team has clawed its way up from bottom of England's Premier League in March 2015, when it was in jeopardy of being relegated down to a lower league, to prevailing over titans of the game, including Manchester United and Chelsea, is widely considered the biggest upset in U.K. sports.
It would roughly be the equivalent of Oakland Athletics beating out the Yankees and Red Sox to play in the World Series -- if the team had never won the title.
Around Leicester -- a city of about 330,000 people an hour's train ride from London -- the local team's success is the biggest thing to happen to the city since the discovery of King Richard III's skeletal remains under a parking lot in 2012. That find put the city in the world news limelight.
Few would have thought that Leicester, which is pronounced "Lester," would be making headlines again this year for the local soccer team's sporting prowess.
"In the first two weekends of the season, we had 128 customers placing bets at 5,000-to-1," a spokesman for Sky Bet told ABC News.
"Today, we have a total payout of 4.6 million pounds on the basis of a Leicester win," he added.
But Sam North, a 26-year-old mechanic, born and bred in Leicester, was confident.
"I knew they would win," he told ABC News. "I placed 10 pounds back in August."
North, who got an early cash-out of 29,000 pounds, says he's not surprised at the team's success: "We haven't changed the way we play. We were just unlucky at the start. We've just continued to play on great form, with the same team spirit."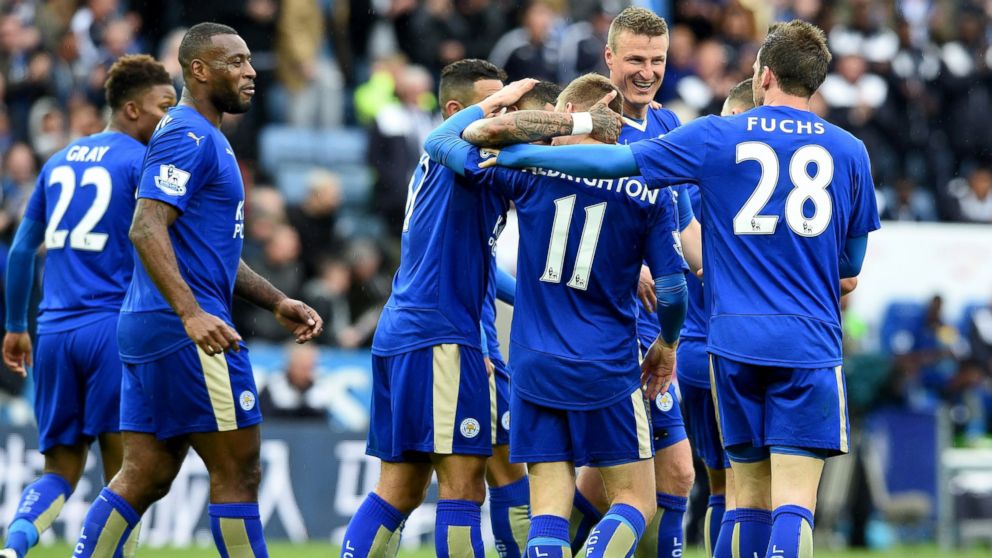 Leicester could make history on Sunday if the team wins against Manchester United at Old Trafford stadium.
Franco-Algerian player Riyad Mahrez, who recently won Best Player of the Year, epitomizes the Leicester spirit.
In an interview with L'Equipe, a French sports outlet, Mahrez was asked if he realized that all of Europe was watching and rooting for them.
"Not really, no. We see that's something is happening in England, but we're in our bubble," he said.
The attacker said that while they all have a good laugh in the changing rooms, once they're on the field, they give everything they have.
"We don't have the best players, the biggest budget, but our solidarity is what people admire," he told l'Equipe, adding: "In January, we didn't think it was possible. Now it has [become possible] but we're not becoming pretentious about it."
Former Leicester star Gary Lineker tweeted: "YES! If Leicester win the @premierleague I'll do the first MOTD of next season in just my undies," referring to the "Match of the Day" -- a challenge reportedly approved by BBC bosses.
Coach Claudio Ranieri, who started with the team last summer, appeared emotional after being shown a video of tributes from Leicester's locals.
"I literally would hug you when you were here because for this city," one of supporter's said. "What you've created, the family, the essence of the stadium, it's fantastic."
Ranieri's men have not lost since the 2-1 defeat at Arsenal back in February, most recently beating Swansea City 4-0.
Manchester United goalkeeper David De Gea will be the man to watch at on Sunday, according to a statement from the Leicester City FC website.
Around Leicester, supporters have been encouraged to wear blue shirts and scarves, and public buildings and landmarks are turning blue.
Leicester vs. Manchester United kicks off at 9:05 a.m. ET on Sunday.
ABC News' Paul H.B. Shin and Matt Williams contributed to this report.