— -- Children are among the 22 killed and 59 injured in a "sickening" attack at an Ariana Grande concert in Manchester, England, Monday night, United Kingdom Prime Minister Theresa May said Tuesday.
An 8-year-old girl named Saffie Rose Roussos is among those killed.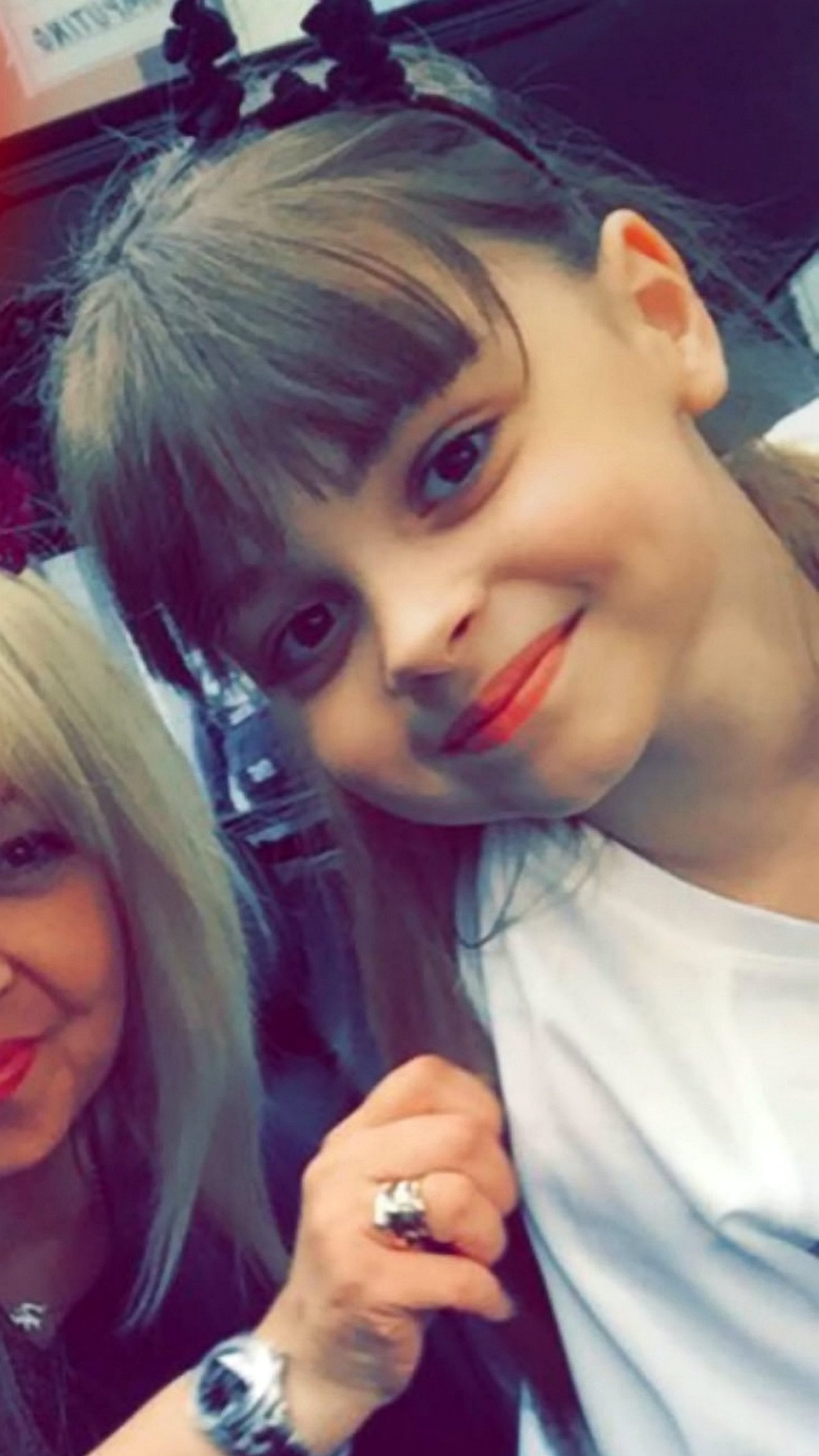 Twelve children under the age of 16 were seriously injured, officials said.
Monday's incident is being treated as a terror attack and May said the threat level remains at "severe," meaning the government considers another terror attack highly likely. Severe is level 4 out of 5, with critical being the highest.
May said the attacker -- who died at the scene after using an improvised explosive device -- deliberately targeted children and young people "who should have been enjoying one of the most memorable nights of their lives."
"We struggle to comprehend the warped and twisted mind that sees a room packed with young children not as a scene to cherished but as an opportunity for carnage," May said.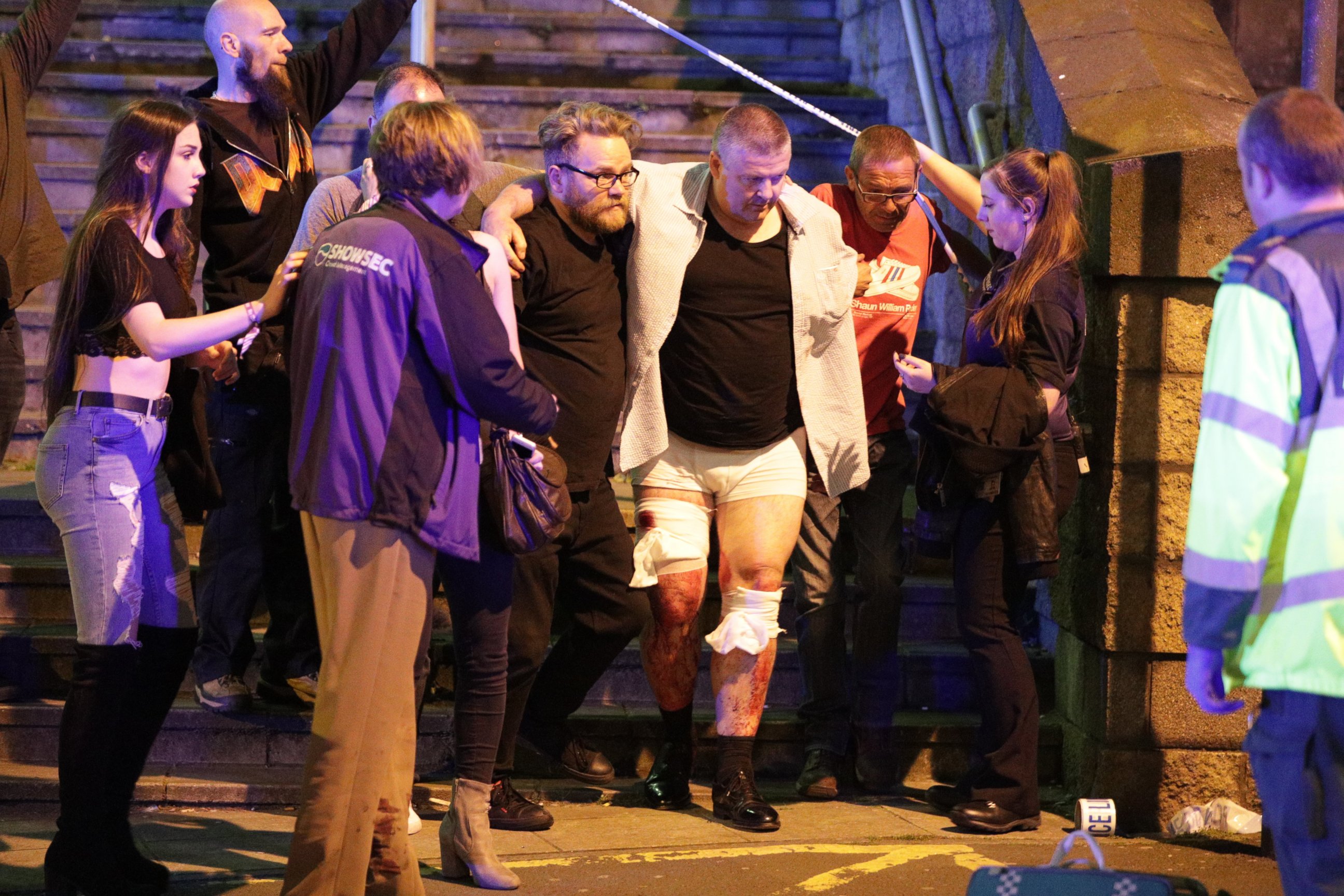 The man suspected of carrying out the attack was identified as 22-year-old Salman Abedi, police said today. Police are still trying to determine if he acted alone or was part of a group.
Greater Manchester Police said a 23-year-old man was arrested in South Manchester in connection with the attack.
ISIS has claimed responsibility for the deadly explosion.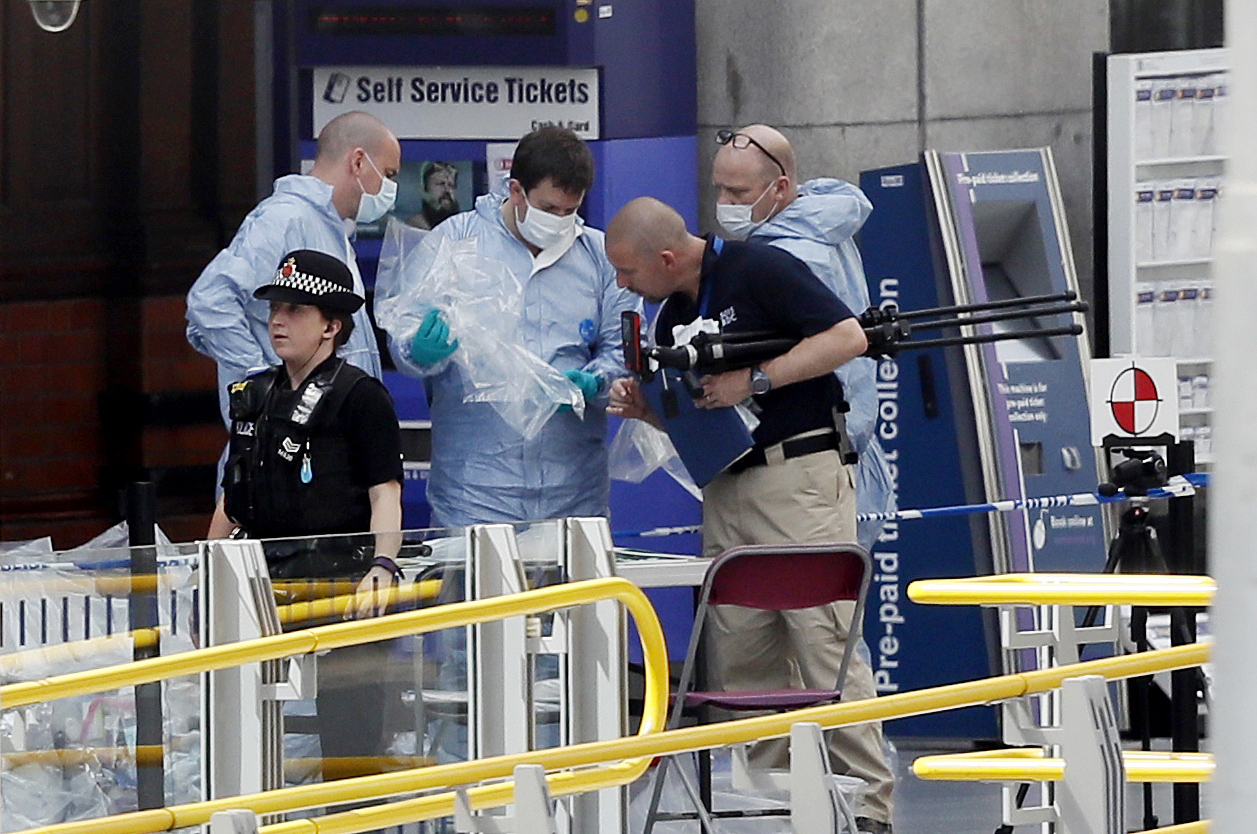 President Donald Trump offered his condolences in remarks during a visit to Israel, saying the victims were "murdered by evil losers."
"I won't call them monsters because they'd like that term. They'd think that's a great name," Trump said in Bethlehem after a visit with Palestinian President Mahmoud Abbas. "I will call them from now on losers because that's what they are. They're losers and we'll have more of them. But they're losers remember that."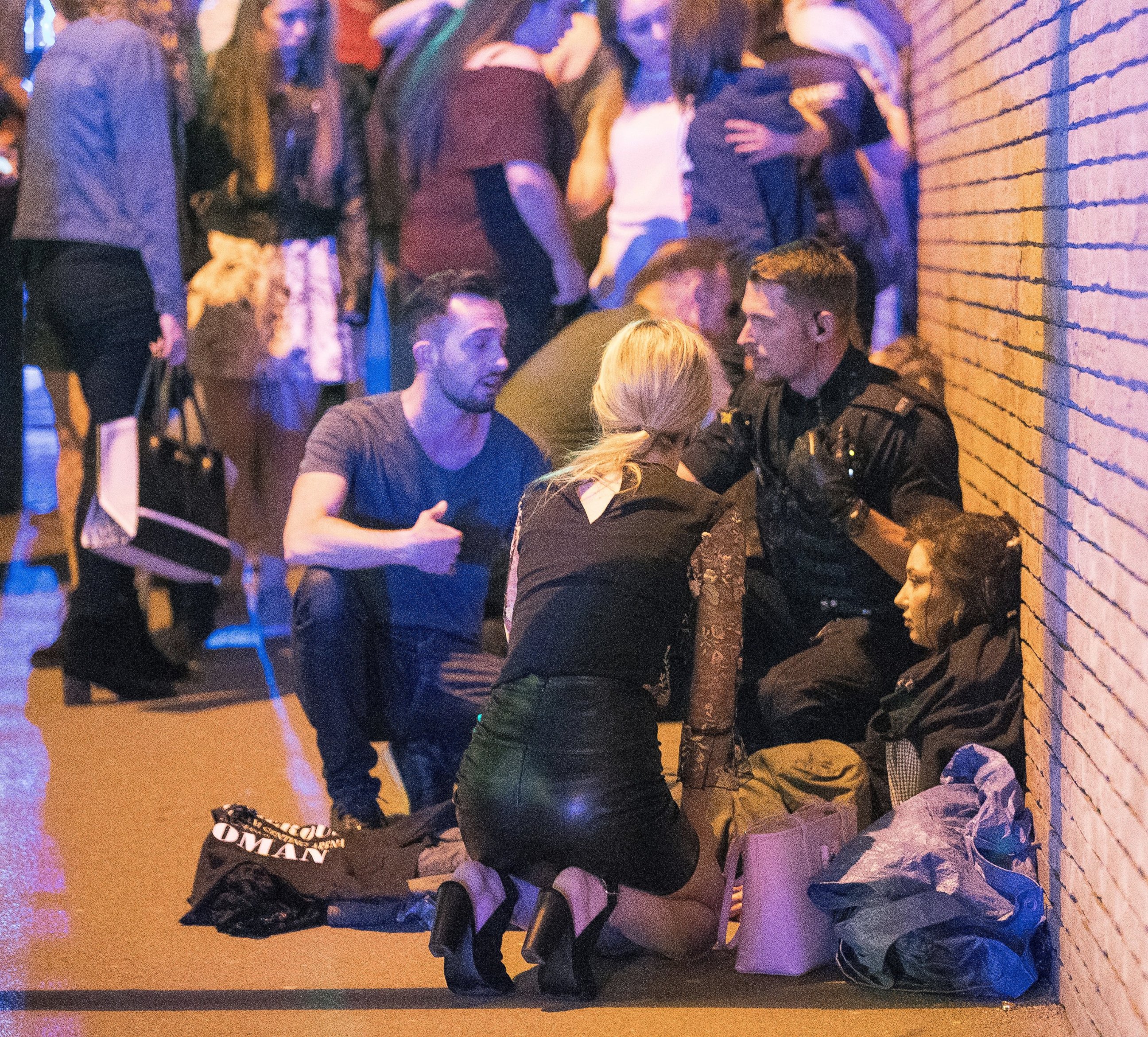 Greater Manchester Police said they were called to the Manchester Arena just before 10:35 p.m. local time on Monday. The explosion happened inside of the arena's foyer area after the concert finished, according to witnesses, who reported hearing a loud bang as they exited the arena. The venue holds about 21,000 people and is one of Europe's largest indoor arenas, according to its website. The concert arena is connected to the Manchester Victoria Station, the city's second-largest train station.
Explosion at Ariana Grande concert in Manchester
A suicide bombing at an Ariana Grande concert at Manchester Arena on May 22, killed 22 people and wounded more than 100 others. Children and teenagers were among the victims of Salman Abedi's attack. The 22-year-old British-born man of Libyan descent detonated a device minutes after Grande finished performing.<br><br> Police and other emergency services are seen near the Manchester Arena after reports of an explosion, May 22, 2017.
Joel Goodman/LNP/REX/Shutterstock
Abby Barker, who attended the concert, told ABC News that Grande had just left the stage when there was a loud bang.
"I looked across the arena and everyone over there started running in different directions, screaming in panic," she said. "We all started panicking too and ran out the doors and ran down the stairs out of the arena. We got outside and children were crying their eyes out, people talking about it being a bomb/gunshots, there were many parents running towards the arena but no one knew exactly what it was."
Witness Joseph Harries told ABC News' "Good Morning America" that "people were just trying to get out of the arena as fast as they possibly could after the blast. I was directly in front of the stage at the heart of the arena. I had exactly the same distance to get out of any of the doors."
"I had my best friend with me and I grabbed hold of her wrist and told her never let go of me," Harries said. "We just ran, we jumped over chairs, railings to get out of the doors, we had to force open doors that wouldn't open because people were trying to get to – the entire capacity of the 20,000 person arena were trying to get out of one exit."
"It felt like an eternity," Harries said, but it "couldn't have been more than two, three minutes from in our seats to outside of the arena."
Hundreds of police officers were on the scene overnight and transportation security was beefed up in Manchester and in other areas, according to police.
The mayors of several major cities across the globe, including those of London and New York City, also said they were reviewing their security measures as a precaution after the attack.
The British Transport Police department said extra officers would be patrol at "key railway stations as well as on trains around the country" in the wake of the attack.
Greater Manchester Police are requesting dashcam footage from "anyone who was in Manchester city centre" between 8 p.m. and 11 p.m. Monday night as part of their investigation.
An emergency hotline was set up for people concerned for loved ones who may not have returned home, police said, and social networking giant Facebook activated its global "safety check" feature in the wake of the deadly attack.
The Greater Manchester Police tweeted today that officials do not believe there are any unaccompanied children at Manchester-area hotels.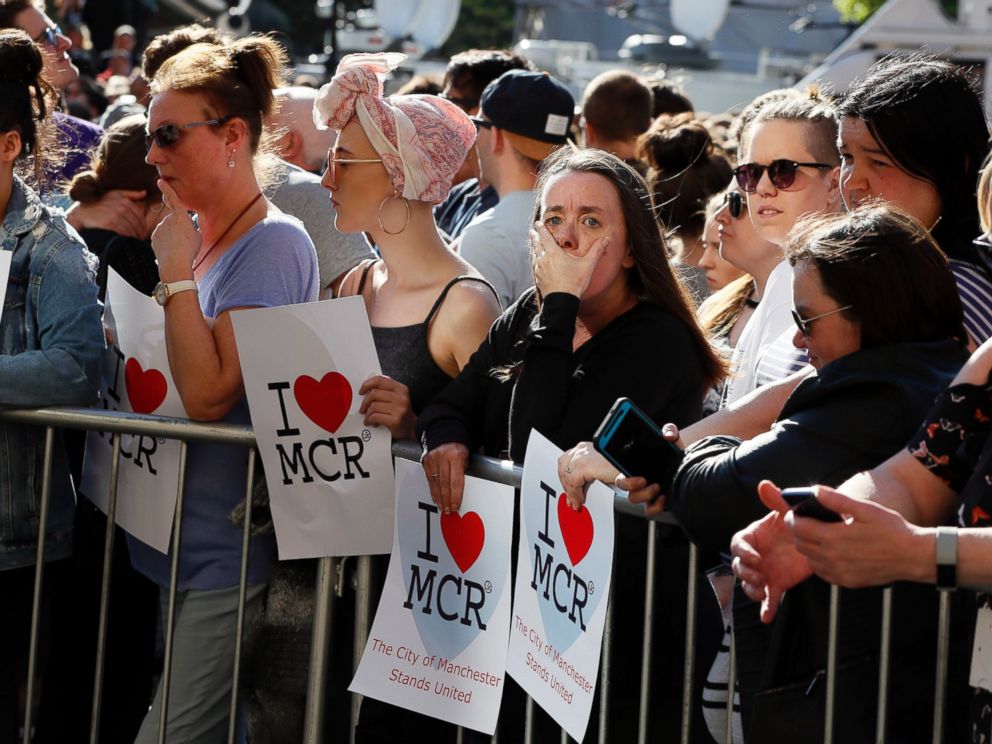 A U.S. State Department official told ABC News today that the "U.S. Embassy in London is working to determine if any U.S. citizens were affected," adding, "at this time, we are not aware of any U.S. citizens killed or injured."
May, who will travel to Manchester today, said, "There will be difficult days ahead."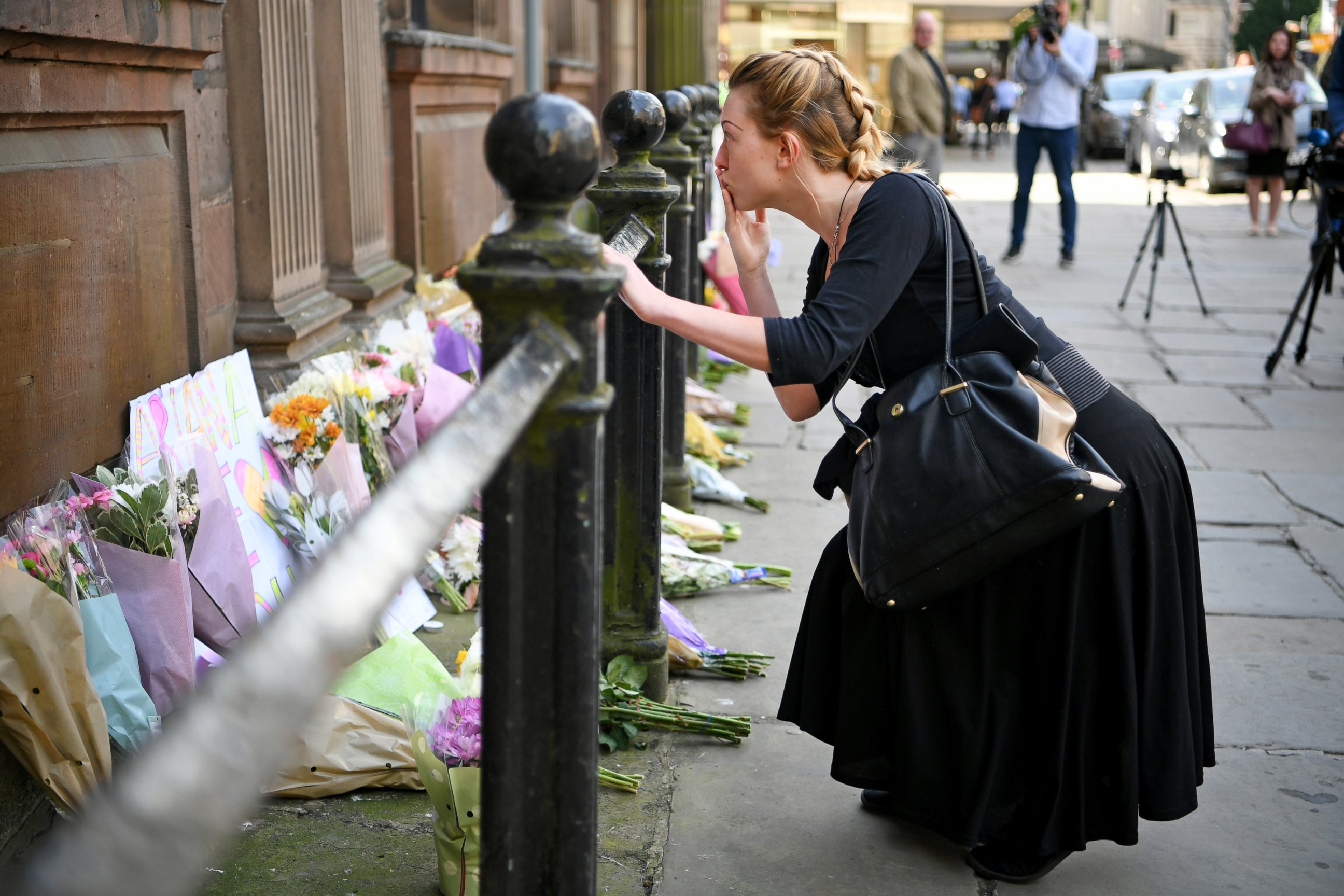 May said general election campaigning would be suspended.
"The whole nation has been shocked," Queen Elizabeth II said in a statement. "I know I speak for everyone in expressing my deepest sympathy to all who have been affected by this dreadful event and especially to the families and friends of those who have died or were injured."
"I want to thank all the members of the emergency services, who have responded with such professionalism and care," the queen continued. "And I would like to express my admiration for the way the people of Manchester have responded, with humanity and compassion, to this act of barbarity."
A spokesperson for the Manchester Arena tweeted today, "Last night, our community suffered a senseless tragedy. Our entire team's thoughts and focus are now on supporting the people affected and their families.
"We are assisting the police in any way we can. We cannot praise the emergency services enough for their response and have been inspired by the way the people of this great city of Manchester rallied round last night and have continued to respond today. It shows the very best of this city."