March for Our Lives takes place around the world, from London to Berlin to Sydney
Over 800 sibling marches were planned in cities around the world.
March for Our Lives is anchored by the main event in Washington, D.C., but hundreds of satellite marches are also taking place Saturday in cities across the country and around the globe.
There were more than 800 so-called "sibling marches" planned worldwide for this weekend in support of the students, teachers, parents and other members of the public converging in Washington, D.C., on Saturday to rally for gun control and school-safety measures in the wake of last month's shooting in a Florida high school.
Each sibling march is an independent, student-led initiative, according to the March for Our Lives official website.
The main protest was organized by students of Marjory Stoneman Douglas High School in Parkland, Florida, where a gunman killed 17 people and injured others on Valentine's Day. The accused shooter, 19-year-old Nikolas Cruz, was a former student at the school and was armed with an AR-15-style rifle he had legally purchased a year ago, authorities said.
March for Our Lives 2018
Hundreds of thousands of Americans took to the streets in cities across the U.S. on March 24, 2018, in the biggest protest for gun control in a generation, spurred largely by the shooting that took place on Valentine's Day at Marjory Stoneman Douglas High School in Parkland, Fla., where 17 people died. <br> <br> Students from Centreville, Va., wear targets on their chests as they arrive for the March for Our Lives rally on March 24, 2018, in Washington, D.C.
Now, students around the country -- and their allies around the world -- are calling on American lawmakers to make schools safer and pass stricter gun-control laws, such as by prohibiting the sale of high-capacity magazines and banning the high-powered, highly-lethal assault-style weapons often used in mass shootings.
As thousands of people began to gather in the U.S. capital Saturday morning, other marches were already underway in cities abroad, including London, Paris, Rome, Berlin and Sydney.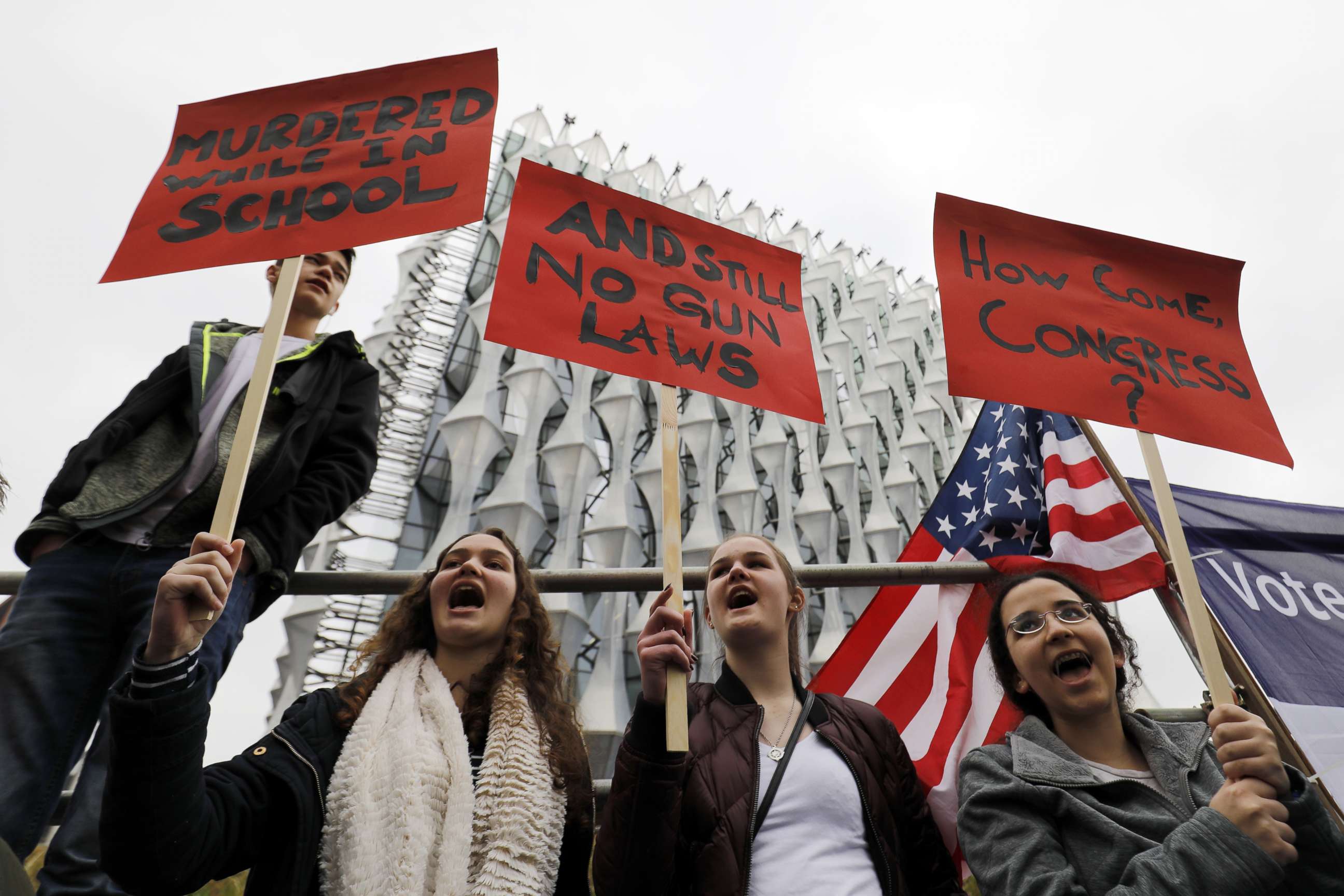 Outside the newly-built U.S. embassy in London, a young child participating in the March for Our Lives there held a sign that read, "Love is greater than FEAR." A minute of silence was held in honor of the victims of the Feb. 14 school shooting in Florida.
One of the London event's organizers from Amnesty International told Sky News how he admires the strength and courage of the shooting survivors in the U.S.
"They have come together at a very difficult time and raised their voices and really taken control of the narrative around gun control in the USA," he said.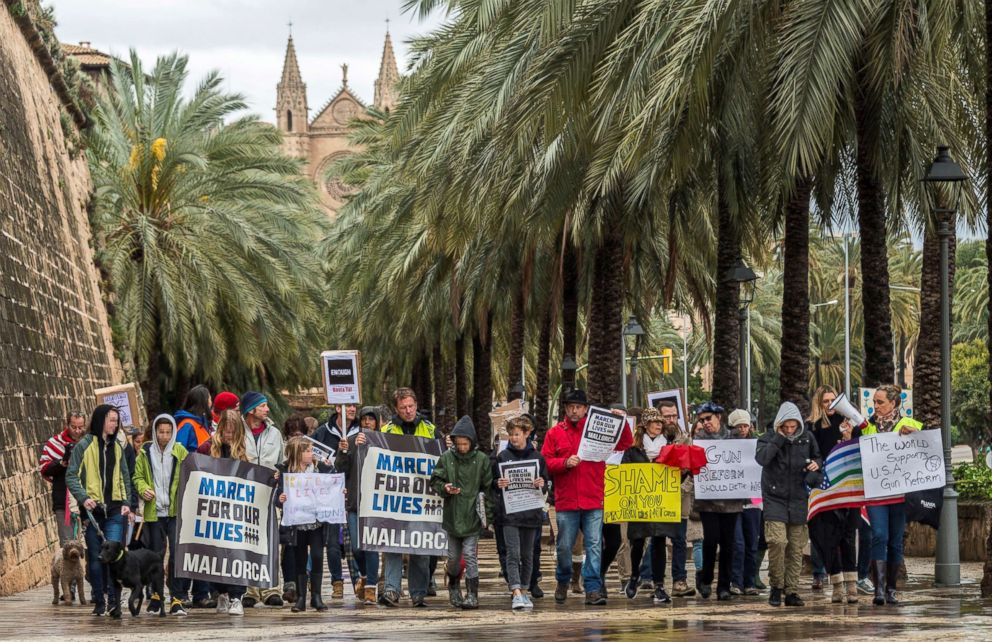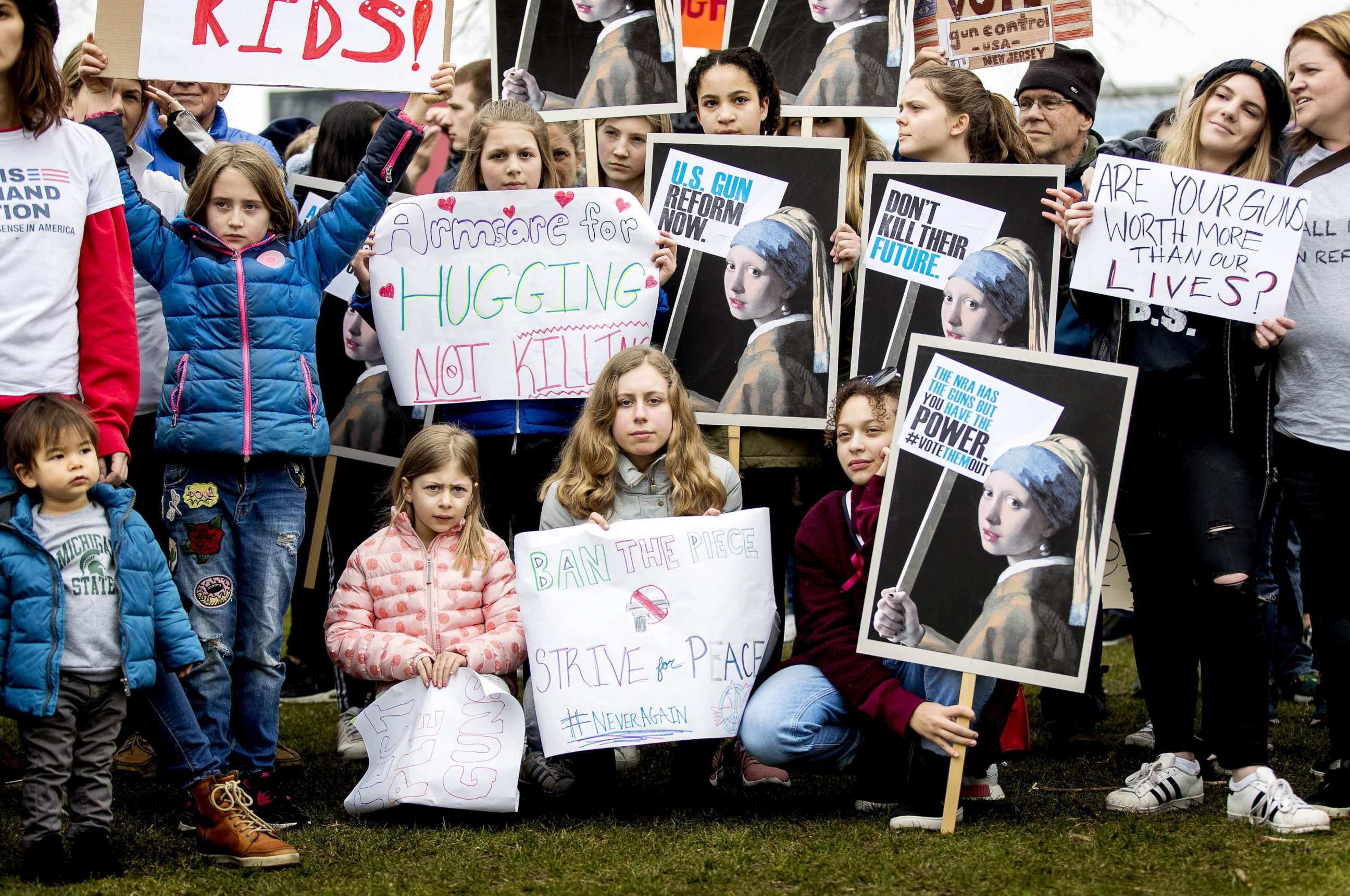 March for Our Lives participants in Paris issued a poignant, rallying cry for gun control, with chants reminiscent of the Vietnam War protests. They shouted, "Hey hey, NRA, how many kids were killed today?" and "Hey hey, ho ho, gun violence has got to go!"
In Rome, American and international students wielding loudspeakers amassed near the U.S. embassy, some hoisting banners reading, "Protect People, Not Guns," "Enough is Enough" and "Dress Codes Are More Regulated Than Guns."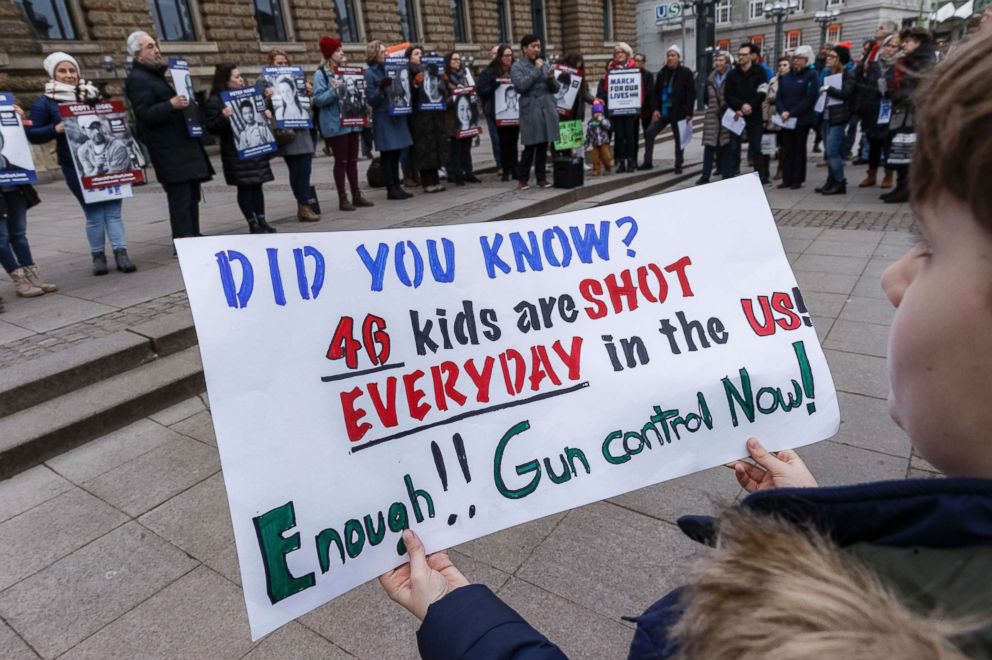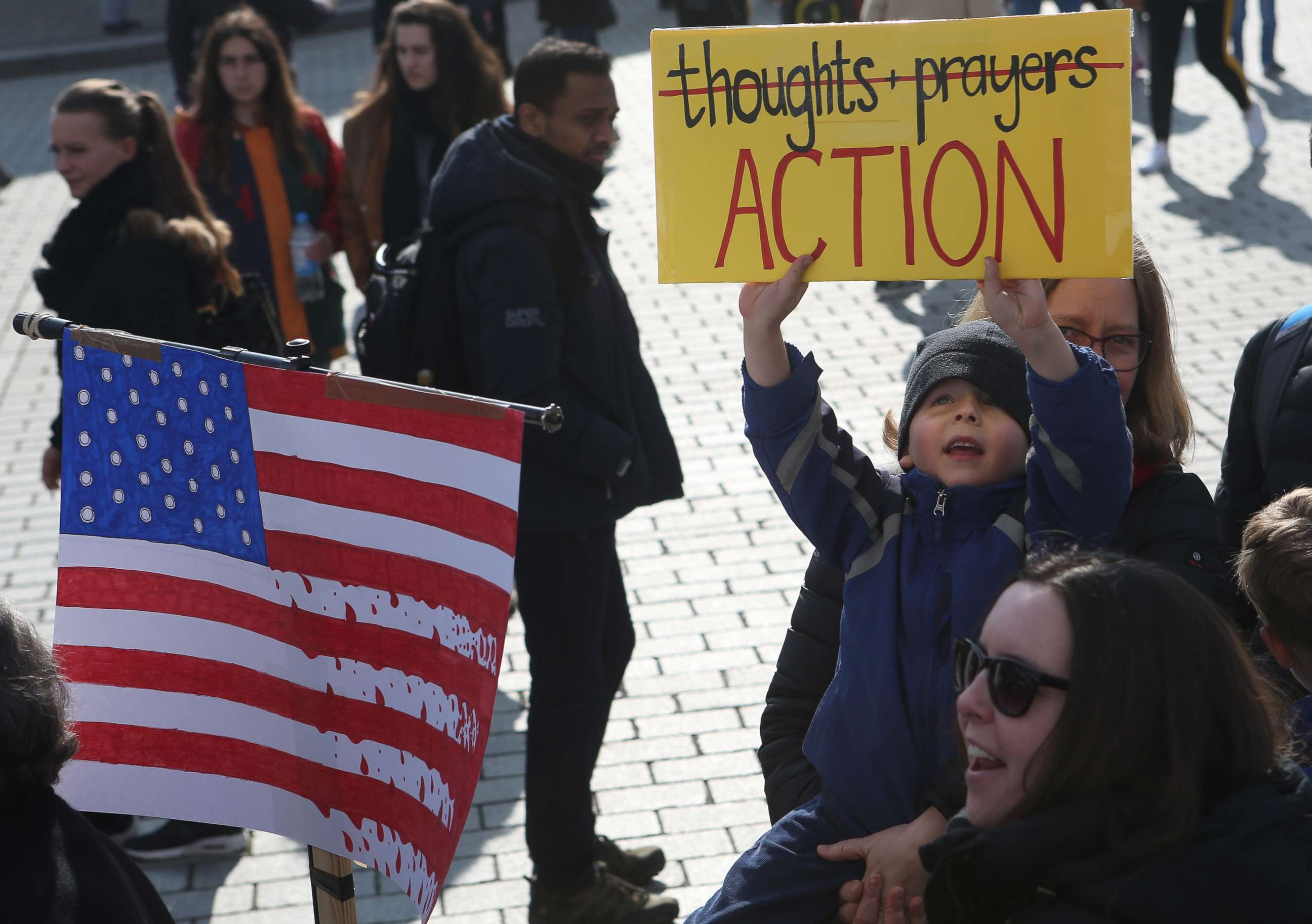 American citizen Katelin Meffert participated in the March for Our Lives in Berlin. Meffert, who's originally from Michigan, told ABC News she's expecting her first child in May and will eventually return home to the United States, by which point she hopes lawmakers will have enacted tougher gun-control laws.
"As an American abroad living in a country where I don't feel fear, I see the benefit of creating commonsense legislation that keeps people safe," Meffert said.
Australians participating in the March for Our Lives in Sydney read out the names and ages of the victims of the Florida school shooting.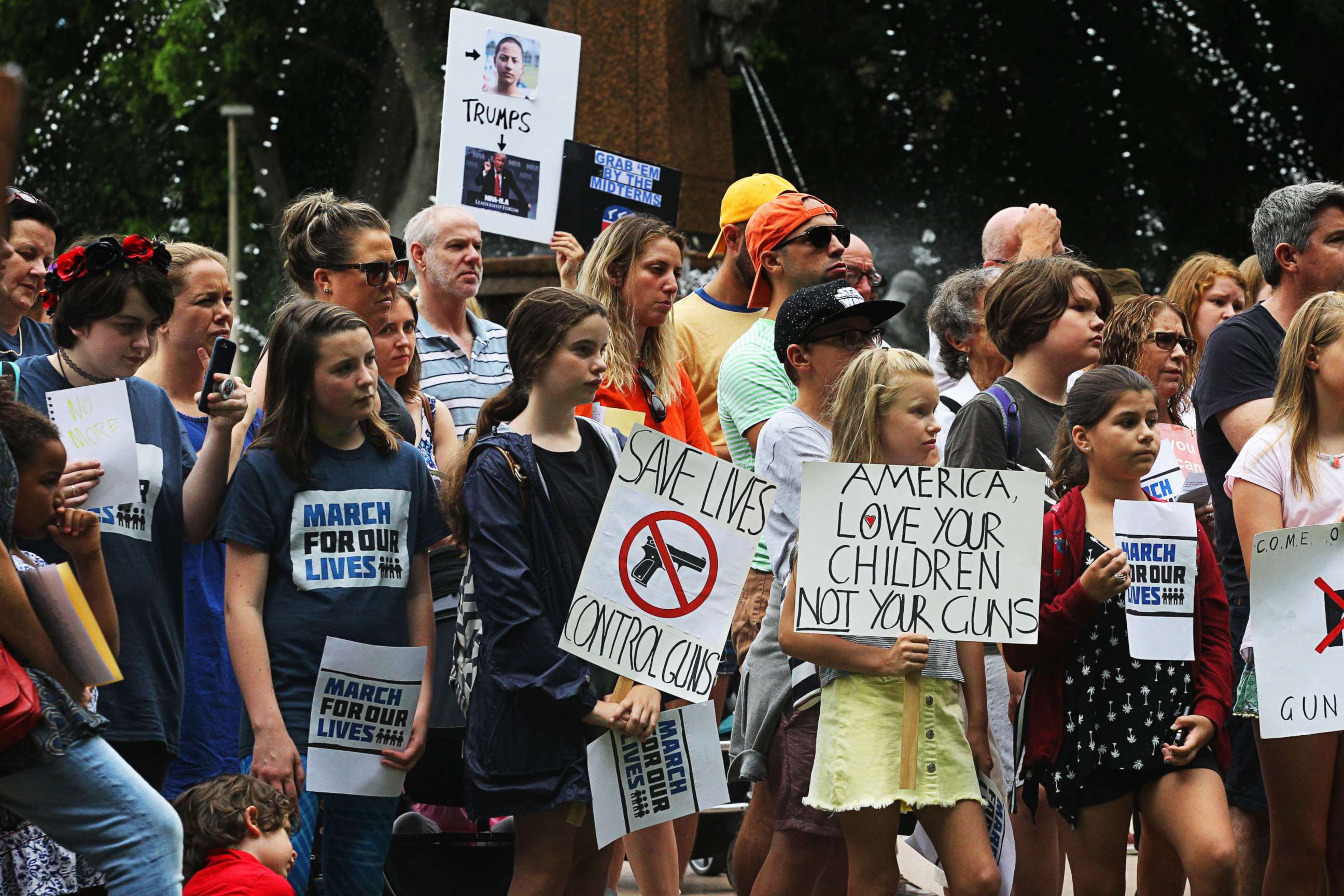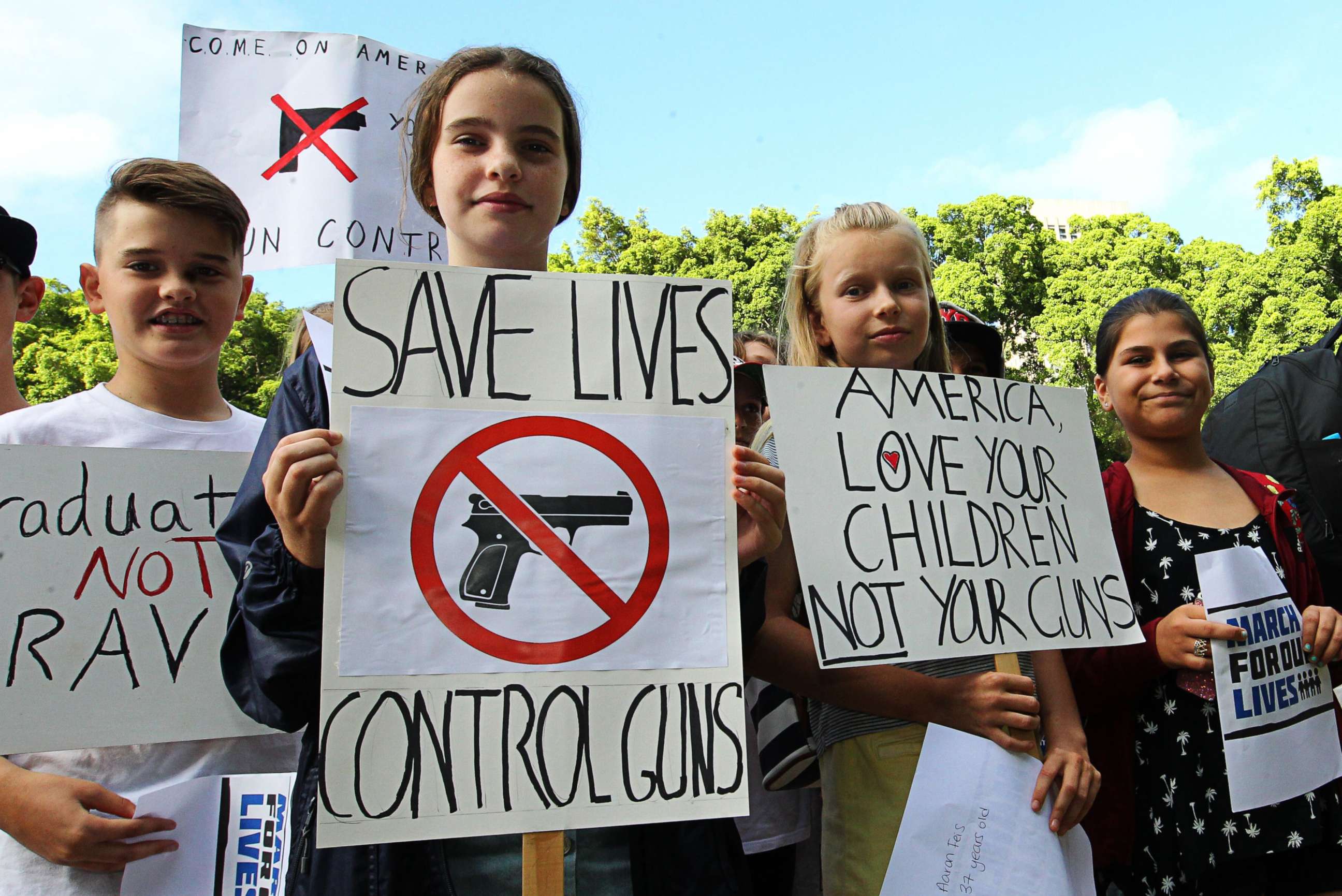 March for Our Lives organizers explain on the official website that they support the constitutional right of law-abiding U.S. citizens to bear arms, but say the recent surge of mass shootings, particularly at schools, calls for an honest discussion about guns.
Students, teachers and their supporters are taking to the streets because they "will no longer risk their lives waiting for someone else to take action to stop the epidemic of mass school shootings that has become all too familiar," the organizers say.
"Not one more. We cannot allow one more child to be shot at school. We cannot allow one more teacher to make a choice to jump in front of a firing assault rifle to save the lives of students," the organizers say in their online mission statement. "In the tragic wake of the seventeen lives brutally cut short in Florida, politicians are telling us that now is not the time to talk about guns. March For Our Lives believes the time is now."