A massive fire engulfed two high-rise structures in Sao Paulo, Brazil, on Tuesday, causing one of the buildings to collapse.
Video posted on social media early Tuesday showed a 24-story building crumbling to the ground as flames raced toward the top floor, killing at least one person. Half of the floors in a second building were engulfed in flames, but authorities said it was not in danger of collapsing.
At least three people, including a mother and her twins, were missing, the Sao Paulo Fire Department told ABC News.
"I heard two explosions. It was terrible," one witness told ABC News. "My girlfriend was asleep with our daughter. I don't know if I will ever be able to sleep again."
Jacqueline Silva, 20, told ABC News she started running out of the building when she heard people shouting "Fire!"
"I did not know if I had to take any belongings with me. The firemen told us to slow down. I was so terrified," she said.
The man who died had been talking to a firefighter while clinging to a rope, but the building collapsed just before he could be rescued, the fire department said.
The collapsed building was a former federal police headquarters that had since been occupied by squatters, officials told ABC News. The Sao Paulo government said that the building was being occupied illegally, with at least 50 families living there. It was unclear how many were able to escape.
Witnesses said they saw people standing on top of buildings, screaming for help, as flames ripped through the structures.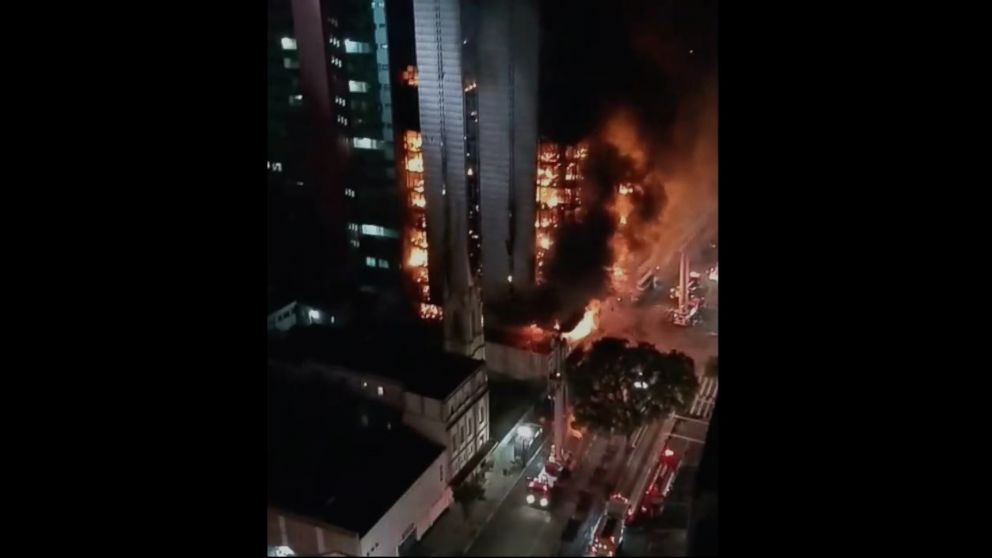 The fire started on the first floor around 1:30 a.m. local time and spread upward, officials said. It took about 15 minutes for the fire department to arrive on the scene.
It's unclear if the second building was inhabited at the time of the fire.
There was no word on what may have caused the fire, although a man who said he was part of a squatter occupation nearby told The Associated Press that residents believed a gas leak may have started it.
The collapsed building, known as Edificio Wilton Paes de Almeida, was built in 1966 and had been abandoned since 2002, the fire department said.