A mom led her pouting son out of a Beijing McDonald's at lunch time this week while grumpily explaining to him, "There are no chicken wings or nuggets, or anything."
What the home of the Big Mac and the Quarter Pounder have been offering in some of its restaurants since a meat scandal hit China is tofu nuggets.
More than 2000 McDonald's in China including Beijing and Shanghai reported on shortage of meat. McDonald's in Japan and Hong Kong are experiencing similar shortages.
Many of the restaurants have run out of the most basic McDonald's ingredients.
Chinese Not Lovin' Fast Food Meat Scandal
"Sorry, we don't have hamburgers or chicken nuggets," an employee at a McDonald's in center Beijing explained to customers this week. The restaurant was unusually quiet. At every cash register was a sign in Chinese and English saying, "We regret to let you know that currently we will only be able to provide a limited menu at our restaurant. Thank you for your understanding and your continued support to our brand. We are working towards resuming the availability of your favorite products as soon as possible."
After reading the sign, a hungry customer complained, "What can I still eat here? There is nothing here."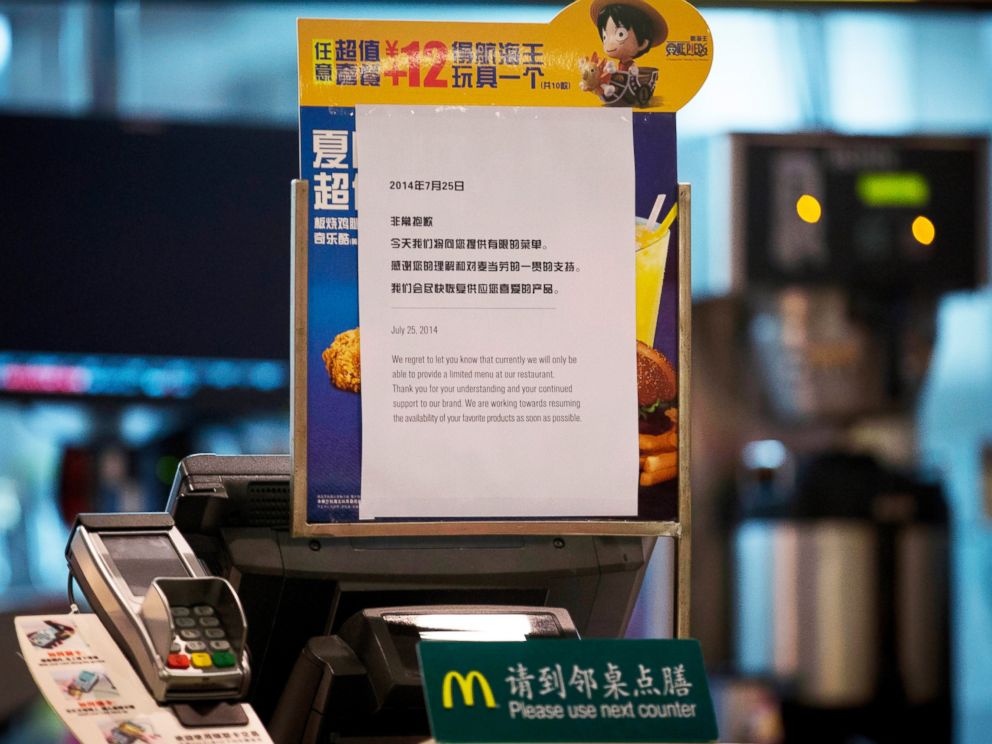 The shortages of meat and chicken came after McDonalds and other fast food restaurants in China and Japan cut ties with their long term meat supplier Shanghai Husi Food Company last week. They broke off the arrangement when a TV report captured footage of the company allegedly violating numerous safety regulations, including mixing in chicken and beef parts that were months beyond their expiration date.
China Food and Drug Administration shut down the Shanghai Husi Food. OSI Group, Shanghai Husi's American parent company, said in a statement last week it would pull all their Shanghai Husi products off the market.
The chain restaurants in Japan have begun buying chicken from Thailand instead of China. According to AFP, more than 3,000 McDonald's in Japan started to sell "Tufu Shinjo" nuggets. For 249 yen(US $2.40), customers can try the new side dish that meshes tofu, vegetable and fish, and is chicken-free.
At the Beijing McDonald's where a man claim there was nothing left on the menu, the harried woman behind the counter advised, "There are Filet-O-Fish sandwich, French fries, pies, ice cream. You can also order coffee and cake on the counter, also there are some other restaurants in this building."