— -- As residents of Puerto Rico brace for Hurricane Maria — which slammed into the Caribbean as a Category 5 storm Monday night — Puerto Rico's governor is calling the storm "the biggest and potentially most catastrophic hurricane to hit Puerto Rico in a century."
Maria, which has left at least two people dead in the Caribbean, is forecast to "remain an extremely dangerous Category 4 or 5 hurricane" as it approaches Puerto Rico early Wednesday, the National Hurricane Center said.
Hurricane Maria pummels Puerto Rico, Caribbean
A car drives on a damaged road in the aftermath of Hurricane Maria in Humacao, Puerto Rico, Oct. 2, 2017.
Ricardo Arduengo/AFP/Getty Images
Maria could bring life-threatening flooding and mudslides, especially in mountainous regions in Puerto Rico, as well as a 6-to-9-foot storm surge in the Virgin Islands and Puerto Rico.
As of 3 a.m. Wednesday, Maria's maximum sustained winds had decreased to 160 mph, but it remained a Category 5 storm. Maria's maximum sustained winds were as high as 175 mph during the day Tuesday. It was 35 miles west of St. Croix in the U.S. Virgin Islands and 70 miles southeast of San Juan, the capital of Puerto Rico. The storm was expected to reach the southeastern coast of Puerto Rico on Wednesday morning.
The last time Puerto Rico was hit by a Category 5 storm was in 1928.
President Donald Trump tweeted his best wishes and pledged support for Puerto Rico, a U.S. territory, late Tuesday.
Early Wednesday, a gust of 137 mph was reported in the western part of St. Croix as the storm moved west-northwest at 10 mph.
The French territory of Guadeloupe announced early Wednesday that two people there were killed in the hurricane and two others were missing.
A palm tree in St. Thomas appeared to be nearly uprooted as the storm moved over the island in a video posted on Facebook.
Hurricane warnings are in effect in St. Kitts and Nevis, the U.S. and British Virgin Islands, Puerto Rico and the eastern coast of the Dominican Republic.
Most models are forecasting that Maria will stay away from Florida and the U.S. mainland.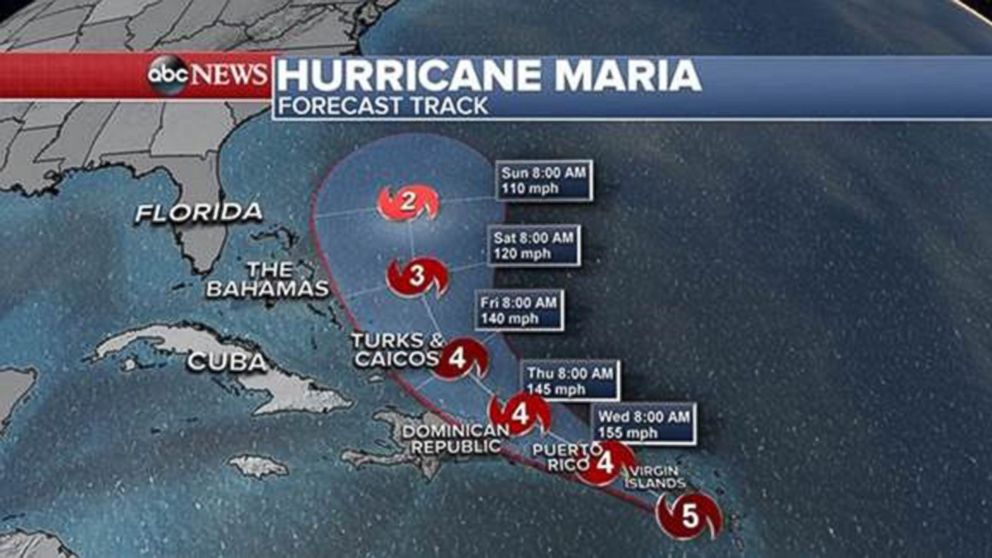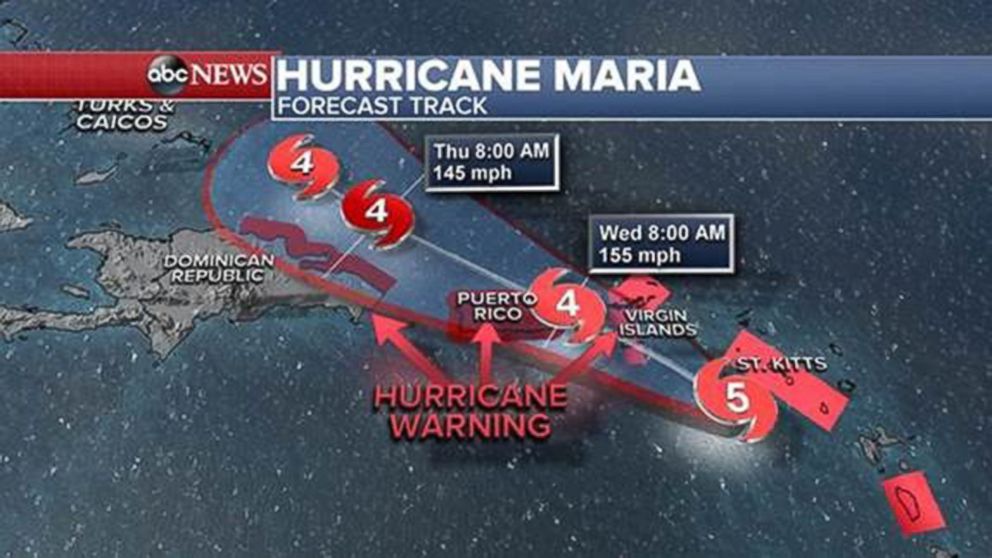 The storm will be violent, Puerto Rico's Gov. Ricardo Rossello warned. He advised residents to be prepared to hunker down for 72 to 90 hours.
The eye of the storm was expected to approach the eastern part of Puerto Rico and make landfall between 6 a.m. and 8 a.m., with heavy winds and gusts over 100 mph for the eastern part of the island in the morning and strong winds in San Juan into the afternoon.
It has been just two weeks since Hurricane Irma, which killed at least 39 people in the Caribbean and demolished homes, tore through Puerto Rico, and Rossello said Maria is "potentially most catastrophic hurricane to hit" the U.S. territory in a century.
A Category 4 storm hasn't hit Puerto Rico directly since 1932.
Rossello said up to 25 inches of rain could fall in some areas, and he urged anyone in flood-prone, mudslide-prone or coastal areas to leave. Over 300 people are already at shelters as of this afternoon, he said.
He said a lot of infrastructure will likely be lost and communications will be affected.
In an address this afternoon he said, "We have not experienced an event of this magnitude in our modern history."
Rossello said that when Irma tore through the Caribbean, "the people of Puerto Rico not only demonstrated our resilience, but we banded together to show our kindness and hospitality to thousands of our fellow Americans in the U.S. Virgin Islands, BVI, St. Martin and beyond."
"Now we're looking down the barrel of Maria, a historic Category 5 hurricane. Although it looks like a direct hit with major damage to Puerto Rico is inevitable, I ask for America's prayers," he said. "No matter what happens here in the next 36 hours, Puerto Rico will survive, we will rebuild, we will recover, and with your support, we will come out stronger than ever."
While residents of Puerto Rico appeared to go about their business with little urgency Monday, many seemed to be on edge Tuesday as the storm neared.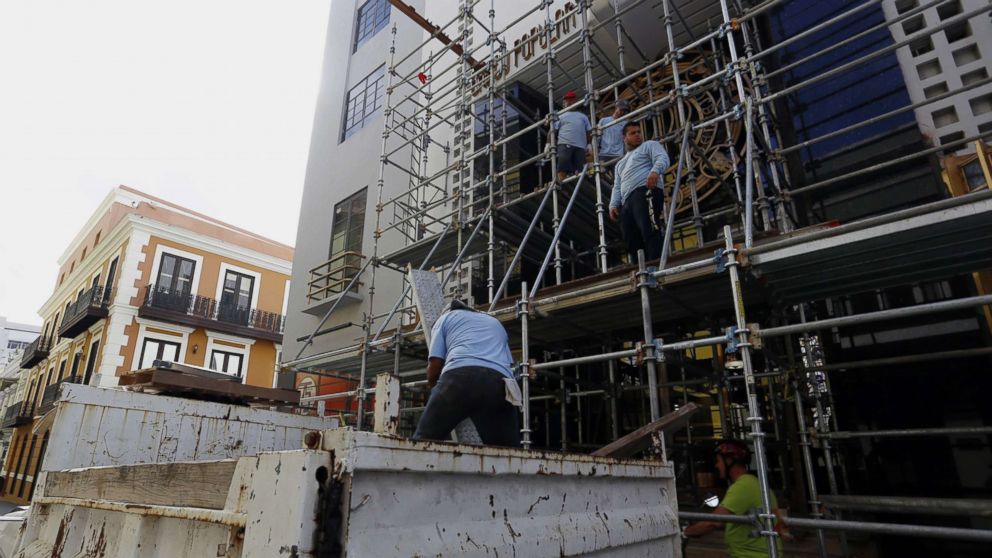 In San Juan, most businesses remained closed or closed early on Tuesday, and San Juan's airport closed that evening.
As Maria hit the Caribbean island of Dominica on Monday night, its Prime Minister Roosevelt Skerrit published a series of dire Facebook posts, calling the 160 mph winds "merciless."
"We do not know what is happening outside. We not dare look out ... we pray for its end!" he wrote.
"My roof is gone. I am at the complete mercy of the hurricane. House is flooding," he wrote late Monday before announcing, "I have been rescued."
Maria was the first Category 5 hurricane to make landfall on Dominica; previously, the strongest hurricane to hit the island was David, a Category 4 storm, in 1979.
Guadeloupe and Martinique, which neighbor Dominica in the Caribbean, were also battered by Maria's powerful winds and rain Monday night.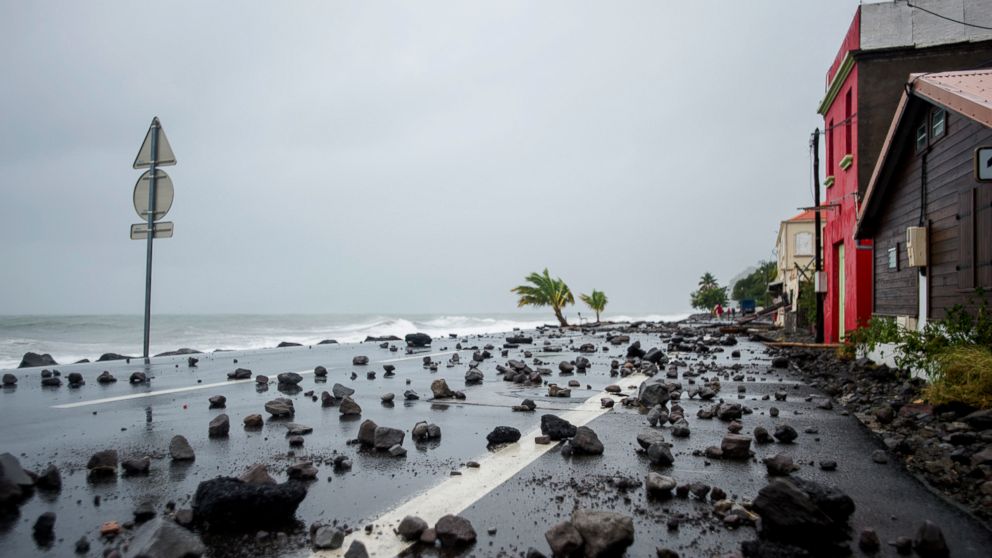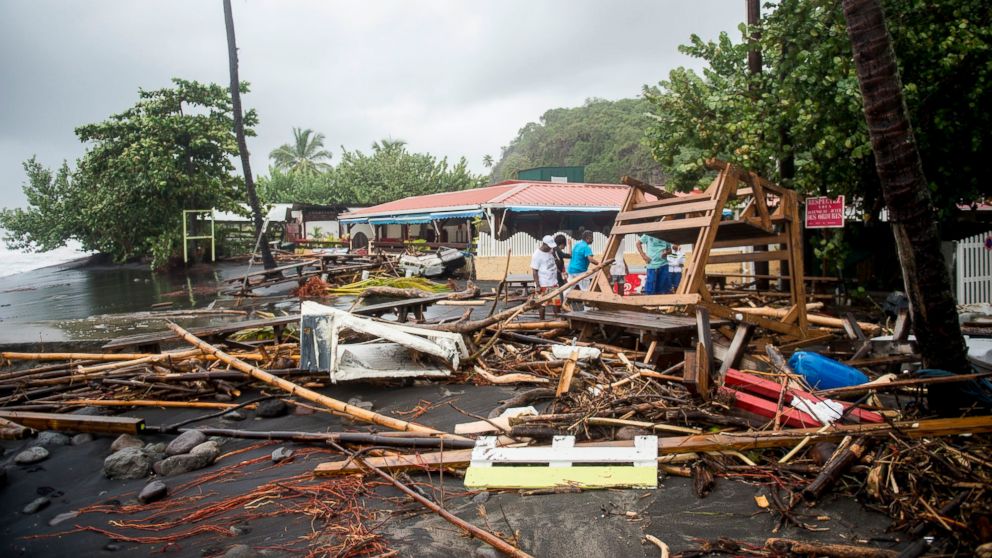 Officials said that 80,000 residents are without power on Guadeloupe and some flooding was reported but few homes were damaged.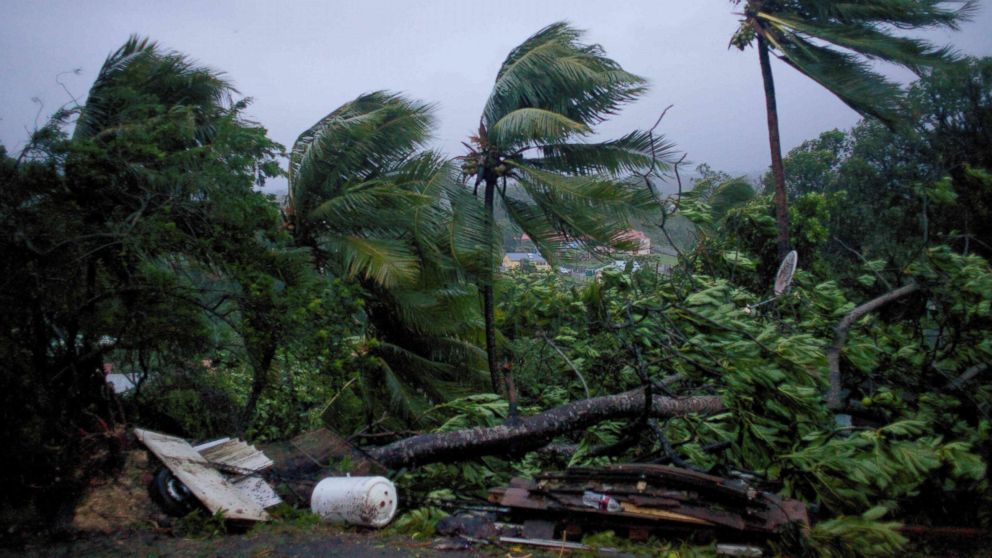 Dominica was "shut down" as the storm approached, said Anil Etienne, a spokesman for Dominica's Office of Disaster Management. He told ABC News that officials were worried about flooding in low-lying areas and opened about 150 shelters.
Skerrit gave an update this morning, writing on Facebook, "Initial reports are of widespread devastation. So far we have lost all what money can buy and replace. My greatest fear for the morning is that we will wake to news of serious physical injury and possible deaths as a result of likely landslides triggered by persistent rains."
"The winds have swept away the roofs of almost every person I have spoken to or otherwise made contact with," he continued. "The roof to my own official residence was among the first to go and this apparently triggered an avalanche of torn away roofs in the city and the countryside."
After hitting Puerto Rico, the storm is forecast to turn north, nearing the Dominican Republic on Wednesday afternoon, possibly with winds over 100 mph.
Maria is expected to continue north — avoiding the Turks and Caicos, the Bahamas and Florida — and end up out at sea.
ABC News' Rob Marciano, Melissa Griffin, Ben Gittleson and Paul Pradier contributed to this report.