— -- It took less than 30 minutes for a Russian plane to disappear and plunge into the desert after taking off from an airport in Egypt this weekend.
While authorities are still investigating what could have caused the Metrojet airliner to crash, killing all 224 people on board, here is a closer look at how the Saturday accident took place.
The Takeoff
The Airbus A321 took off from the Sharm el-Sheikh airport in El Salam, Egypt, Saturday at 5:58 a.m. local time.
In the Air
The plane slowed 300 mph in speed, Alexander Smirnov, deputy general director of Russian airline Metrojet, said today.
The plane climbed nearly 3,000 feet in three seconds before falling another 3,000 feet a few seconds later.
The Disappearance
The plane disappeared from radar screens 22 minutes after takeoff, while flying over central Sinai, Egypt's foreign ministry said.
The plane was at an altitude of 31,000 feet at the time.
The Wreckage
An Egyptian military aircraft later located the wreckage of the plane in the El Hassana area, 22 miles south of the Mediterranean coastal town of El Arish.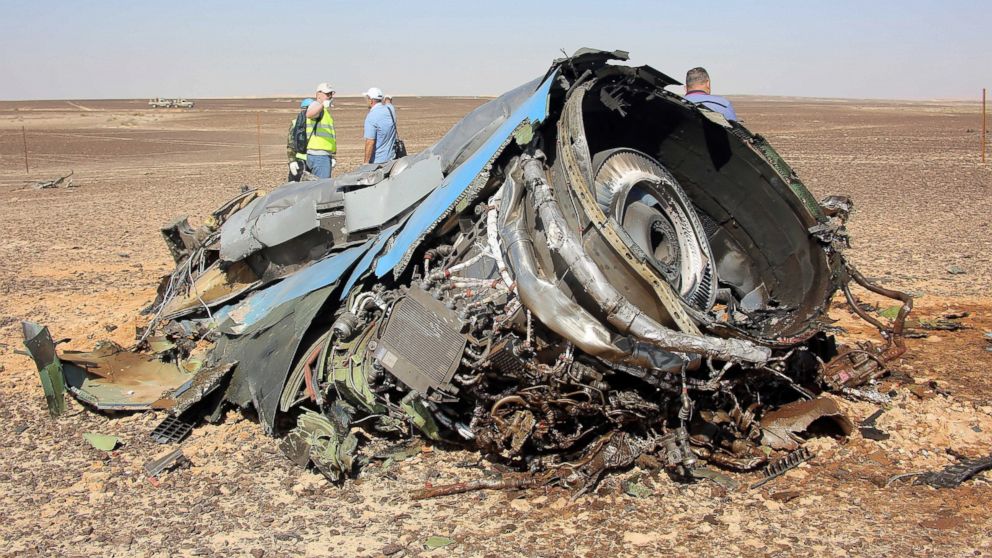 Egyptian officials say there was no distress call.
What's Next?
The head of Russia's Interstate Aviation Committee, the agency investigating the crash, told journalists in Cairo Sunday the plane broke apart midair, but warned that it was "too early to state a cause for the plane's destruction."
Alexander Smirnov, the deputy general director of Russian airline Metrojet, said in Moscow today the crash could not have been caused by a technical fault.
"The only explicable cause can be a mechanical impact on the aircraft," Smirnov said, adding "there is no possible combination of system failures that could lead to the aircraft breaking-up in mid-air."
The plane's black boxes are still being analyzed.