BYNESET, Norway -- NATO on Tuesday began the main phase of its largest military exercises since the end of the Cold War in a display of force meant to underline the alliance's ability to deter Russia.
The Trident Juncture exercise taking place across Norway and parts of Sweden and Finland involves 50,000 troops and 10,000 vehicles as well as 250 aircraft and 65 ships, according to NATO. Among them is the aircraft carrier USS Harry Truman, the first time an American carrier has traveled above the Arctic Circle for exercises near Russia since 1987.
On Tuesday, hundreds of soldiers launched a simulated beach landing at a location close to the city of Trondheim on Norway's west coast, supported by dozens of warplanes and helicopters. Watched by international dignitaries from a grandstand, a fleet of a dozen warships sailed in a column down a fjord framed by snow-dusted mountains, while landing craft vessels headed towards shore. Marines from different NATO-member countries leaped onto a rocky beach, hurrying past pointed-roofed Norwegian houses and moving up a grassy slope as F16s and other jets flew overhead.
The spectacle of force is the largest put on by NATO since the end of the Cold War, NATO's Secretary General Jens Stoltenberg told reporters at the display on Tuesday. The last comparable exercise in this part of the world, which saw 14,000 troops deploy to Norway, was in 2002.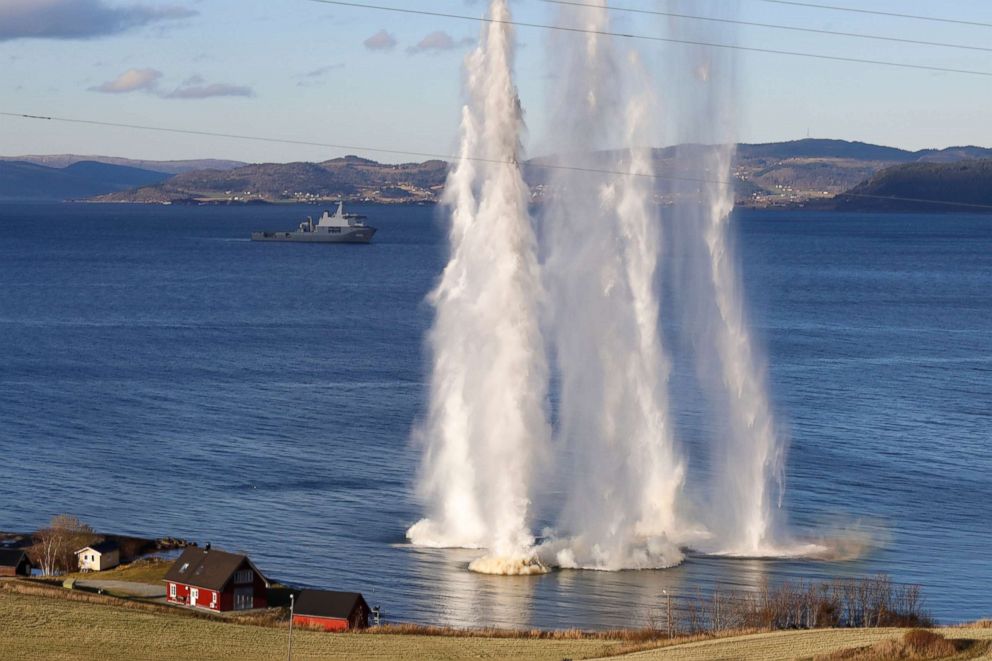 The exercise was to practice a NATO response to an attack on one of its member countries, which would trigger Article 5 of the alliance's charter that guarantees collective defense. All 29 NATO countries have contributed forces to the drills, as well Finland and Sweden, which are not members. Seven thousand U.S. Marines, as well as army, navy and air force personnel are taking part too.
NATO officials were careful to insist that the attacker in the scenario is fictitious, and Stoltenberg said that the exercise is "not directed at any country." But there was no doubt who the exercise's intended audience was.
Trident Juncture is part of a broader NATO effort to beef up its deterrence capabilities against Russia following Moscow's invasion of Crimea four years ago and growing tensions. It is also partly responds to Russia's own huge military exercises, which the country has held with increasing frequency as tensions with Western countries have grown. The present exercises are intended to demonstrate NATO's capability to deploy large forces rapidly over long distances. Although NATO officials won't acknowledge it publicly, it in part addresses a nightmare scenario for NATO planners in which the alliance is caught flat-footed by a sudden Russian incursion into the Baltic States or Scandinavia.
Russia has made clear it considers the present war games to be directed at it, and Russia's foreign ministry spokeswoman Maria Zakharova has said the drills have an "anti-Russian orientation." This week Russia announced it will hold its own missile test drills in international waters off Norway's coast close to where the NATO exercises are happening.
The scale of the exercises, amid grim relations with Moscow and many Western countries, has prompted comparisons to the Cold War. But NATO officials have insisted there is nothing alarming about them.
"We are not in a Cold War situation," Stoltenberg said, noting that there were no longer nuclear missiles or tens of thousands of combat-ready troops in Europe.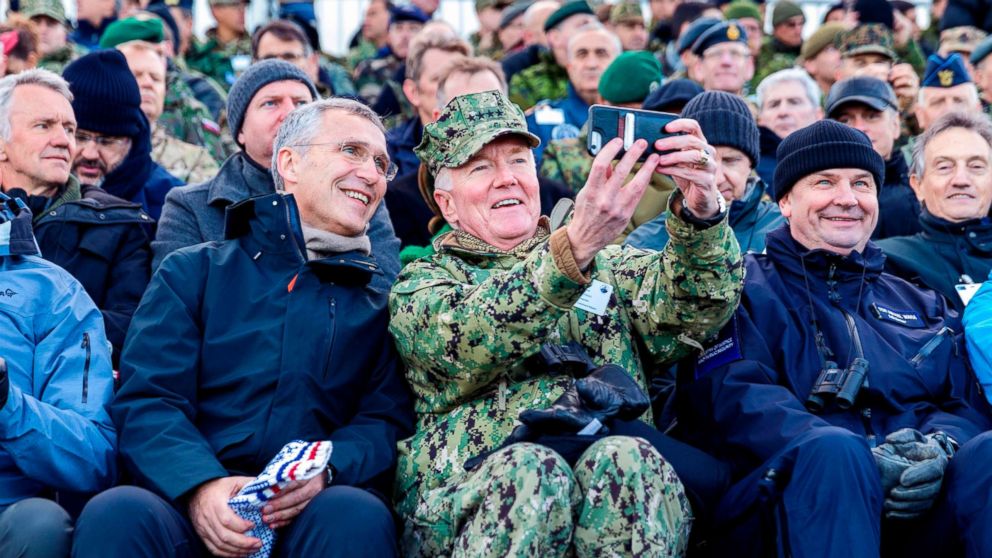 "This is about preventing a conflict," he said, adding that the exercises are intended to convey to any adversary that it was pointless attacking a NATO member.
Stoltenberg, who was joined at the press conference by Norway's defense minister, said the drills were meant to help control tensions, not worsen them.
Of the Russian drills, he said, he was "absolutely confident that the Russian forces will behave in a responsible way," adding they would not affect NATO's from going ahead.
Russia has held its own massive exercises in recent years, which — at least by its figures — have dwarfed Trident Juncture. In September, Russia conducted war games, called Vostok, in the far east of the country, which it claimed involved 300,000 troops. In 2017, Russia's 'Zapad exercise on its western borders simulated a Russia incursion into northern Europe.
Russia has insisted those drills are defensive in nature.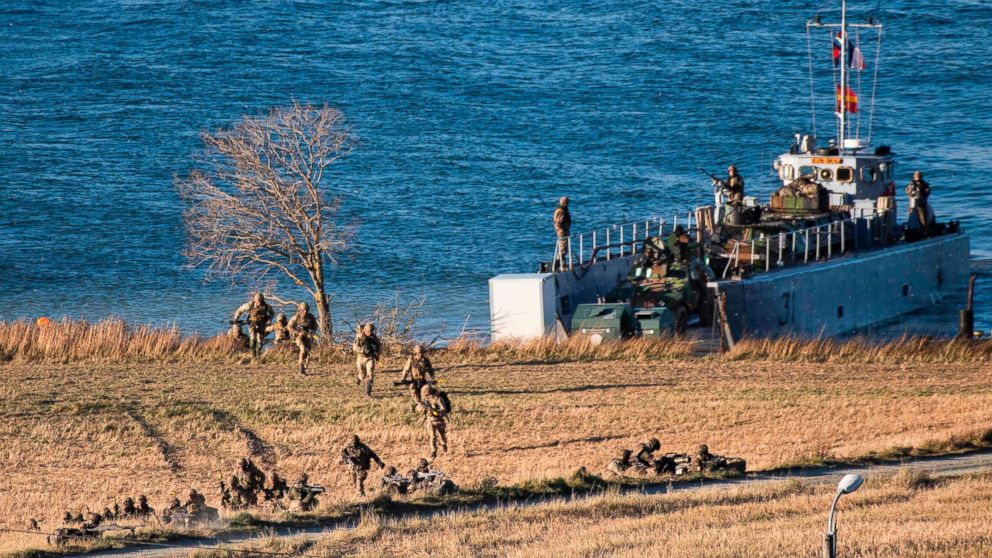 Despite the scale of Trident Juncture, it is still far from the massive war games and the tensions of the Cold War, experts said.
"We're not at that stage yet, fortunately," Stephen J. Flanagan, a military expert at the RAND Corporation who served as a senior director for defense policy and strategy on the Obama administration's National Security Council, said in an interview with ABC News. "But it's not a positive sign in the relationship."
Very few observers believe Russia has any intention of attacking Europe, but most experts believe the ugly relations between Western countries and Moscow are unlikely to dissipate for years to come.
Stoltenberg said he wanted more dialogue with Russia, urging Moscow to give up new cruise missiles that the U.S. has accused it of deploying in contravention of an arms agreement, the Intermediate Nuclear Forces treaty. Russia denies that, but the Trump administration has said it will leave the INF treaty over it.
"We don't want a new cold war," Stoltenberg said. "We don't want a new arms race. We must engage with Russia in a dialogue, because Russia is here to stay."