Nelson Mandela, Family Man: Daughter, Grandchildren Describe Private Struggles
Mandela's daughter, grandchildren describe the global leader's private life.
December 6, 2013, 12:31 PM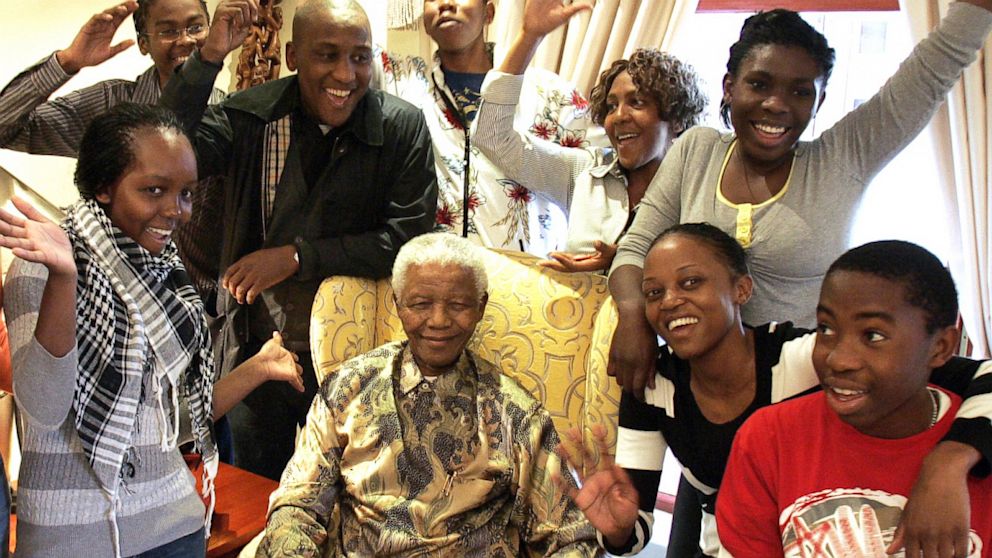 Dec. 6, 2013— -- Nelson Mandela is revered as an anti-apartheid hero, a man who fought to bring a fractured nation together peacefully and went on to became an elder statesman to global leaders, so it's easy to forget that Mandela was also a man with a family and a private life.
Mandela's life began humbly in a small village located in the South African territory known as the Transkei. Richard Stengel, who worked with the former South African president on his autobiography, talked about Mandela's life.
"It's hard to imagine nowadays what it was like to grow up the way he did," Stengel said. "That wasn't 1918 by Western standards, that was 1760 by Western standards. ... No electricity. No running water."
Mandela attended boarding school and eventually college, but when his tribal father set up an arranged marriage for him, Mandela fled to Johannesburg and began a very different life.
"Mandela in the '50s, when he was a young lawyer in Johannesburg, he was really ... a man about town," Stengel said. "He drove a fancy American car ... he had a first marriage and three children."
Makaziwe Mandela, his daughter from his first marriage, remembered her father as being a "hands-on husband."
"My father would come home from work and say to her, 'Today, don't worry about cooking, washing dishes, taking care of the children. Tonight it's my turn,'" she recalled.
But as Mandela morphed into a political leader, his family became a casualty of the cause.
"All of us longed to have those moments where you can sit on the couch, maybe rest your head on your father," Makaziwe said. "We didn't have those memories."
Mandela's first marriage ended in divorce when Makaziwe was just 4 years old, but soon after he found Winnie, and fell madly in love with her. But their relationship would be tested after the authorities started looking for him. David Turnley, a Pulitzer Prize-winning photographer who spent years documenting South Africa's apartheid struggles, recalled what the Mandelas faced.
"Almost from the get go he was having to go underground," Turnley said. "They managed to make two beautiful daughters in two years before he was then arrested and put on trial and then sent to prison for life."
After Mandela was imprisoned, Winnie was not allowed to have contact with her husband for eight years, and after that, was only granted rare visits. While Mandela served his sentence, Winnie became his voice, personifying him and his movement, and becoming just as much of a target for authorities as her husband.
"He often said to me that Winnie had it tougher than he did," Stengel said. "Mandela in all his 27 years in prison spent one night in solitary confinement. Winnie spent a year in solitary confinement, all of the time having to look after their two daughters."
Nelson and Winnie Mandela's daughters are Zenani and Zindzi. While he was behind bars, Mandela was not allowed to see them.
"Prisoners were not allowed to see children under 16, and given that Winnie Mandela's children were both very little girls when he went to jail, that meant he had no contact with them," said Mandela biographer Anna Trapido.
But Makaziwe, Mandela's daughter from his first marriage, was old enough to visit her father in prison.