The Nobel Prize in Economics has been awarded to three economists "for their experimental approach to alleviating global poverty."
Abhijit Banerjee, Esther Duflo and Michael Kremer were announced as the winners on Monday morning.
"The essence of our research is to try to make sure, our goal is too make sure that the fight against poverty is based on scientific evidence," Duflo said at a news conference shortly after finding out about her win. "Often the poor are reduced to caricatures, and often even people that try to help them often do not actually understand what are the deep root of the problems that are addressing the poor."
"Poor people are supposed to be either completely desperate or lazy or entrepreneurial but people don't we don't try to … understand the deep root and interconnected root of poverty," she added.
Their research tries to "unpack the the problems, one by one, and address them as rigorously and scientifically as possible," she said.
Duflo, who is only the second woman to win the Nobel Prize in Economics, said she hopes her win inspires other women to continue their work -- and men to treat them with respect.
"We are at a time when we are starting to realize in the profession that the way that we conduct each other privately and publicly is not conducive all the time to a very good environment for women," Duflo said. "Showing that it is possible for a woman to succeed and be recognized for success, I hope it is going to inspire many many other women to continue working and many, many other men to give them the respect that they deserve like every single human being."
As for her reaction to waking up on Monday and finding out she won: Duflo said she "didn't think it was possible."
"It was incredibly humbling to tell you the truth. I didn't think it was possible to win the Nobel prize in economics before being significantly older than any of the three of us," she said.
"The reason is that there is something unique about the Nobel prize in economics among all the prizes, which is that it reflects a change in the world and a change in the field of economics beyond our individual works, and it takes some time usually for this to happen," she added. "And we thought we were too young for this."
Banerjee and Duflo work at Massachusetts Institute of Technology and Kremer works at Harvard University, according to The Associated Press. Duflo is only the second woman to win the prize after Elinor Ostrom in 2009.
The prize is officially known as the Bank of Sweden Prize in Economic Sciences in Memory of Alfred Nobel. The award, however, was not created by the prize founder but is considered to be a part of the Nobel stable of awards.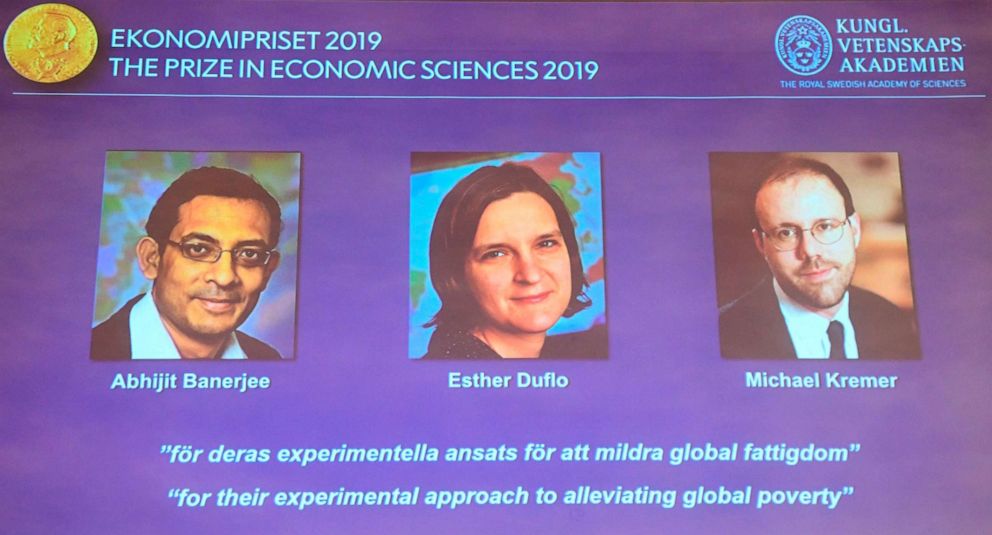 The winners will receive a 9 million kronor ($918,000) cash award, a gold medal and a diploma.
All but the winner of the Peace Prize will receive their awards in Stockholm on Dec. 10 -- the anniversary of Nobel's death in 1896. The winner of the Peace Prize receives the award in Oslo, Norway, according to the AP.
Six Nobel prizes were awarded last week in the fields of medicine, physics and chemistry plus two literature awards as well as the Nobel Peace Prize which was won by Abiy Ahmed, the Ethiopian Prime Minister, for his work on ending Ethiopia's long-running conflict with Eritrea.