SEOUL, South Korea -- North Korea blew up 10 of its front-line guard posts in the Demilitarized Zone separating the two Koreas on Tuesday in accordance with agreements made with South Korea earlier this year.
The explosions were carried out simultaneously within a four-minute time frame after the North notified the South of the project, according to South Korea's Defense Ministry.
North Korean soldiers have been destroying the brick structures over the past couple of weeks. Analysts said they most likely decided to demolish the guard posts all at once to meet the Nov. 30 deadline.
A North Korean guard post that used to oversee the South Korean side of the heavily-fortified border was covered in black and white smoke after debris filled the air at the moment of the explosion. Video provided by South Korea's defense ministry showed the process of dismantling the guard posts.
South Korea is also in the process of tearing down 10 concrete guard posts -- using excavators instead of dynamite for environmental reasons.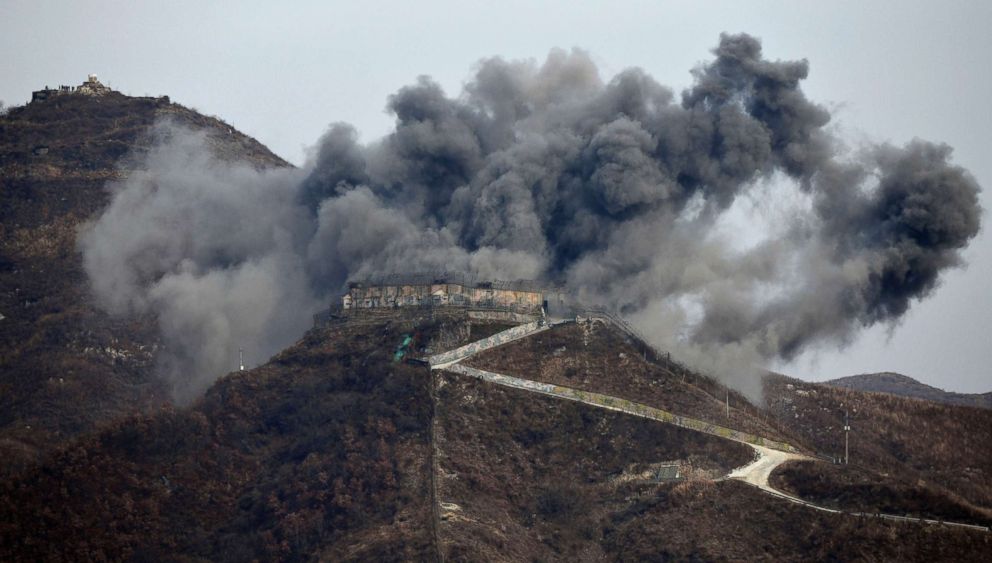 "We aim to verify the dismantlement, and ultimately withdraw all guard posts in both North and South Korean border military demarcation line," Choi Hyun-soo, South Korea's defense ministry spokesperson said during a briefing Tuesday.
The demolition of guard posts on both sides of the border at the Demilitarized Zone (DMZ) is part of a series of moves that South Korean president Moon Jae-in and North Korean leader Kim Jong Un had agreed to completely 'demilitarize' the joint security area during the third inter-Korean summit in September.
We aim to verify the dismantlement, and ultimately withdraw all guard posts in both North and South Korean border military demarcation line.
Both sides had already withdrawn all firearms from a joint security area (JSA) in Panmunjom and military presence was limited last month to 35 unarmed military personnel each.
The next step will be to open up both sides of the Panmunjom to the public for guided tour groups by early next month.
But skeptics in Seoul say denuclearization talks must precede before any of these inter-Korean arms control measures are carried out.
"Demolishing guard posts are a meaningful step forward in the sense that in effect it will help minimize military conflict between the two countries, but conventional weapons control without denuclearization is not enough," Shin Beom-chul, director of center for security and unification at the Seoul-based Asan Institute for Policy Studies, told ABC News.
All the joint actions are preludes to a grand plan for a possible visit by North Korean leader Kim Jong Un to Seoul, which the two countries hope to take place in December.
But analysts in Seoul say the much-anticipated fourth Kim-Moon summit will depend heavily on whether Washington and Pyongyang come to an agreement for a second summit between Kim and U.S. President Donald Trump.
The U.S. Special Representative for North Korea Stephen Biegun and his South Korean counterpart Lee Do-Hoon will meet in Washington on Tuesday to discuss ongoing diplomatic efforts, sustained implementation of United Nations sanctions, and inter-Korean cooperation, according to the U.S. Department of State.